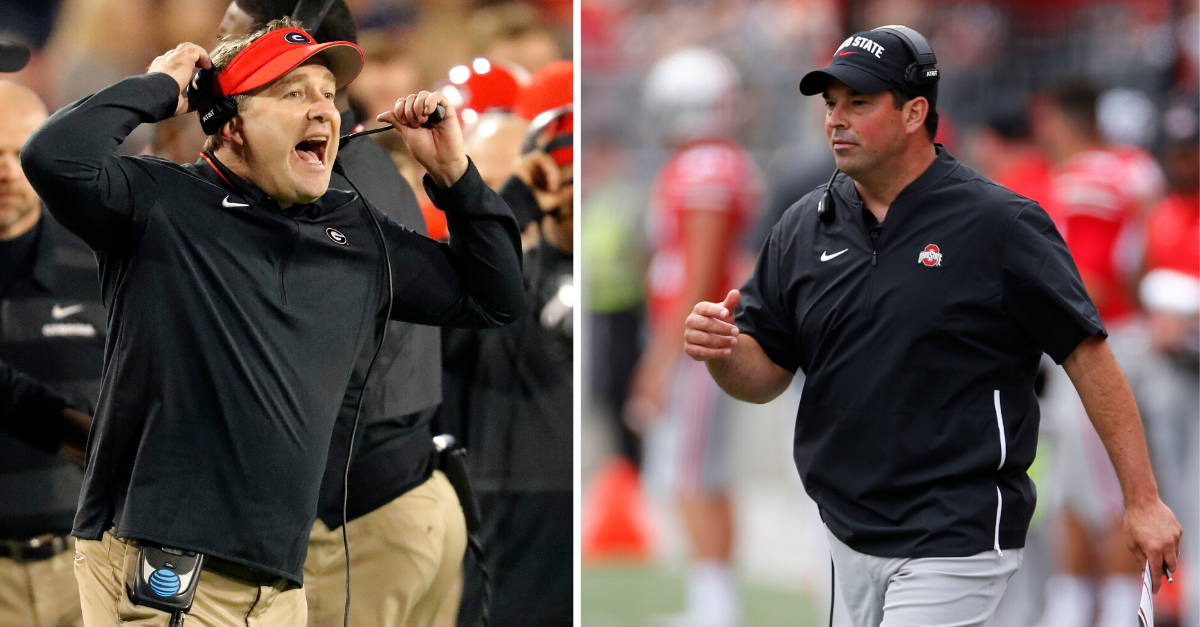 AP Photo/John Bazemore, AP Photo/Jay LaPrete
As long as the College Football Playoff remains at four teams, Power 5 programs are going to frantically try to stack their schedule with marquee non-conference matchups. Elite schools are looking to play each other more now than ever, and two of the biggest names have officially agreed to play each other.
The Georgia Bulldogs and Ohio State Buckeyes ? two teams heavily in the CFP mix each year ? announced a home-and-home series.
The first game will be at Sanford Stadium in Athens, Georgia in 2030, then the Bulldogs will travel to Ohio Stadium in Columbus, Ohio in 2031.
Georgia vs. Ohio State Series
RELATED: After 60 Years, Florida State and Georgia Will Play a Big-Time Football Series
There?s nothing better than big games on the national stage, and this home-and-home football series does so much for the student-athletes and fans. It?s seriously great to see.
The University of Georgia certainly made a huge effort to get better games on the schedule outside of the SEC. The Bulldogs have agreed to play the UCLA Bruins (2025 and 2026), Florida State Seminoles (2027 and 2028), Texas Longhorns (2028 and 2029) and Clemson Tigers (2029, 2030, 2032 and 2033).
Meanwhile, Ohio State University is doing the same with its non-conference opponents, especially with this announcement. The Buckeyes also have huge games with the Oregon Ducks (2020 and 2021), Notre Dame Fighting Irish (2022 and 2023), Washington Huskies (2024 and 2025), and Texas Longhorns (2025 and 2026).
?Our fans have asked for SEC opponents, and we want to create these impactful contests,? Ohio State Deputy Director of Athletics Diana Sabau told The Columbus Dispatch.
According to The Dispatch, it?s been over 30 years since OSU has played an SEC team in the regular season, when they played the LSU Tigers in the late 1980s.
Strangely enough, OSU and UGA have only played once before, when the Bulldogs took down the Buckeyes at the 1993 Florida Citrus Bowl in Orlando.
In addition to the great players on the field, this high-level matchup will assuredly bring even more national attention to each program. There?s also a good chance it could shake up the playoff rankings if the format remains the same.
So get ready. In a decade, we will finally see Georgia football and Ohio State football on the gridiron once again.