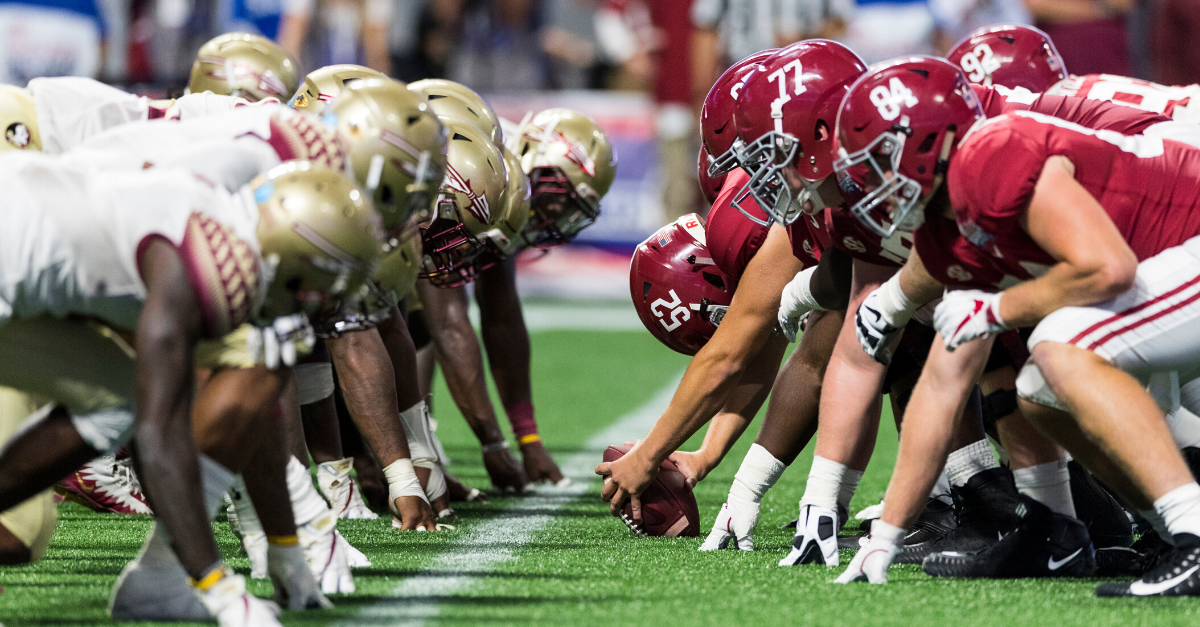 Ric Tapia via AP
One team is rebuilding, the other comfortably looks down on the college football world from atop the mountain. It doesn't take a mad scientist to figure out which description belongs to the Florida State Seminoles and Alabama Crimson Tide after the 2019 season. However, the two historically dominant programs never shy away from wanting to play the best, and when 2025-26 rolls around, they're going to meet on the gridiron once again.
FSU and Alabama agreed to schedule a home-and-home series against one another, according to news releases from both schools on October 31. The first game will take place on Aug. 30, 2025 in Tallahassee, and the rematch will be Sept. 19, 2026 in Tuscaloosa.
FSU-Alabama Football Schedule
"The addition of Florida State to the 2025 and 2026 schedules gives us our second non-conference Power 5 matchups of those seasons as we also play Wisconsin at home in 2025 and West Virginia on the road in 2026. We've been working diligently at building future schedules that provide our team and our fans a lot of excitement and opportunity, and we are pleased to add the Seminoles to that mix."

— Alabama Athletic Director Greg Byrne, via statement
The last time these teams met on the gridiron was the Chick-fil-A Kickoff in 2017 when FSU and Alabama were ranked No. 3 and No. 1, respectively. That neutral site game saw former Florida State quarterback Deondre Francois go down for the season with a knee injury as the Crimson Tide and Jalen Hurts cruised to a 24-7 season-opening victory at Mercedes-Benz Stadium in Atlanta.
Prior to that, the powerhouses only met four times before, with Bear Bryant and the University of Alabama winning in 1965 and 1974, and the 1967 matchup ending in a tie. FSU's only win came in 2007 when Bobby Bowden's squad knocked off head coach Nick Saban, but that victory was vacated as part of Florida State's academic fraud scandal involving 61 student-athletes.
"We are very pleased that we could work this out and we know that it will be a great event on both campuses," FSU Director of Athletics David Coburn said in a statement. "We appreciate Alabama being our partner in this, and both the ACC and SEC offices who had to do a lot of work behind the scenes to make this a reality."
Things change in a hurry when it comes to college football. Florida State University and new coach Mike Norvell might be on the mend heading into 2020, but in a few years, they could very well climb back to the top when the University of Alabama comes to Doak Campbell Stadium for the first time in 2025.
This article was originally published October 31, 2019.