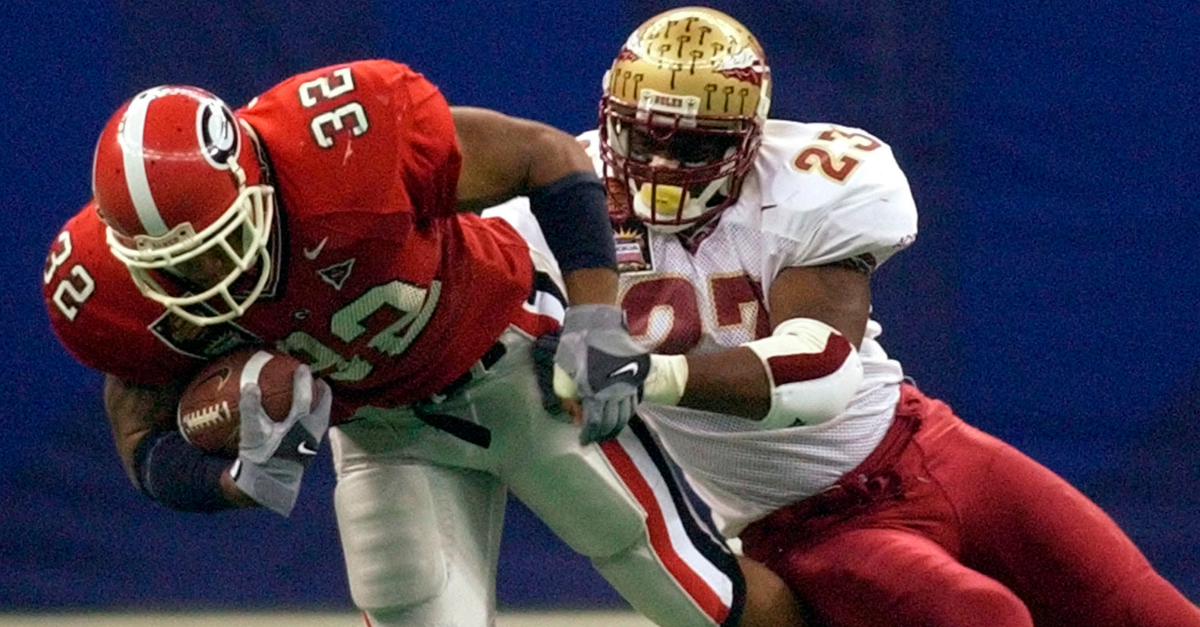 AP Photo/Dave Martin
Throughout college football history, both the Florida State Seminoles and Georgia Bulldogs have been highly successful. In fact, each program has at least 15 conference titles and multiple national titles to their name. However, getting them to play each other has been a chore? until now.
The two college football giants clashed back in the 2003 Sugar Bowl, a matchup in which Mark Richt?s Bulldogs took down Bobby Bowden?s Seminoles 26-13, but it has been over 50 years since both teams have played in the regular season. That?s about to change.
Georgia and Florida State agreed to play a home-and-home football series in 2027 and 2028. Sure, that?s nearly a decade away, but football fans better get ready because this could be an epic non-conference clash between a pair of college juggernauts.
FSU, Georgia Set for Home-and-Home Football Series
RELATED: Ranking the 25 Most Heated Rivalries in College Football
The Bulldogs announced during the 2019 season it will play a home-and-home series with the Clemson Tigers in 2029 and 2030, then announced a second series for 2032 and 2033. That adds to scheduled series with the UCLA Bruins (2025 and 2026) and Texas Longhorns (2028 and 2029).
As if Georgia football?s schedule couldn?t get tougher in the SEC with the likes of Tennessee, Auburn, and Alabama in the same conference and a rivalry with Georgia Tech in Atlanta, it just did.
This is common practice for big-time programs to set marquee away and home games years in advance, but there?s something special about this upcoming series with Florida State University. Kirby Smart?s Bulldogs travel to Tallahassee on September 4, 2027 before the Seminoles head to Athens for a September 16, 2028 showdown inside Sanford Stadium.
If not for a pair of bowl games ? Sugar Bowl in 2003 and a 17-17 tie in the 1984 Citrus Bowl ? this series would be all but dead in the water. The last time these two blue blood programs played during the regular season? 1965.
2003 Sugar Bowl: Georgia vs. Florida State
From 1954-65, the Bulldogs and Seminoles battled on the gridiron nine times. Georgia won the first five. Florida State won the next four, including a 3-0 victory in the final game of the series.
Now, both teams will go back in time to help bolster their schedule and increase their odds to be in the College Football Playoff.
?This is a series with history dating back to the early years of FSU football, and I?m glad we are resuming it,? former FSU head coach Willie Taggart said following the announcement. ?These two games will be great for fans of both programs, especially those interested in traveling to experience the atmosphere here in Tallahassee or in Athens, and will give us another opportunity to play in front of our large group of alumni in the state of Georgia.?
Mark your calendars. A new SEC-ACC rivalry will be here before we know it.
This article was originally published April 3, 2019.