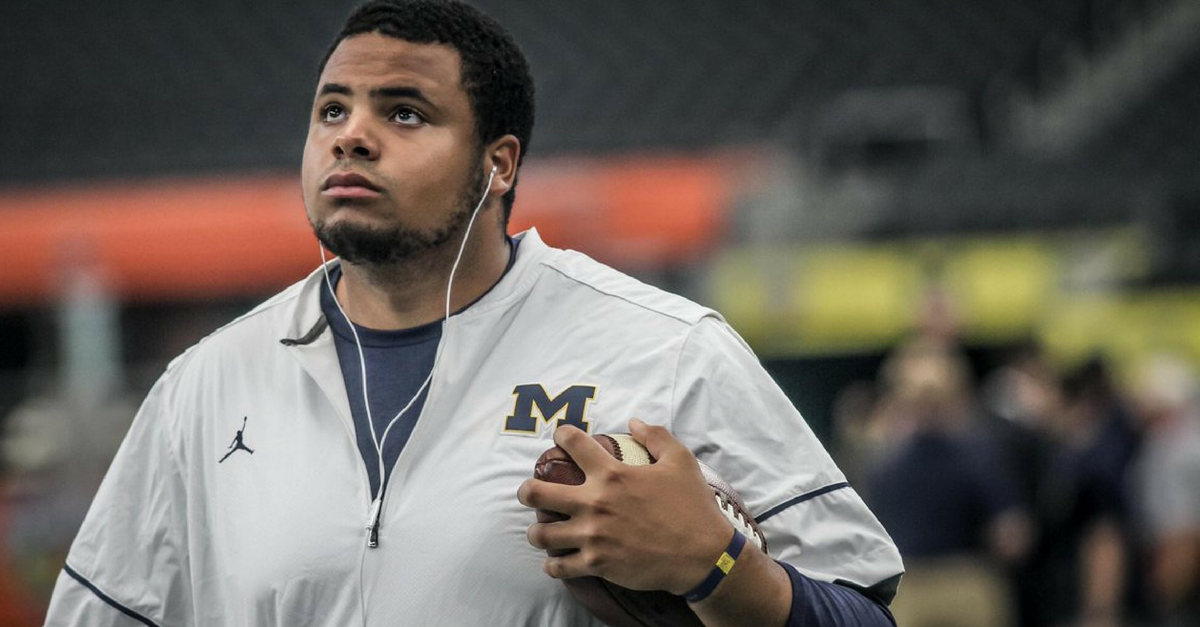 Twitter: @grant_newsome
What once was a blossoming college football career tragically turned into a horrific injury and a fight to save a leg. Now, after recovery, Michigan offensive lineman Grant Newsome has decided to hang up the cleats for good.
After suffering one of the most horrific knee injuries, the 6-foot-7, 320-pound left tackle for the No. 14 Wolverines announced he is medically retiring from the game of football in a heartfelt letter.
Not all stories have a happy ending, but this is one that?s absolutely worth sharing about a young man who has been through a lot more than we can imagine with this leg injury.
With aspirations of becoming a NFL player, Newsome?s career had a promising start. He saw action in five games, including one start, as a freshman in 2015 and then started the first five games as a sophomore in 2016.
Then, in one play against Wisconsin on October 1, 2016, Newsome, a McLean, Virginia native who was a prep star at The Lawrenceville School (NJ), suffered a scary and life-changing knee injury.
He shared his journey in the letter:
?Before I knew it I was in the hospital, in the midst of 4 hours of testing, my heart steadily sinking as I realized what we would later know, my season was over. I ended up dislocating my knee, fracturing my Tibia, tearing 3 of the ligaments in my knee, suffering severe damage to three different nerves, and destroying my popliteal artery. Emergency surgery saved my leg and maybe my life.

I spent more than a week in the ICU, unable to have coherent conversations for more than a few minutes without falling back into a drug-induced stupor. I spent 38 days total in that hospital. Scars litter my right leg as a reminder of my experience. It took 6 additional surgeries to fix what was broken.

When I left the hospital I couldn?t even contract the hamstring or quad muscles in my right leg. My leg had atrophied so badly that my right thigh was the same diameter as my left calf. The doctors were concerned I would never walk again.

But I defied the odds??
After nearly two years of rehabilitation, Newsome was running again, and even went through offensive lineman drills. He lifted weights and did conditioning with his Michigan Wolverines teammates. A return to playing at Michigan Stadium was looking promising.
The return to The Big House just will not happen as a player.
?Unfortunately for that dream, God has other plans for me. Despite a near miraculous healing in my knee, the totality of the injury was too much, as some recent secondary injuries coupled with the fragile nature of a vascular graph have made the risk of playing football again one that is too great for me to accept.

?So I have have undoubtedly the most difficult decision of my life, and will medically retire from football.?
In the classiest of moves, much like the genuine, heartfelt, and inspiring letter, Michigan head coach Jim Harbaugh has allowed Newsome to stay with the Wolverines as a student coach working with the tight ends while he completes his master?s degree in Ann Arbor.
A happy ending? Hardly. But although this is not everything Newsome wanted, his story, and this letter, will be shared for years.