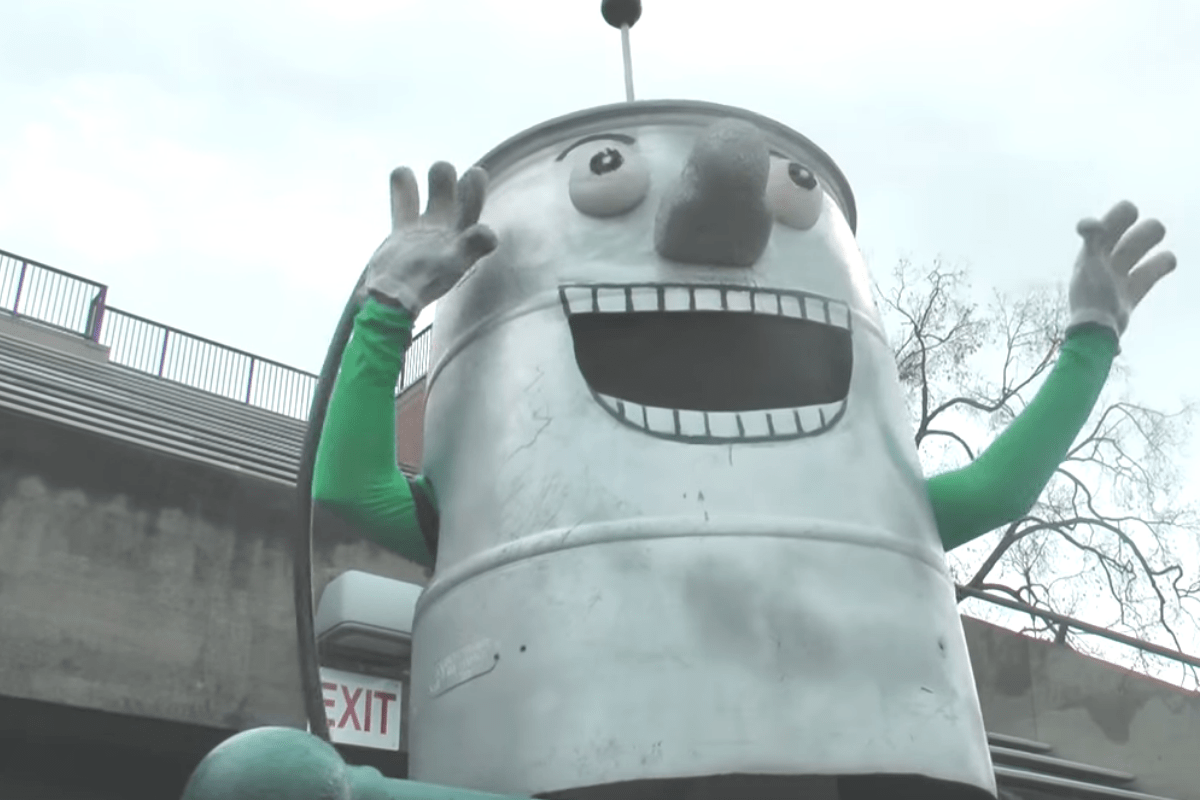 Screenshot from YouTube
You can't talk about athletic excellence without mentioning the Dartmouth Big Green. The Hanover, New Hampshire, Ivy League school has a special place in the history of college sports for inspiring the 1995 classic, "The Big Green."
Lending your nickname is no joke. There's only one problem: What exactly is The Big Green? How can it be a mascot? Dartmouth College diehards were asking themselves the same question back in the 1920s. They brainstormed and searched until they landed upon "the Indians," precisely what everyone thinks of when they think Big Green.
Although unofficial, the Indians moniker stuck until the 1970s when the school ditched the nickname. Dartmouth went back to square one and stayed there for 30 years.
In 2003, everything changed when Dartmouth adopted a new unofficial mascot: Keggy the Keg.
Dartmouth's Keggy the Keg Mascot
RELATED: The 11 Most Bizarre College Mascots We Can't Believe Roam the Sidelines
Three decades without a mascot is three decades too long. The Darmouth Student Assembly determined enough was enough in 2003 and held a student poll to determine a new mascot.
The Moose ended up coming out on top, but students weren't having it. Over at the Dartmouth Jack-O-Lantern, the school's satirical newspaper, Chris Plehal and Nic Duquette wanted a new mascot full of flavor. They thought and pondered until they settled on Keggy the Keg. Keggy has a deep connection to the school's history by representing "the most obvious Dartmouth stereotype: the beer-swilling 'Animal House' fraternity culture." Thus, Keggy was born.
Keggy has become an ingrained part of Dartmouth culture, occasionally appearing at hockey games, homecoming football games and other campus events if he's allowed in. Shockingly, the Dartmouth administration isn't a fan of Keggy even though reports indicate he's nothing but a gentleman.
The anthropomorphic beer keg, the myth, the legend, Keggy sightings have become rarer over the past few years. His Twitter account was last active in 2014 and it appears Dartmouth has done everything it can to distance itself from him.
That didn't stop an intense debate over the rights to Keggy in 2020 after an apparel company sold "Keggy is Dead" shirts. The Dartmouth Jack-O-Lantern didn't plan on pursuing legal action despite being the ones to give birth to college football's funniest mascot.
Maybe someday Keggy will be fully appreciated as the unofficial mascot of Dartmouth College. How can you hate a guy who has a killer smile, two thumbs up and always has a cold one on hand?
Related Videos