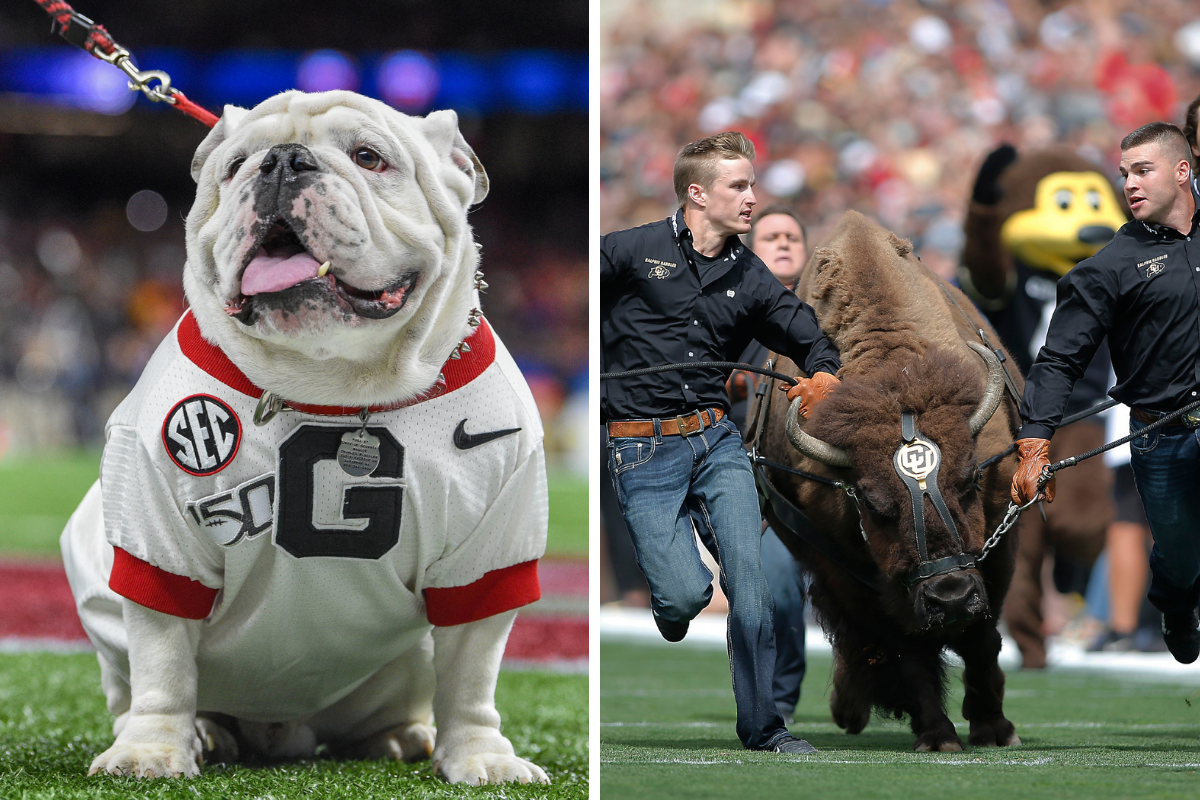 Ken Murray/Icon Sportswire via Getty Images (left), Russell Lansford/Icon Sportswire via Getty Images (right)
College football is special for a lot of reasons. There are the tailgates, the fight songs and there's your whole week being ruined because your team lost on Saturday. These things, among many others, are what make game days in the fall so special.
College football is also one of the few sports that has live mascots. Yes, come to a home game for some programs and you can see a cute doggo, lion, tiger, bear, falcon and a even freaking bison.
These live mascots are just as big of fans of their football teams as you and me. The only difference is they embody the spirit of the whole program. Plenty of schools across the country feature a live animal during their games in one way or another. Let's take a look at the best 15.
15. Dubs, Washington Huskies
I have a soft spot for Huskies, and Alaskan Malamutes are no different. Dubs I unfortunately passed away earlier this spring after spending 10 years being a very good boy on the sidelines. Dubs II takes over in 2021.
14. Tusk, Arkansas Razorbacks
I'm in awe of the sheer size of this lad. Tusk is technically a Russian Boar but he's a Razorback at heart.
13. Nova, Air Force Falcons
To put it simply, Nova is badass. She's a pristine gyrfalcon and is learning the craft of representing the Academy. Nova is in her second season after replacing longtime live mascot Aurora, who died in October 2019 at age 23.
12. Boomer & Sooner, Oklahoma Sooners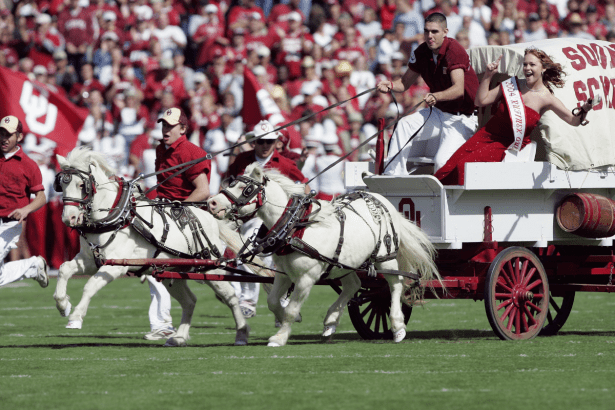 Photo by Brian Bahr via Getty Images
Boomer & Sooner star in one of the best entrances in all of college football. They also get to steamroll onto the field every time the Sooners are in the process of steamrolling an opponent.
11. Bill the Goat, Navy Midshipmen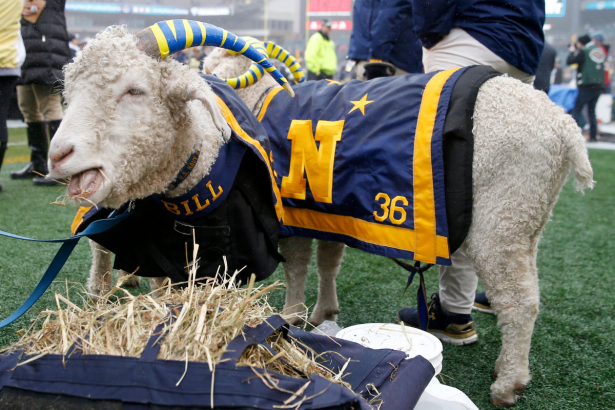 Photo by Elsa via Getty Images
Army and Navy have some of the richest traditions in the sport. For the midshipmen, this includes a live goat named Bill. Bill XXXVI, the current Bill, is the 39th iteration of the iconic college mascot.
10. Traveler, USC Trojans
Traveler is as recognizable as any live animal mascot. He's the star of USC football in star-studded Los Angeles. The famous white horse has been a Trojan tradition since 1961.
9. War Eagle, Auburn Tigers
Eagles, like Falcons, are also badass. Let's face it, all birds of prey are. The "Eagle Flight" is something every NCAA football fan needs to see.
8. Rameses, North Carolina Tar Heels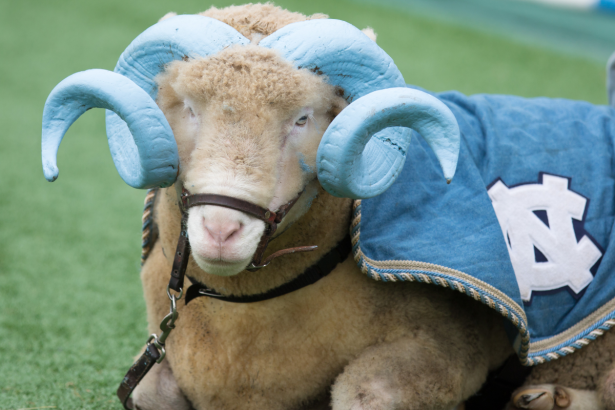 Photo by Brian Utesch/ Icon Sportswire via Getty Images
I'm not a UNC fan, but I can admit that powder blue is awesome. Paint it on ram horns and it's legendary.
7. Smokey, Tennessee Volunteers
One of the few redeeming qualities about Tennessee football this century has been Smokey, the Bluetick Coonhound. Smokey has a legit argument as the most adorable live mascot in the sport.
6. Leo III, North Alabama Lions
How about some college football-loving lions? Leo III is the official mascot of the University of North Alabama. Unfortunately, Una, his twin sister, passed away in 2020. You can count on a roar whenever North Alabama scores a touchdown.
5. Uga, Georgia Bulldogs
The famed English Bulldog is the heart and soul of Georgia football. An iteration of Uga has graced the Georgia sidelines since 1956 and even goes after opposing players to defend his team sometimes.
4. Mike the Tiger, LSU Tigers
Mike is the unofficial king of Louisiana. He lives right on campus with the students and it's always a treat when head coach Ed Orgeron channels his inner Mike the Tiger.
3. Bevo, Texas Longhorns
RELATED: How "Bevo" the Texas Longhorns Mascot Got His Nickname
Everything about the University of Texas is embodied in Bevo. Bevo can be found at every every Texas home football game. He has a special place in the south end zone of Darrell K. Royal-Texas Memorial Stadium.
2. Renegade, Florida State Seminoles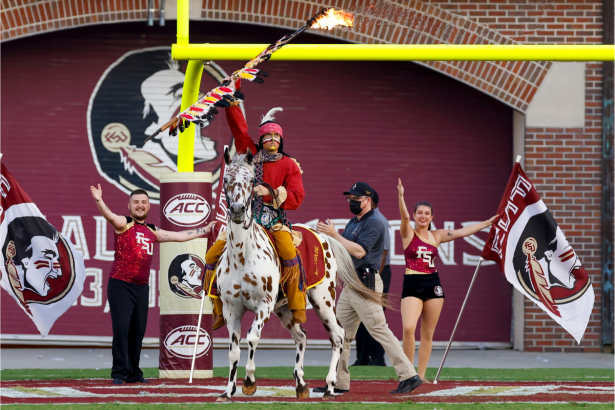 Photo by David Rosenblum/Icon Sportswire via Getty Images
Renegade and Chief Osceola are so high on the list based on how epic their entrance is. Plus, Appaloosa horses have a spot-on look.
1. Ralphie the Buffalo, Colorado Buffaloes
I knew Ralphie was going to be No. 1 before making this list. I couldn't not put a buffalo as the top choice. Just look at how she runs. Something could go horribly wrong, which only adds to the spectacle.
Honorable Mentions
Reveille, Texas A&M Aggies
Handsome Dan, Yale Bulldogs
Sir Big Spur, South Carolina Gamecocks
Joy & Lady, Baylor Bears
Related Videos