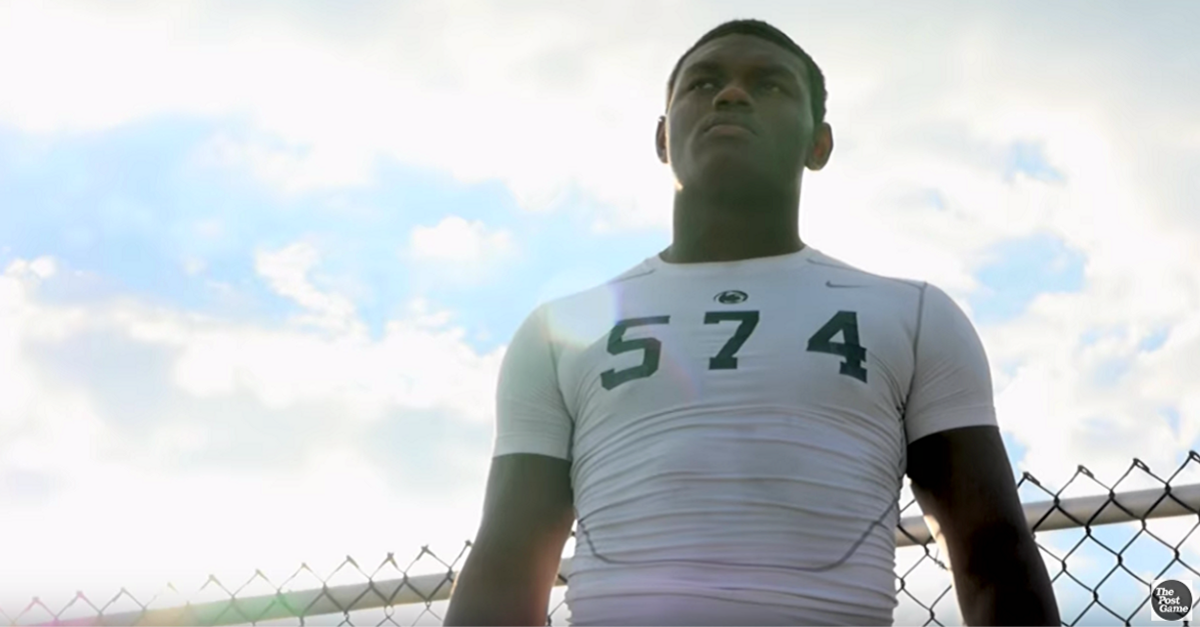 Screenshot from YouTube: ThePostGame
Coming out of Gaithersburg High School in Maryland, Kamonte Carter was one of the top defensive tackle recruits in America. Rated as a four-star prospect by 247Sports, the 6-foot-4 standout was listed as an athlete, and for good reason. Kam Carter could've played either defensive end or linebacker in college, was a forward for his high school basketball team, and even played quarterback and tight end on offense.
Kam Carter had it all when he committed to the Penn State Nittany Lions. Then, his downward spiral began.
Kam Carter: Penn State
After redshirting his true freshman season and packing on muscle that put him close to 300 pounds, PSU dismissed Carter the following spring for "a violation of team rules."
"We appreciate Kam's contributions to the [Penn State football] program and wish him success in the future," the school's official statement read.
Needing a new team and chance to redeem himself, Carter transferred to East Mississippi Community College where the popular Netflix series 'Last Chance U' was being filmed in Scooba, MS.
Kam Carter: Last Chance U
With the spotlight on him, Carter struggled with depression and anxiety off the football field. While at EMCC, he found his wake-up call moment after his brother searched his name online.
"He looked my name up in class to show his friends. The first thing that came up is I got kicked out of Penn State. He called me crying that night," Carter said. "It took me hearing that it hurt somebody else, me getting kicked out, for it to come back and hurt me."
His junior college stint did get him back to FBS football, with a scholarship to play for the University of Pittsburgh Panthers in hand.
Kam Carter: Pitt
After appearing in nine games, making eight tackles and grabbing one fumble recovery, Carter transferred out of the Pitt football roster. Once again, the long-forgotten top player was on the move.
This time, it didn't take long to find a home.
Carter stayed in the Steel City and found his way to the Duquesne Dukes, an FCS-level program based in Pittsburgh that plays in the Northeast Conference. With two years of eligibility remaining, Carter, finally, hit his stride.
Where is Kam Carter Now?
In 2018, Carter was named First-Team All-NEC as a defensive lineman. He helped the Dukes to a 9-4 record, an NEC Co-Championship, and the school's first-ever FCS Playoffs win by beating Towson, 31-10. The team would lose to third-ranked South Dakota State in the second round, but finished ranked No. 21 in the country, also a program-first.
Through the first two games of 2019, the Dukes have the 12th-ranked scoring defense (18.5 PPG), third-ranked passing defense (117.5 yards allowed per game), and allow only 225.0 yards per game, No. 3 in the FCS.
"The sky is the limit for talent. You can look down the line of [the roster], you can see just the talent level," Carter said after Duquesne's season-opening win over Walsh. "Every opponent that we face, as long as we go out there and execute and do what we're supposed to do, I feel like we can play against Alabama and beat them."
Alright. Duquesne wouldn't last two quarters with the Alabama Crimson Tide, but you have to respect Kam Carter's confidence in his final season of college football. He may never reach the NFL as many once thought, but it's a sweet story of redemption for Kamonte Carter, who appears to have righted the ship and is flourishing in Pittsburgh, PA.