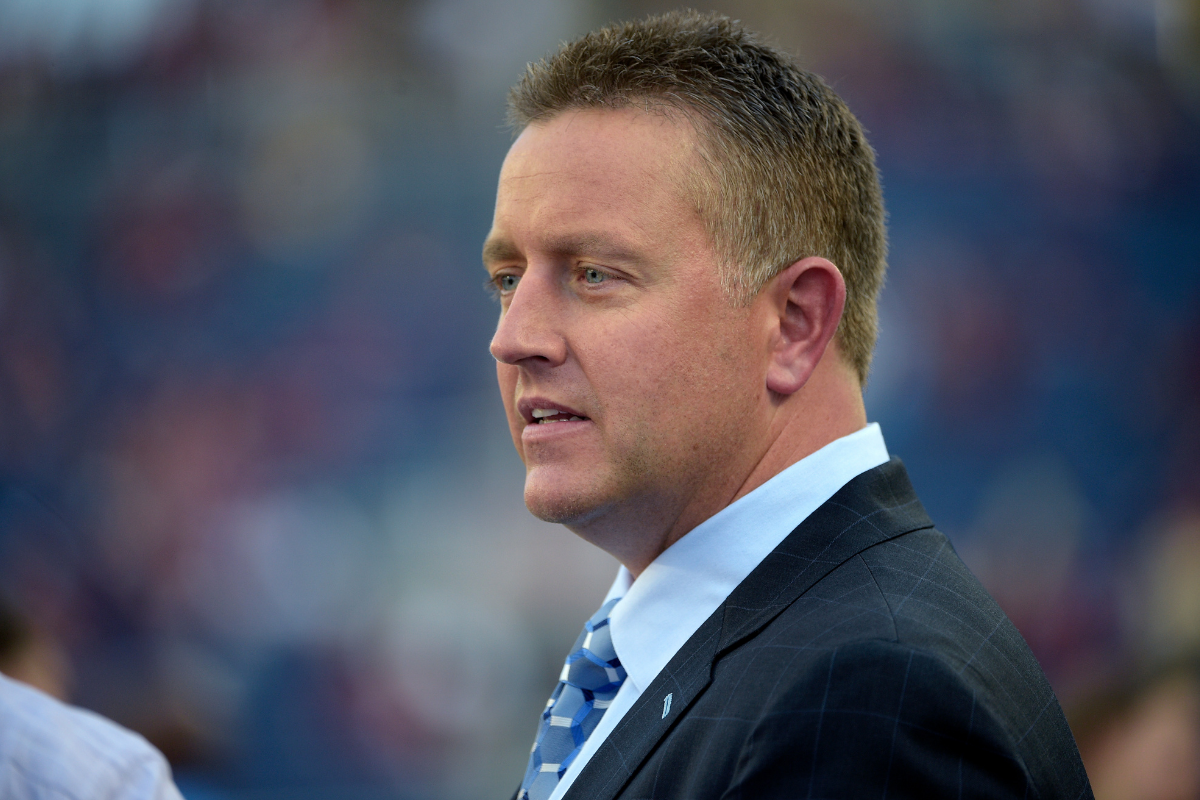 AP Photo/Phelan M. Ebenhack
There can't be a better job than being world famous for talking about college football and traveling to some of the best stadiums and atmospheres for the biggest games of the year.
Kirk Herbstreit is best known for doing just that, and he's made a killing throughout his career as an American sports analyst. As one of the faces of ESPN College GameDay and a voice of college football games, it's no wonder the 51-year-old makes a load of money.
Early Life
Kirk Herbstreit was born on August 19, 1969 in Centerville, Ohio. He was talented football player from a young age, even earning the Ohio Gatorade Player of the Year as the quarterback for Centerville High School. He was also a talented baseball player, but he decided to follow in his father's footsteps in multiple ways.
College Football Career
Herbstreit's father, Jim Herbstreit, played for the Ohio State Buckeyes and was a co-captain of the 1960 team. So it made sense for young Kirk to follow in his father's path and become a Buckeye after his great high school career.
Although he didn't play in his first few seasons with the football team, he did get playing time during his junior year, finishing with 485 passing yards, one touchdown and three interceptions.
Entering his senior year in 1992, Herbstreit was named the starting quarterback and a team captain by head coach John Cooper. He led the Ohio State football team to an 8-3-1 record by completing 58.7 percent of his passes for 1,904 yards with four touchdowns and six interceptions.
Broadcasting Career
RELATED: Kirk Herbstreit's Wife: The Buckeye Cheerleader Turned Super Mom
After graduating from Ohio State University in 1993 with a degree in business administration, Herbstreit chose not to pursue a career in the NFL and instead launched his career as a college football analyst.
Herbstreit began as a sideline reporter for ESPN back in 1995, before taking up the big chair on ESPN's College GameDay — the top college football program on Saturday mornings — alongside Chris Fowler and Lee Corso. The show now features Corso, Rece Davis and Desmond Howard, among many other analysts and former players.
He's also served as one of the main voices of college football commentating over the years. He was the voice of ESPN's Thursday night games before moving to ABC as their main color commentator.
Herbstreit also lended his voice to the EA Sports' NCAA Football video games, which he voiced his support for bringing back in recent years.
He's also written several articles for ESPN.com and ESPN The Magazine. Additionally, he hosted a radio show for 97.1 The Fan in Columbus, as well as appearing on various podcasts for ESPN.
In 2019, Herbstreit won his fourth Sports Emmy Award for Outstanding Studio Analyst, tying him for the most in ESPN history with Dick Schaap.
Then, in 2020, Herbtreit broke the record and made ESPN history with his fifth Sports Emmy Award for Outstanding Sports Personality. He won it for Studio Analyst in 2010, 2011, and 2019, and as an Event Analyst in 2018 and 2020.
Personal Life
Kirk Herbstreit met his future wife, Alison Butler, while she was a cheerleader at Ohio State. They married in 1998 and now have four children, all boy. Jake and Tye (twins who play football at Clemson), Zak, and Chase. Herbstreit even had some of them on set with him on College GameDay over the years as they have grown up.
Herbstreit now lives in the Nashville, Tennessee area. He reportedly left Ohio in 2011 due to his issues with the fans of his alma mater after he was critical of the program during a broadcast.
Kirk Herbstreit Net Worth
Continuing his illustrious career, Kirk Herbstreit is signed by ESPN through 2022. His reported annual salary is around $2 million and Celebrity Net Worth estimates Kirk Herbstreit's net worth around $4 million.
With how much he is traveling across the United States and does from his time on GameDay to commentating games for ESPN and ABC Sports on Saturday night, Herbstreit is definitely living up to the amount of money he makes.
This article was originally published May 23, 2019.