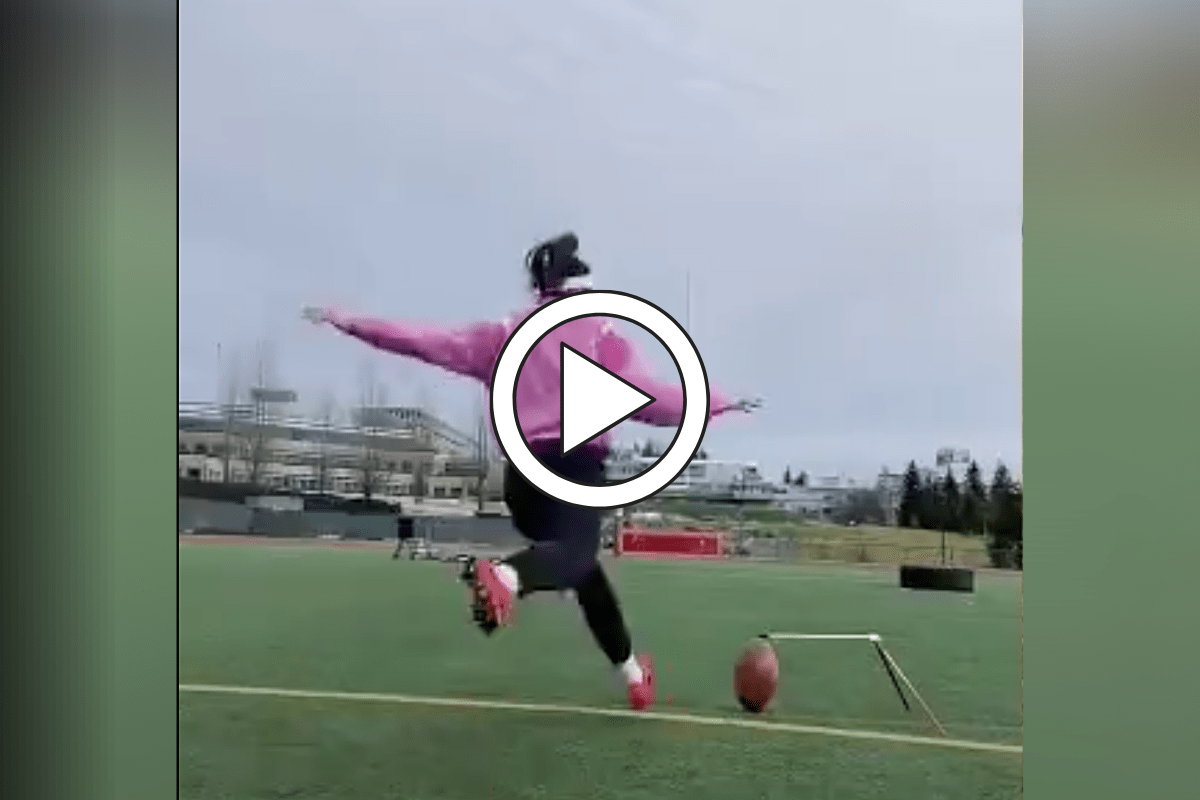 Screenshot from Twitter
Every single day women are breaking barriers in sports. They're proving they belong on the football field just as much as the guys do. They're making game-saving tackles and drilling clutch field goals after winning homecoming queen.
Kristie Elliott didn't even have football on the mind until someone on the football team made a bet that she couldn't kick a 40-yard field goal. Elliott, who was on the track team at the Canadian Simon Fraser University in Burnaby, British Columbia, proudly put it through the uprights while wearing skater shoes.
One thing led to the other and now she's a kicker for said football team, which is the only Canadian school in the NCAA's Division II. Elliott has quite the leg on her, as evidenced on the distance she can drill kicks from.
Kristie Elliott 50-Yard Field Goal
RELATED: Female Kicker Makes Game-Saving Tackle in Homecoming Game
Elliott made the football team in August 2019 and has been serving as the team's backup kicker ever since.
While SFU head coach Thomas Ford has said she may not have the leg strength to handle kickoff duties, she's proving him wrong on social media.
In one video going viral on TikTok, Elliott begins by nailing a 10-yard field goal. She then moves back in 5-yard increments. By the end of the clip, she's hitting field goals from 40, 45 and 50 yards out without breaking a sweat. The video now has more than 700,000 likes and has been noticed by NFL teams like the Detroit Lions and Pittsburgh Steelers in the comment section.
Seriously, this chick can kick.
?She?s got a leg on her,? SFU football quarterback Justin Seiber told Varsity Letters. ?She?s making kicks. We watch her do it after practice, and now we?re looking forward to see her do it on Saturdays.?
Elliott didn't get any action last season and SFU's season was canceled in 2020 due to the coronavirus pandemic. But the guy ahead of her made just two of eight field goal attempts last year.
It's not like the North Vancouver native can't kick under pressure. Last August, she was put on the spot in practice. If she made a 30-yard field goal with her team surrounding her, they wouldn't have to run gassers. What do you think she did?
Ice in her veins.
?This was the moment of truth. So then I nailed it, and I have to say it was a beautiful kick," she told Varsity Letters.
?All of these guys are freaking out. I am in the middle of this huddle and they are smashing into me, picking me up, chanting my name. I?ve had so much more confidence after that.?
That confidence is well-deserved. It's time to get Kristie Elliott in a real game.