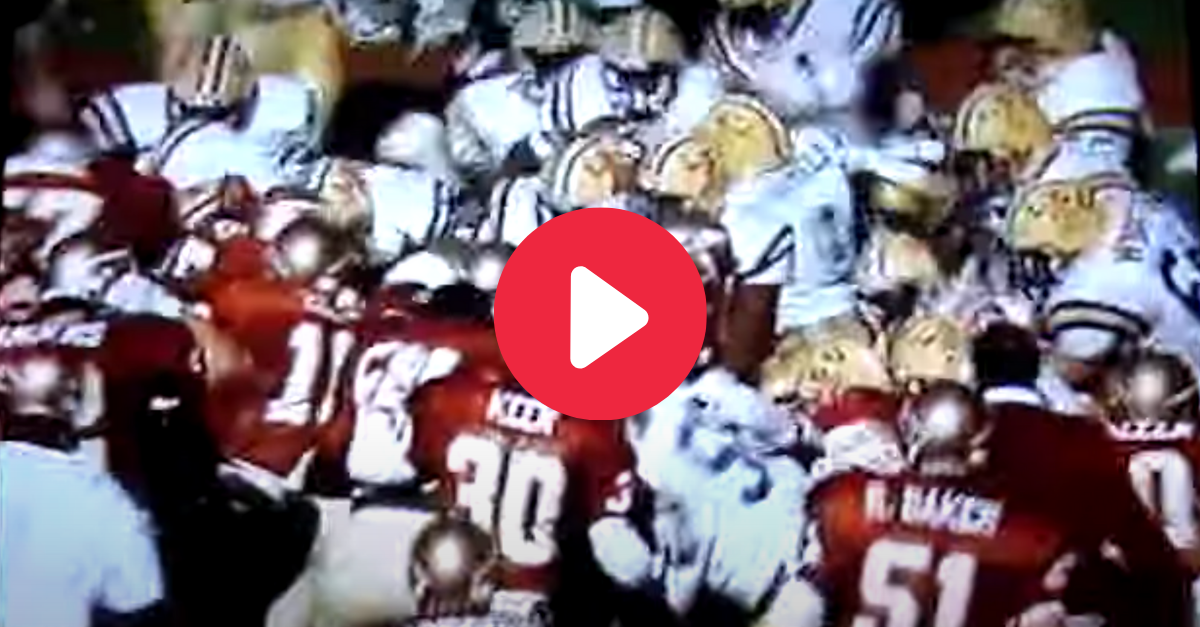 Screenshot from YouTube
The drought is over. The Florida State Seminoles and LSU Tigers will finally play each other again after three decades. The two-game series at neutral sites starting in the 2022 season will let these two college football powerhouses clash once again. Let?s just hope it has a better ending than one of their final matchups did.
Back in 1990, FSU took it to LSU, 42-3, at Doak Campbell Stadium in Tallahassee. The Seminoles simply dominated to extend their all-time series lead over the Tigers. What was supposed to be a monumental celebration, however, turned into an ugly brawl.
Punches. Kicks. Shoves. Trash talk. You name it, it probably happened. The fight was so ugly, fans started to boo after the game. So what actually happened that afternoon?
1990 FSU-LSU Fight
RELATED: Miami vs. FIU Remains College Football?s Most Violent Brawl
The final snap of the football game was a broken play. It ended with LSU quarterback Jesse Daigle running for his life and throwing the ball away before getting hit out of bounds by Florida State linebacker Kirk Carruthers.
The game was over. FSU dominated. All eyes were on Seminoles head coach Bobby Bowden, who had just earned his 200th career victory.
Then, all hell broke loose.
Tempers flared and punches were thrown on the sideline and then it spilled onto the field. Players from both teams then started brawling like there was no tomorrow until it was broken up for good.
"It's a shame what happened at the end – it was one of the cleanest games that we've had in a long time, and all that happened at the very end," Bowden said, via The Orlando Sentinel.

"That's not what the game's about," LSU head coach Mike Archer added.
The fight put a stain on a joyous occasion in the first and last time LSU football has ever played FSU in Tallahassee.
The two teams have combined for five national championships since their last meeting in 1991, which means more fireworks are certain to come between the SEC and ACC programs.
FSU-LSU Football Series
The LSU Tigers won the first game of the NCAA series at the 1968 Peach Bowl. They also won the 1982 showdown in Baton Rouge, Louisiana. Despite seven total meetings being at Tiger Stadium, the Tigers have only managed to win one home game.
Florida State, on the other hand, dominated that era and have won four-straight meetings.
That might all change on Labor Day Weekend in 2022 at the Mercedes-Benz Superdome in New Orleans and in 2023 at Camping World Stadium in Orlando when head coach Ed Orgeron?s Tigers meet head coach Mike Norvell?s Seminoles on ESPN.
LSU has future non-conference games with UCLA, Clemson, Oklahoma, and Arizona State, while FSU boasts series with West Virginia, Notre Dame, Alabama, Georgia, and their annual rivalry game with the Florida Gators.
This FSU-LSU series will be special, though, and during the coronavirus pandemic and COVID-19 outbreak, it?s hard to think about these upcoming games and not remember that huge brawl back in 1990.