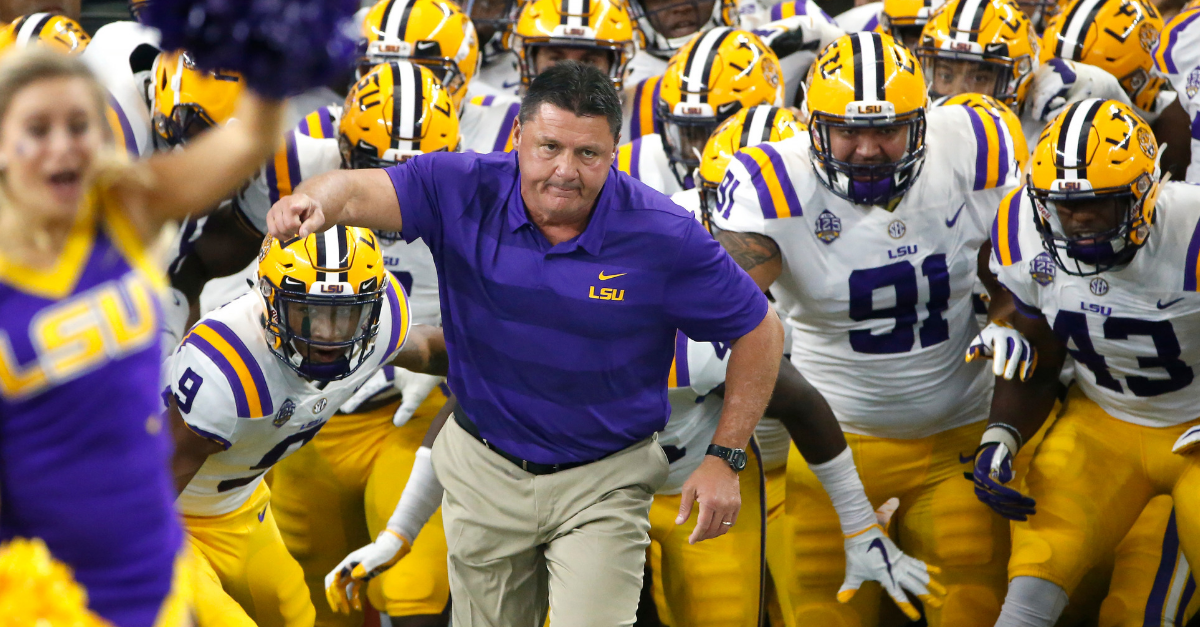 AP Photo/Ron Jenkins
Give someone an inch and watch them take it a mile. That?s exactly what is about to happen here because, in March, anything goes. The NCAA Tournament is set to begin and we are all just witnesses to the greatest and heartbreak of it all. But what would happen if the March Madness bracket was actually settled on the gridiron? Who would win it all?
Although the real kings of college football are the Clemson Tigers and Alabama Crimson Tide, neither of those schools made it to college basketball?s Big Dance. So let?s have a little fun here to see how the bracket would shake out if these were all football games from this past season.
Everyone wants an expanded College Football Playoff, right? Now is the chance to have it.
RELATED: 10 Big and Bold Predictions for the 2019 College Football Season
Using the final Associated Press Top 25 as the top metric, and getting some help from USA Today?s final rankings, it?s time to find out the real kings of college sports.
Sure, not every team in the NCAA Tournament field has a football program. All that means is they will lose to the one who does. If neither school has a Division I team, but has an FCS-level or lower team, they will advance. If the FCS-level team is better, they will advance.
Here. We. Go.
Round of 64
East Region Advancers: North Dakota State, UCF, Mississippi State, Virginia Tech, Maryland, LSU, Minnesota, Michigan State
We have our first major upset! The North Dakota State Bison won their imaginary play-in game and then took down the top-seeded Duke Blue Devils. If you don?t think this would happen in real left, perhaps you should watch more college football because the Bison are legit. It?s also pretty clear who the favorite is here, and it?s definitely not the UCF Knights.
West Region Advancers: Fairleigh Dickinson, Syracuse, Murray State, Florida State, Arizona State, Texas Tech, Florida, Michigan
Although there is another 16-seed advancing out of the first round, it?s really by default. Same goes for Murray State. The real key is which team will survive the bottom of this region because it?s loaded with good teams.
South Region Advancers: Virginia, Oklahoma, Oregon, Kansas State, Villanova, Purdue, Cincinnati, Colgate
Are you shocked Colgate upset Tennessee? Don?t be. Dan Hunt?s Raiders won the Patriot League, finished with 10 wins, and advanced in the FCS playoffs. Tennessee, well, they didn?t do much. It?s March, so just let it happen. Also, Oregon edges Wisconsin because the Ducks finished with more AP votes (11) than Wisconsin (2).
Midwest Region Advancers: North Carolina, Washington, Auburn, Kansas, Ohio State, Houston, Kentucky
This was a pretty easy around for the favorites. Congrats to Kansas on finally winning a meaningful football game this decade, though. It could get dicey at the end here.
Round of 32
East Region Advancers: North Dakota State, Mississippi State, LSU, Michigan State
North Dakota State advances because it would show UCF what a real national championship football team looks like.
West Region Advancers: Syracuse, Florida State, Arizona State, Florida
It?s incredibly unfair to have two top-15 teams int he country play each other in the second round, but that?s just the way the cookie crumbles sometimes. Onward, Gators. Also, how in the world does Florida State make it to the Sweet 16?
South Region Advancers: Oklahoma, Oregon, Purdue, Colgate
The Sooners are the top team here, obviously, and they likely won?t be tested until the Final Four.
Midwest Region Advancers: Washington, Auburn, Ohio State, Kentucky
Oh, man. The second-round games weren?t all of that compelling, but this is starting to get very, very intriguing.
The Sweet 16
East Region Advancers: North Dakota State, LSU
It?s hard not to root for the underdog, and the Bison now have the chance to face mighty LSU for a trip to the Final Four after knocking off fellow SEC foe Mississippi State.
West Region Advancers: Syracuse, Florida
Thank goodness, someone finally got past FSU?s terrible offense. This sets up a pretty fun one in the Elite 8, too.
South Region Advancers: Oklahoma, Purdue
Maybe it wasn?t such a wise idea to pick Colgate to get out of the first round. Then again, was anyone in this region even going to come close to the Sooners anyway?
Midwest Region Advancers: Washington, Ohio State
These were four damn good football teams at times in 2018, but the two best teams survive and advance.
The Elite 8
East Region Winner: LSU
No more Cinderella story for the Bison. It was a great run, though. The Tigers are just better.
West Region Winner: Florida
This is a better game than most fans would give it credit for. After all, both teams went 10-3 on the season. However, the Gators get the job done.
South Region Winner: Oklahoma
Duh.
Midwest Region Winner: Ohio State
Although Chris Petersen?s offense would have probably put up more points than it did against the Buckeyes in the Rose Bowl, the same result likely happens. Ohio State is simply a better football team.
The Final Four
LSU Tigers vs. Florida Gators
These two teams had quite the battle back in October, and there?s no doubt it would be the same again. Florida won the first meeting at The Swamp, but all signs point to the Tigers taking the rematch on a neutral field, especially with the way Ed Orgeron?s team played at the end of the season. Winner: LSU Tigers
Oklahoma Sooners vs. Ohio State Buckeyes
Oklahoma made it to the College Football Playoff. Ohio State did not. The Sooners got pounded in their bowl game. The Buckeyes took care of Washington. It was a debate at the end of the season and here it is again. Nevertheless, if you lined these two teams up on the football field, Ohio State would likely win. Why? They actually had a defense that could stop someone from scoring. Winner: Ohio State Buckeyes
The National Champion: Ohio State Buckeyes
As painful as it might be for most college football fans, that?s how the bracket shakes out. LSU was a really strong football team. The battle between Buckeyes quarterback Dwayne Haskins and the Tigers? secondary would be a treat for us all. In the end, though, the trophy belongs to the Ohio State Buckeyes.