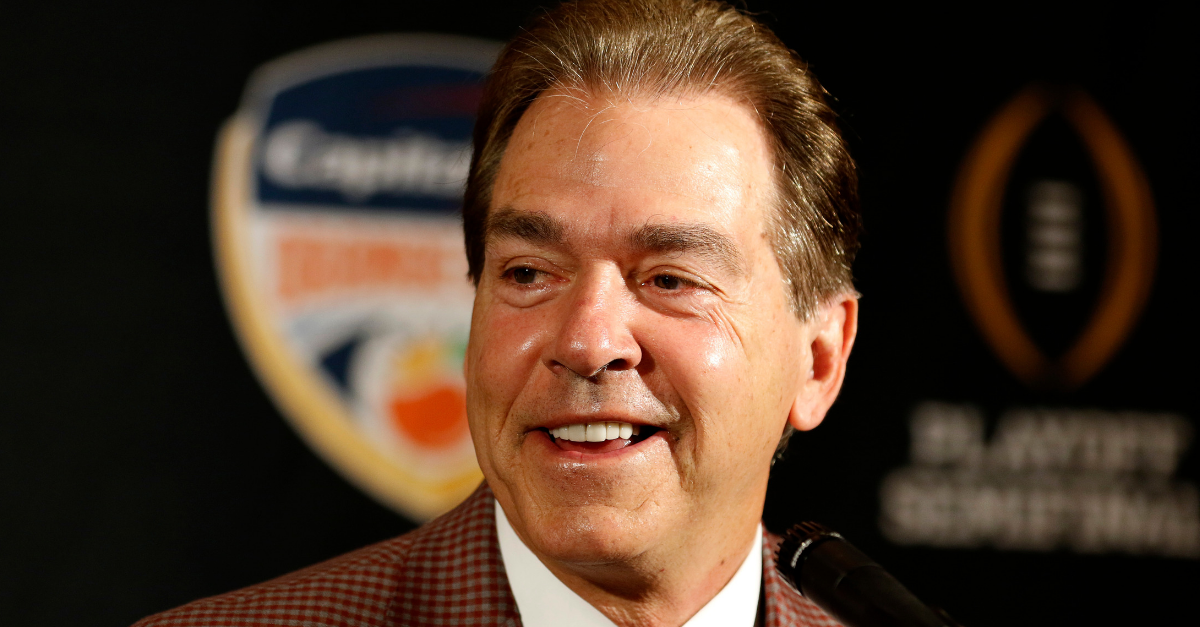 AP Photo/Joe Skipper
Another offseason of coaching concerns circled Tuscaloosa. Alabama head coach Nick Saban reared his head, cracked another 'deez nuts' joke, and laughed at everyone who thought the Crimson Tide weren't going to reload with more of the best coaching talent in college football. Saban had the elite recruiting class he always does, and now he has the staff to bring everything full circle for another national championship run.
Any way you dice it, the seven new faces joining the Alabama Crimson Tide football coaching staff are seven of the best hires anywhere in the country. From a team that just went to its fifth-straight College Football Playoff, this reaffirms that the only obstacle that can topple the Tide is still named Dabo Swinney. Saban is a genius that attracts the best minds, and he just put together another staff that fits this program perfectly.
Steve Sarkisian
Position: Offensive Coordinator/Quarterbacks Coach
Some fans weren't thrilled when Sarkisian's name first reappeared on Alabama football's radar to replace Dan Enos, who fled like the Baltimore Colts to coach at Miami. Sarkisian coached the 2017 College Football Playoff National Championship game, then left to coach Matt Ryan, Julio Jones and the Atlanta Falcons offense for two seasons. Sark is only a few steps from reclaiming another head coaching job, so there's a big chance this is another one-and-done season in Tuscaloosa.
Brian Baker
Position: Associate Head Coach/Defensive Line
After coaching defensive line for eight teams over 19 seasons, Baker spent the last three years coaching the Mississippi State Bulldogs' elite defensive front. He produced several All-SEC players including Montez Sweat and Jeffery Simmons, and he's somehow upgrading an Alabama defensive unit that's already the most dominant in the entire country.
Pete Golding
Position: Defensive Coordinator
The only internal promotion is naming inside linebackers coach Pete Golding the defensive coordinator after just one season in Tuscaloosa, but he's earned every bit of this promotion. Golding coached the University of Texas-San Antonio Roadrunners into one of the best defensive at the FCS level. Golding has mentored several all-conference players over his career, and he could very well become a staple at Alabama for multiple seasons.
Charles Kelly
Position: Associate Defensive Coordinator/Safeties
Sorry, Tennessee. Saban hired Charles Kelly away from Jeremy Pruitt's staff after only one season in Knoxville. Kelly is one of the best defensive coaches in the nation, and his resume proves it. He spent five seasons with the Florida State Seminoles under another Saban disciple, Jimbo Fisher. As defensive coordinator, Kelly coached Jalen Ramsey and Derwin James into first-round draft picks, plus a host of other NFL talents. This one is a huge win for the back end of this defense.
Charles Huff
Position: Associate Head Coach/Running Backs Coach
Charles Huff might not be a big name just yet, but he quietly boasts one of the best careers in the country. In one season in similar roles at Mississippi State, Huff coached the 20th-best rushing attack in the country. Prior to that, he spent several seasons with the Penn State Nittany Lions where he recruited, coached and graduated one of the best running backs in the NFL today. For those who don't remember, that'd be Saquon Barkley.
Kyle Flood
Position: Offensive Line Coach
The former head coach at Rutgers comes with Sarkisian from the Atlanta Falcons, where they weren't all that fantastic at keeping Matt Ryan upright. In his first of two years in 2017, Atlanta allowed only 24 sacks, third-fewest in the NFL. Last season, they allowed 42 sacks and 108 hits on the QB, which was sixth-worst in the league. Flood knows offensive line play, especially when running the football, so a return to college could be a big win.
Holman Wiggins
Position: Wide Receivers
No job is juicier than coaching the four NFL-level pass catchers in Tuscaloosa, but Holoman Wiggins may just have the easiest job on the staff. In seven seasons with the Virginia Tech Hokies and Memphis Tigers, Wiggins coached multiple wide receivers to school records and all-conference honors, so he's no stranger to getting the best out of his players. Imagine what he can do with a talent like reigning Biletnikoff Award winner Jerry Jeudy?
Sal Sunseri
Position: Outside Linebackers
One of the most popular hires is the return of Sal Sunseri, who just finished up making the Florida Gators into one of the most dominant pass rushing teams in college football. His two sons ? Vinnie and Tino ? are also on Alabama's staff for the 2018 season, but it's dad who brings home the bacon. He spent three years coaching Khalil Mack in Oakland, won a national title with the Florida State Seminoles in 2013, plus he spent three seasons with Alabama between 2009 and 2011.
This staff is incredible considering just a few weeks ago, Alabama was gutted to its core once again. The Crimson Tide are a machine, and Nick Saban keeps retooling faster than ever. Who knows when this dynasty ends, but it's not going to happen any time soon.