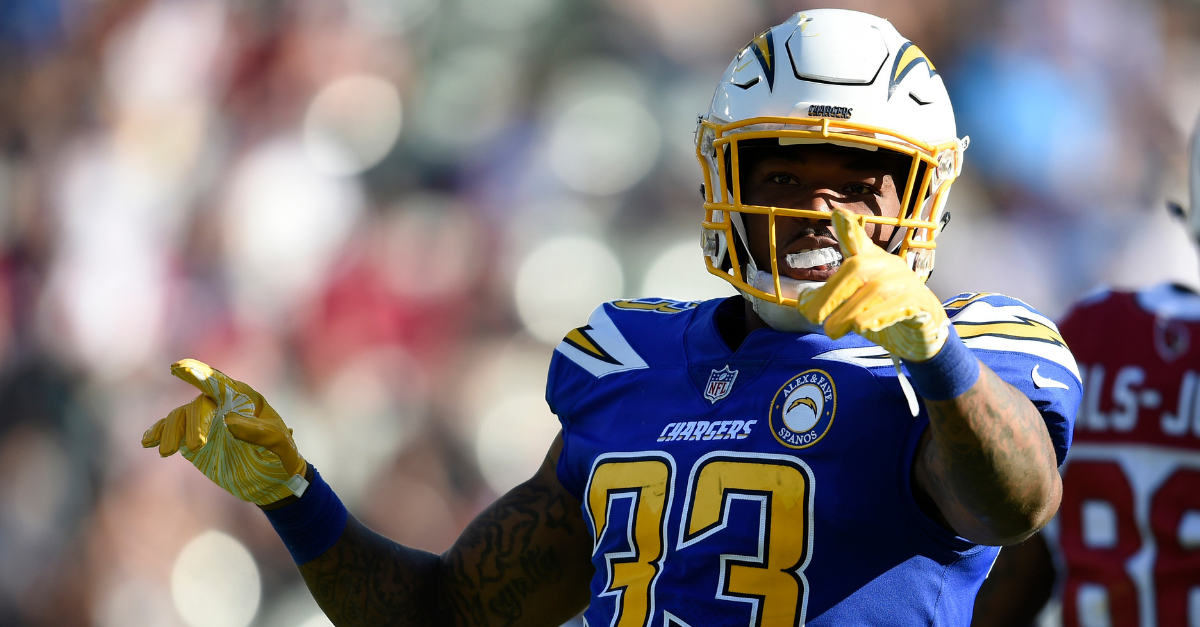 AP Photo/Kelvin Kuo
With the NFL season winding down, that means it is time for the league's annual awards, and there are few players who deserve recognition more than Los Angeles Chargers free safety Derwin James.
In most years, the former Florida State Seminoles star would have been the easy choice for NFL Defensive Rookie of the Year. Despite another first-year player also having a great season, the 6-foot-2, 220-pound James should still get the award.
RELATED: What Are the 36 FSU Seminoles in the NFL Up To?
James definitely had to compete with some extremely talented linebackers for rookie of the year honors in 2018. Indianapolis Colts linebacker Darius Leonard and Dallas Cowboys linebacker Leighton Vander Esch were first and third in the entire NFL in tackles, respectively, which is pretty impressive for first-year players. Leonard also had seven sacks, two interceptions, and four forced fumbles.
But it is still James who should be seen as the most impressive rookie. He finished the season with 105 tackles, which was the sixth-most in the league for a defensive back. Yes, Leonard had 163 tackles, but he is playing at or around the line of scrimmage on every play, while James is all over the field.
The former Seminole also had three interceptions, 16 passes defended, and 3.5 sacks, which was tied for second most among defensive backs this season.
It does mostly come down to the stats, though. There is a reason linebackers and defensive ends have won the award in 18 of the last 23 seasons. They can either pile up sacks or tackles, and sometimes both. But two of the last three players to win the AP Defensive Rookie of the Year were cornerbacks, so there is hope for a defensive back.
James was selected to the Pro Bowl this year, something that is not easily done by rookie safeties. The last player to do that was Eric Reid in 2013 for the San Francisco 49ers. Leonard, on the other hand, wasn't selected for the Pro Bowl, even though it is pretty crazy the NFL's leading tackler wasn't selected to his first of what will probably be many appearances in the postseason showcase game. But it shows that it isn't that easy to build your name in a year. James did that.
And not only did he just make the Pro Bowl roster, but he also was named to the All-Pro First Team. Leonard also received that honor, though.
I think it will come down to looking at the stats for most people, but i really think playing safety at a high level is more impressive than linebacker. Obviously, playing any position in the NFL is impressive and extremely difficult, but playing the position James does, a safety-linebacker mix, takes the difficulties of each and he succeeds in every way.
Either of these players had incredible seasons, but James just stands out.