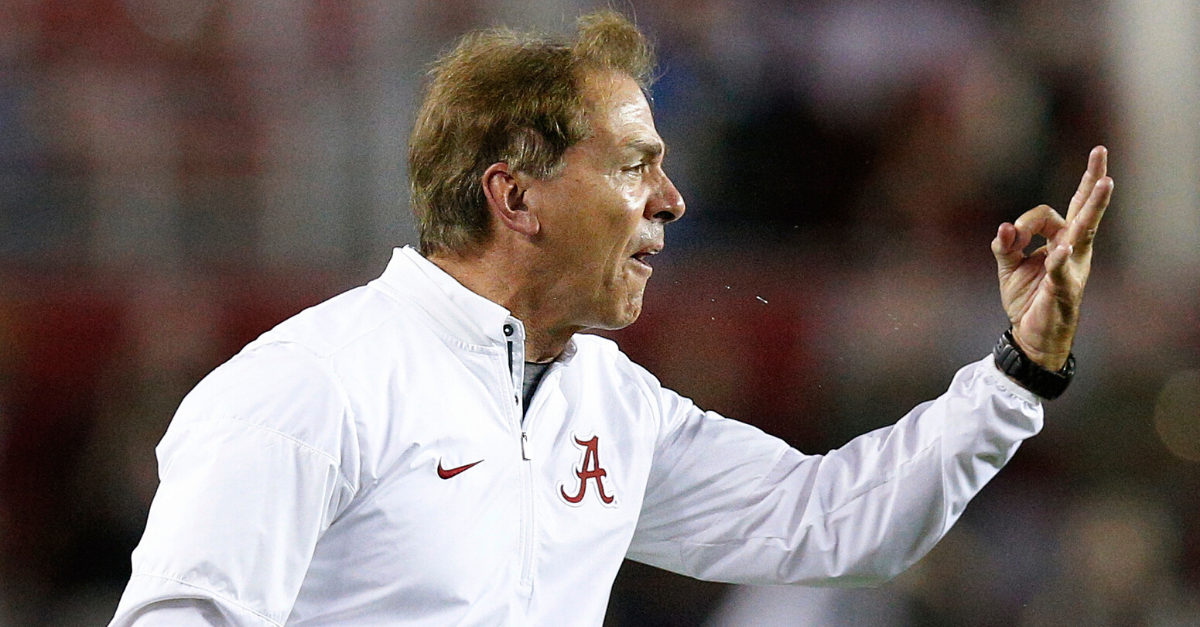 AP Photo/John Bazemore, File
AP Photo/Brynn Anderson
Alabama Crimson Tide head coach Nick Saban loves to get fired up in a good rant. He's still going strong at 68 years old, and the longtime head football coach is never short on words when he gets in front of a microphone. Whether it's poor student attendance or questions that keep getting asked, not even Saban's players get him as fired up as the media does in Tuscaloosa.
Luckily, the kind folks at AL.com put together some of Nick Saban's best press conference moments over the years and created an epic video mashup. From grilling the media's expectations on Alabama's dynasty to getting as red in the face as his Crimson Tide polo shirt, Saban's epic rants will never get old.
Here some of the best press conference moments and rants in Saban's colorful Alabama coaching career:
Nick Saban's Best Press Conference Moments
RELATED: Apparently, Nick Saban Tells 'Deez Nuts' Jokes During Practice
For an outsider to the Alabama Crimson Tide program, Saban sounds like a total dick. For the rest of us who listen to press conferences every week and hear the kinds of things he has to answer, giving the media a taste of their own medicine is just par for the course for Alabama's fearless leader.
Even on the sideline during games, Saban's passion and leadership spills over onto the coaches and players. Whether it's a matchup between a couple of top-ranked SEC teams or the closing seconds of a blowout win over Western Kentucky, the Fairmont, West Virginia native will never shy away from getting every single detail perfect.
Nick Saban's Sideline Rants
College football changed forever because of Nick Saban, and it'll never be the same when he finally decides to retire and waltz off into the sunset. With more than 200 career wins as a college football coach, eight SEC titles between his time at LSU and Alabama, and six national championships, Saban deserves to get a little angry and motivate his guys from time to time.
Just be sure you're not on the receiving end of a spit-filled fireball from the man himself.
This post was originally published on February 13, 2019.