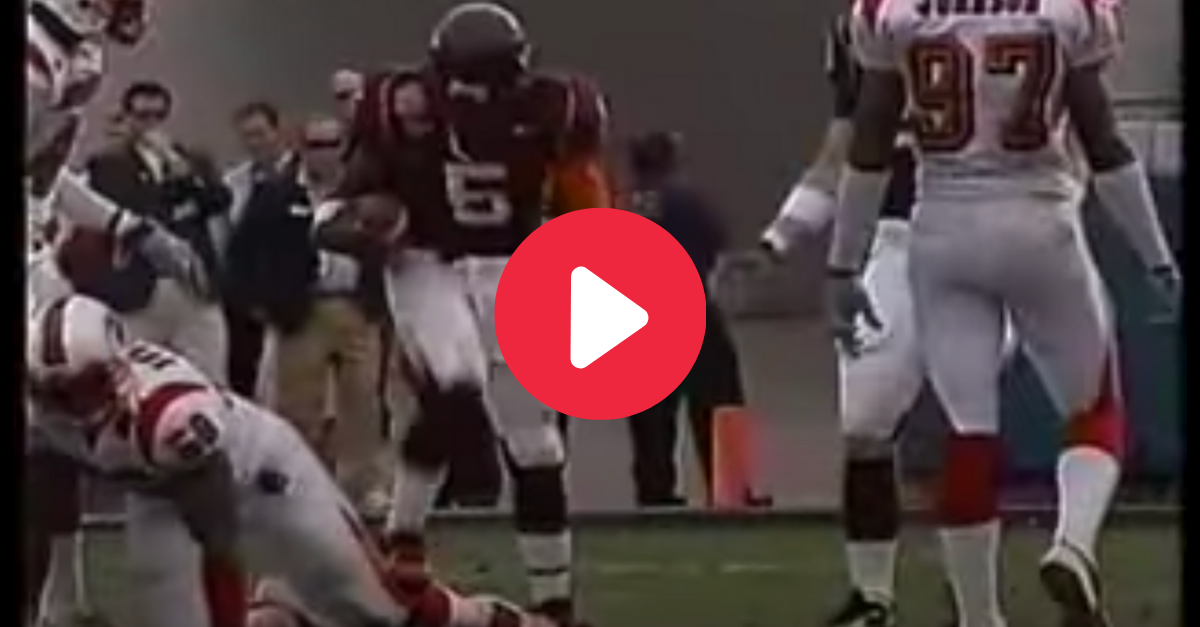 Screenshot from YouTube
Once upon a time, former Virginia Tech Hokies quarterback Marcus Vick had a bright future on the gridiron. He could dominate any college football game he played in and looked poised to join older brother Michael Vick in the NFL one day. Then, everything spiraled out of control and kept on spiraling.
Vick?s off-field issues and run-ins with the law are well-documented and rather alarming. The guy has seemingly never been able to stay out of trouble. It all started in college and has continued throughout his adult life.
Although there are several factors that led to his football demise, there?s no doubt Vick stomping on the leg of Louisville defense end Elvis Dumervil in the 2006 Gator Bowl played a role in his career ending for good.
Marcus Vick?s Stomp on Elvis Dumervil
RELATED: Woody Hayes Punched a Player and Never Coached Again
In so many ways, the 2005 college football season meant a second chance for Virginia Tech quarterback Marcus Vick after he was suspended for the entire season the year before by the school and head coach Frank Beamer.
Vick, a Newport News, Virginia native, was convicted of three misdemeanor charges of contributing to the delinquency of three underage girls during a party, sentenced to 30 days in jail, and fined $2,250, according to the Washington Post. He was also found not guilty of having sex with a 15-year-old girl; A plea agreement helped Vick avoid jail.
Additionally, Vick pleaded guilty to reckless driving and a no contest to marijuana possession at a traffic stop in New Kent County earlier in the offseason.
He was suspended and lost a year of eligibility, but was ultimately reinstated to the Virginia Tech football team for the 2005 season under specific terms that future problems would lead to an automatic dismissal, according to university president Charles Steger.
Vick became a star, too. He helped the Hokies go 11-2, play in the ACC Championship Game, and earned a berth in the 2006 Gator Bowl against the Louisville Cardinals. He racked up 2,393 passing yards, 380 rushing yards, and scored 23 total touchdowns with 10 interceptions.
That bowl game, however, was the beginning of the end. Vick wasn?t a saint throughout the regular season, by any means. He shoved a West Virginia coach and made an obscene gesture towards fans earlier in the year. But a run up the middle against Louisville changed everything.
Late in the second quarter, Vick was tackled by All-American defensive end Elvis Dumervil. And when Vick popped up, he dug his right cleat into the back of Dumervil?s leg before going to the sideline.
He finished the game, but Virginia Tech officials were not happy.
"The unsportsmanlike conduct of quarterback Marcus Vick in yesterday's Gator Bowl game against Louisville is unacceptable behavior ? Such on-field action is not reflective of Virginia Tech football nor of the values we hold at Virginia Tech. I and my colleagues in central administration are embarrassed, and this athletic administration will not condone such acts of unsportsmanlike conduct. We will review and assess this incident further and deal with it accordingly.?

? Virginia Tech Athletic Director Jim Weaver, via the Daily Press
Shortly after the incident, everyone learned Vick was cited for speeding and driving on a suspended or revoked driver?s license in Hampton, Virginia, in December before the bowl game in Florida.
Vick?s days as a college football player were over.
"I'm very disappointed that this didn't have a better ending," Beamer said in a statement. "We wanted what's best for this football team and Marcus. I certainly wish him the best."
Vick, the younger brother of then-Atlanta Falcons quarterback Michael Vick, went undrafted in the 2006 NFL Draft, and was picked up by the Miami Dolphins. He played in one game as a wide receiver and no NFL teams signed him after that.
Trouble continued to find Vick after football was over, too.
Since 2016, Vick has been arrested and charged with assaulting a police officer and drug possession.
During the coronavirus pandemic and COVID-19 outbreak, it?s interesting to go back through the what-ifs of former football players. Marcus Vick is certainly one of them.