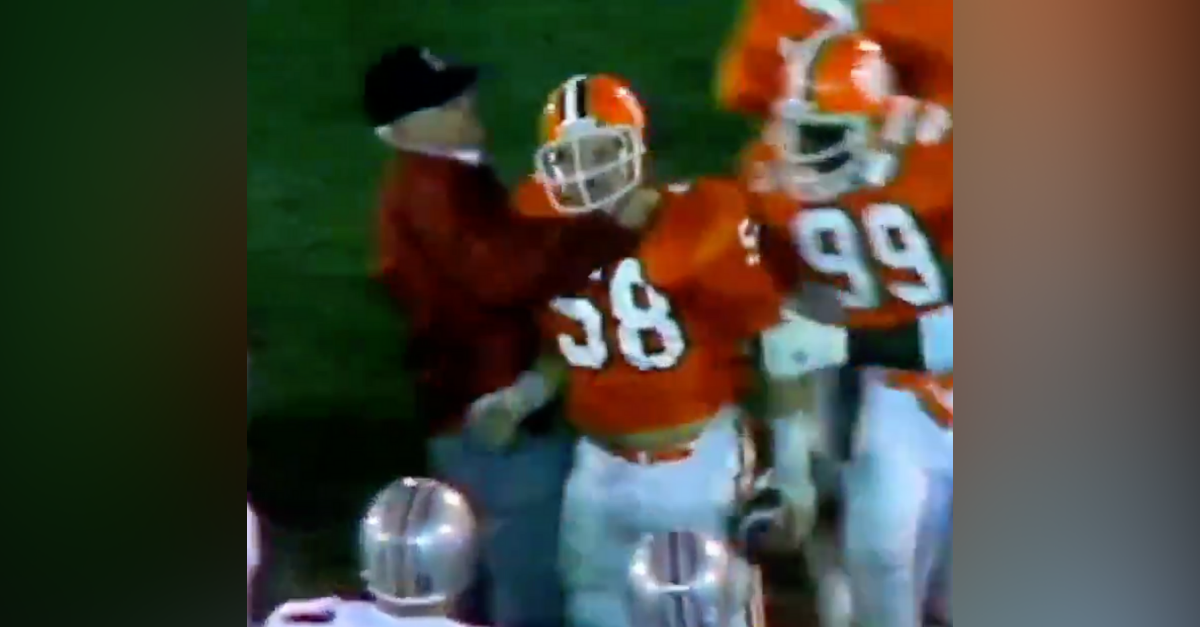 Screenshot from Twitter
One of the most successful head coaches in college football history isn't even remembered for his wins, but for punching a player in his final game and ending his career.
Woody Hayes led the Ohio State Buckeyes football team for 28 seasons before losing his job due to socking an opposing player during a bowl game in 1978.
Woody Hayes Punch

es Charlie Bauman
RELATED: Ohio State?s Tattoo Scandal Ruined Jim Tressel?s Coaching Career
Maybe the most important rule of coaching is not laying a hand on your own players. However, worse than that is hitting another coach's player. Wayne Woodrow Hayes was known for being an easily angered man on the sideline, but it all came to an end on December 29, 1978 at the Gator Bowl against Clemson.
With OSU freshman quarterback Art Schlichter picking apart the Tigers' defense, Hayes chose to pass the ball instead of his usual runs off tackle.
With about two minutes left in the fourth quarter, trailing by two and closing in on field-goal range, Schlichter attempt to throw the ball to receiver Ron Springs. However, Clemson nose guard Charlie Bauman had been pushed back into a passing lane and intercepted the ball. Bauman took off up the Ohio State sideline before being pushed down right in front of Hayes.
This is where one of Hayes' most memorable quotes comes into play: "Three things can happen when you pass the ball, and two of them are bad."
With the frustration of throwing an interception when he didn't really like passing the ball in the first place, his already boiling temper, and the player who basically just ended his season with a loss standing right in front of him, Hayes did something that people still remember vividly today:
Ohio State coach Woody Hayes grabbed Bauman on the collar of his jersey and swung his right fist into the neck area the defensive lineman. This immediately led to a large fight in front of the Buckeyes' bench, and Hayes being pulled away from Bauman and other Clemson players.
The cameraman caught the brawl between football players with ABC announcer Keith Jackson trying to make sense of the situation.
Coach Hayes' punch was immediately seen as an impossible thing to overlook. Athletic Director Hugh Hindman saw no choice but to fire the national championship-winning coach.
Hayes even stayed in the locker room after the game and had assistant coach George Hill attend the press conference in his place.
At the time of his dismissal, Hayes was just 65 years old. For comparison, Nick Saban will begin the 2020 season at 68 years old. Without hitting Bauman, he may have easily coached another few seasons, but instead never coached again and passed away in 1987 of a heart attack. He was 74.
Woody Hayes Coaching Career
Beginning his tenure as a head coach at his alma mater, Denison University, he would eventually earn the head job at Miami University in Ohio. That led to his hiring by Ohio State University in February 1951.
During his 28 seasons in Columbus, Hayes led the Ohio State football team to five national titles, 13 Big Ten Championships, eight Rose Bowl appearances, and an appearance in the Orange Bowl in 1976.
His overall record as the head coach at OSU was 205-61-10. Much of his career was spent battling Bo Schembechler's Michigan teams in what was called the Ten Year War. Schembechler's Wolverines won five of 10 football games between the rivals and tying one more. Hayes finished with a 16-11-1 overall record against Michigan during his career.
During this time, he was known for his extremely conservative style as both a football coach and person, running the ball the majority of the time and holding a distaste for passing the ball.
On the night of the 1978 Gator Bowl in Jacksonville, Fla. against the Clemson Tigers, his hatred for throwing would be confirmed in his mind at the end of the game, and it ended his career forever.
This post was originally published on April 7, 2020.