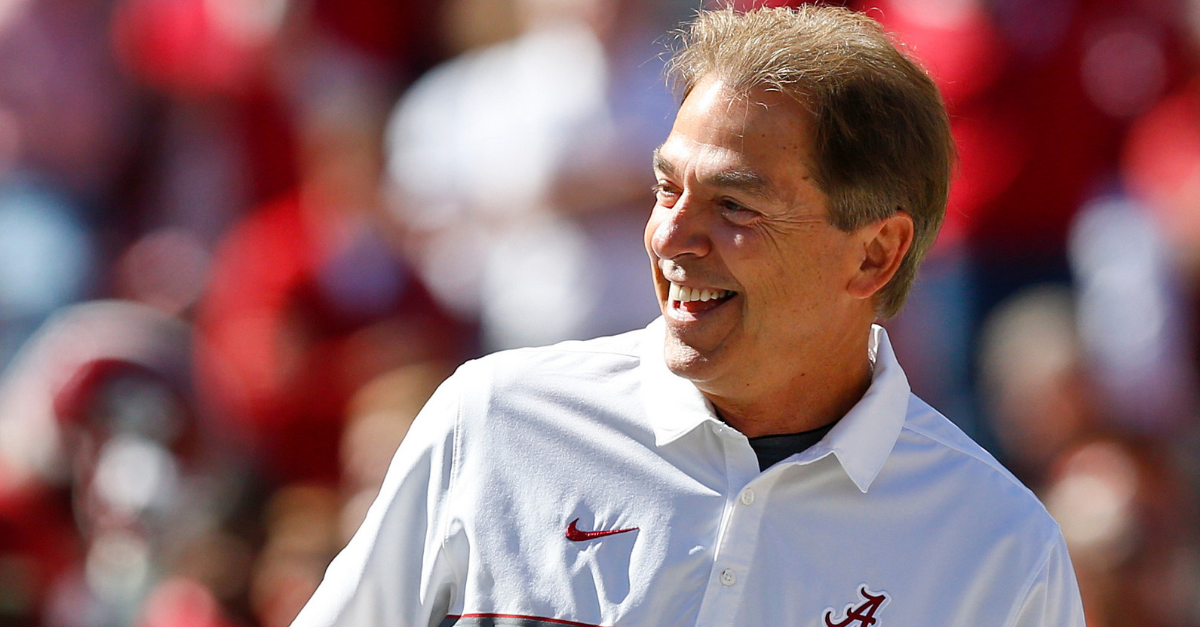 AP Photo/Brynn Anderson
Throughout college football history, from the Associated Press national champions to the BCS era and the modern College Football Playoff, legacies are defined by success on the field. Great college coaches produce Heisman Trophy winners. They dominate the SEC and Big Ten for years at a time. Iconic coaches not only reach the Hall of Fame, win numerous bowl games, and even accomplish the rare undefeated season, they patrol the sidelines with an unmistakable swagger that young recruits and fans around the country flock to follow.
Winning national titles, retiring with an impressive winning percentage, and churning out NFL talent are only small pieces of what makes a great college football coach, though. Real leaders turn boys into men, lead their football teams through years of turmoil only to climb the mountain and become the NCAA's premier program.
To celebrate college football's 150th season in 2019, Sporting News released its list of the 10 greatest coaches in college football history. Voting included FBS icons and HBCU legends with dozens of championship game appearances between them, but only a select few made the list.
Program-defining head coaches like Notre Dame's Knute Rockne and Florida State's Bobby Bowden? They didn't make the cut. Young and talented leaders making their case among college football's elite like Dabo Swinney and his Clemson Tigers? His coaching career is too young, and his five conference titles just aren't enough yet.
Without further ado, here are the greatest college football coaches to ever do it.
Best College Football Coaches of All Time
10. Frank Leahy
Schools: Boston College, Notre Dame Fighting Irish
Record: 107-13-9
National Championships: 5
9. Glenn Pop Warner
Schools: Iowa State, Georgia, Cornell, Carlisle, Pitt, Stanford, Temple
Record: 311-103-32
National Championships: 4
8. Urban Meyer
Schools: Bowling Green, Utah, Florida, Ohio State
Record: 187-32
National Championships: 3
7. Eddie Robinson
Schools: Grambling State
Record: 408-165-1
National Championships: 9 (historically black college & university titles)
6. Joe Paterno
Schools: Penn State Nittany Lions
Record: 409-136-3
National Championships: 2
5. Bud Wilkinson
Schools: Oklahoma Sooners
Record: 145-29-4
National Championships: 3
4. Woody Hayes
Schools: Denison, Miami (Ohio), Ohio State Buckeyes
Record: 238-72-10
National Championships: 5
3. Tom Osborne
Schools: Nebraska
Record: 255-49-3
National Championships: 3
2. Paul "Bear" Bryant
Schools: Maryland, Kentucky, Texas A&M, Alabama Crimson Tide
Record: 323-85-17
National Championships: 6
1. Nick Saban
Schools: Toledo, Michigan State, LSU, Alabama
Record: 245-63-1
National Championships: 6
Honorable Mentions
Walter Camp
Howard Jones
Barry Switzer
Jock Sutherland
Lou Holtz
Bo Schembechler
Vince Dooley
Frank Beamer
Steve Spurrier