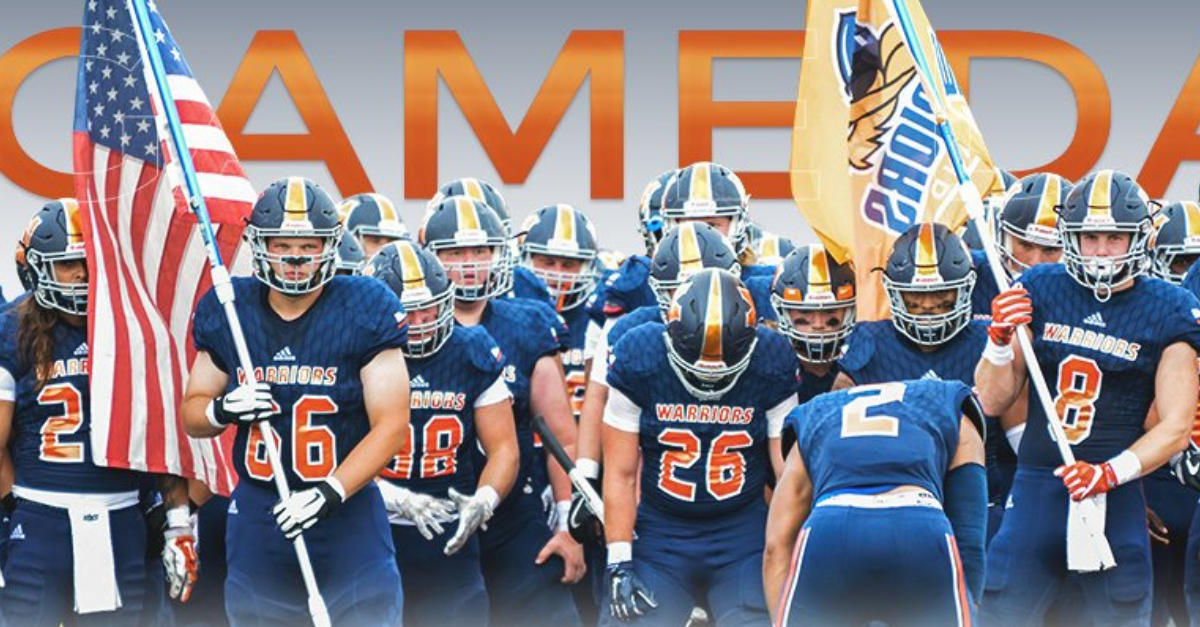 Twitter: @MidlandU_FB
In Fremont, Nebraska, a small town of less than 30,000 people, most Saturdays in the fall are spent watching Midland University football games. The Warriors used this past weekend as a "teaching and learning moment" for their players during the national anthem.
Instead of taking the field during the playing of the Star-Spangled Banner, the Midland football team stayed in the locker room. This was not meant to be a protest, according to Athletic Director Dave Gillespie, but rather a time for reflection as a team and the concerns of some players who had thought about protesting against racial and social injustice.
Was this brilliant? Was this foolish? Was it necessary? Was it counterproductive? There are certainly people who will take both sides here, but it definitely happened before the school's homecoming game and eventual 35-28 overtime win over the University of Jamestown.
RELATED: Texas Senate Candidate Sides With Athletes on NFL Anthem Protests
Instead of allowing a group of individuals to protest the anthem, which was a possibility, according to the Fremont Tribune, the NAIA team remained in the locker room.
"These student-athletes believed that protesting during the National Anthem may be an appropriate demonstration, as has been demonstrated at many college and professional games in recent years. I felt it was important to take time for the team to think this through collectively before taking action, so instead of engaging in protest, we decided to stay in the locker room and use this as a teaching and learning moment… We will take this week to continue to learn from one another, better understand the issues at hand, and agree on a united response." — Midland University Athletic Director Dave Gillespie
The decision, likely to potentially avoid any sort of backlash, will have mixed emotions. Some will argue it was smart to not allow interested players to protest. Others will argue the team should be on the field and standing for the national anthem, no matter what.
Regardless of any personal opinion on the matter, especially whether it was the right time to do it, at least Midland is taking the time to talk it through and remain unified.