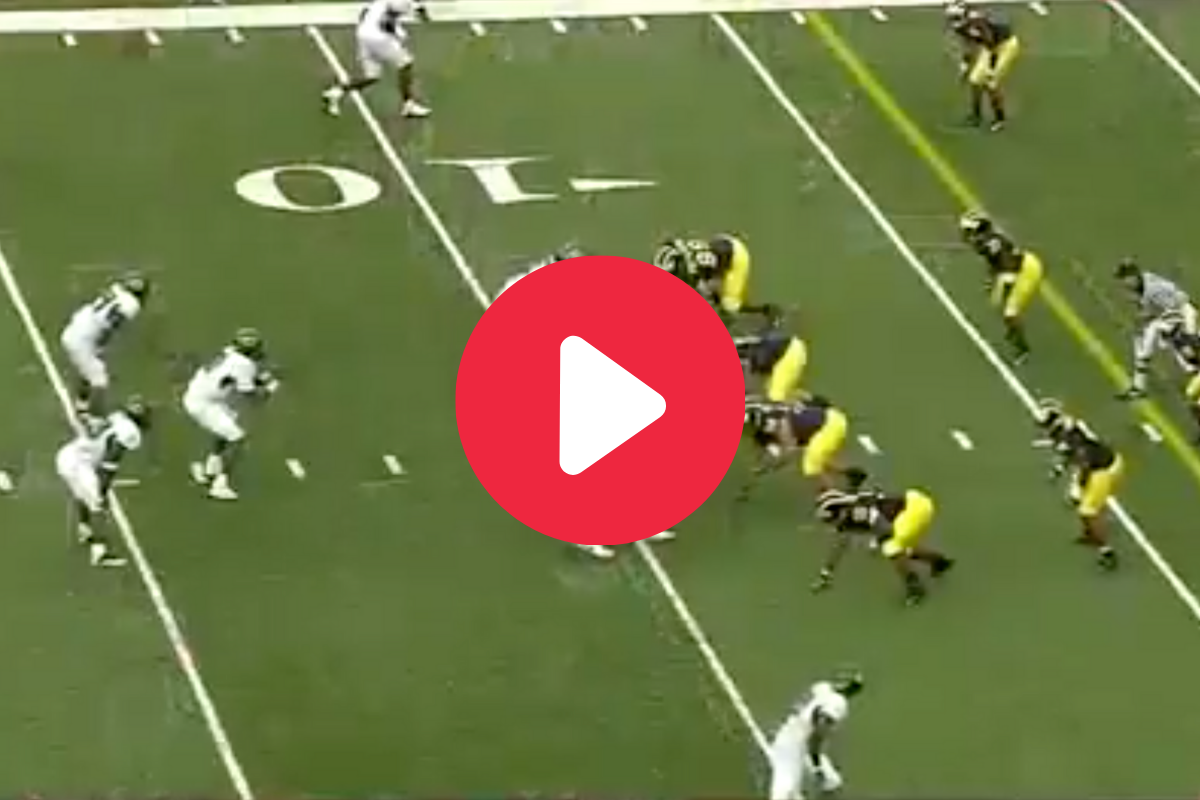 Screenshot from Twitter
No matter what year it is, or how good or bad the Michigan Wolverines are, playing in Michigan Stadium is tough. The Big House can be intimidating based on size alone, and it has the potential to force its visitors into bad mistakes. Unless it?s the Oregon Ducks.
Back in 2007, the Ducks beat up the Wolverines, 39-7, in Ann Arbor. The game looked promising early, but it got out of hand in the second quarter thanks to a couple of trick plays Oregon had up its famous Nike sleeves.
First, there was the Statue of Liberty play for a first down. Then, there was the Fake Statue of Liberty play for a touchdown minutes later. There was nothing Michigan could do to stop it.
Oregon?s Fake Statue of Liberty Trick Play
RELATED: The 11 Craziest Trick Plays in College Football History
Early in the second quarter, with an 11-7 lead, Oregon quarterback Dennis Dixon took the shotgun snap, and handed the ball off to running back Jonathan Stewart behind his back. The play went for a big first down deep inside Michigan territory, thanks to the trickery and mainly some poor tackling. Stewart punched it into the end zone a couple of plays later.
A couple of drives later, and deep inside Michigan territory again, Oregon lined up in the same formation. The Wolverines looked prepared. Instead of the handoff, Dixon kept it and waltzed into the end zone untouched.
The rout was officially on at that point.
Running the Statue of Liberty once was bold by Oregon head coach Mike Bellotti and offensive coordinator Chip Kelly. Running it twice, and adding in the fake, took it to the extreme and instantly became college football history.
At the time, it was the hottest play in NCAA football and even made its way to the NFL. The 2007 Fiesta Bowl was just months earlier when the Boise State Broncos used it with Jared Zabransky and Ian Johnson to upset the Oklahoma Sooners.
Teams were looking to try it. Only a few had the guts to do it. As if a stunning season-opening loss to Appalachian State wasn?t bad enough, Michigan had to suffer once again with some trick play magic.
This post was originally published on May 1, 2020.