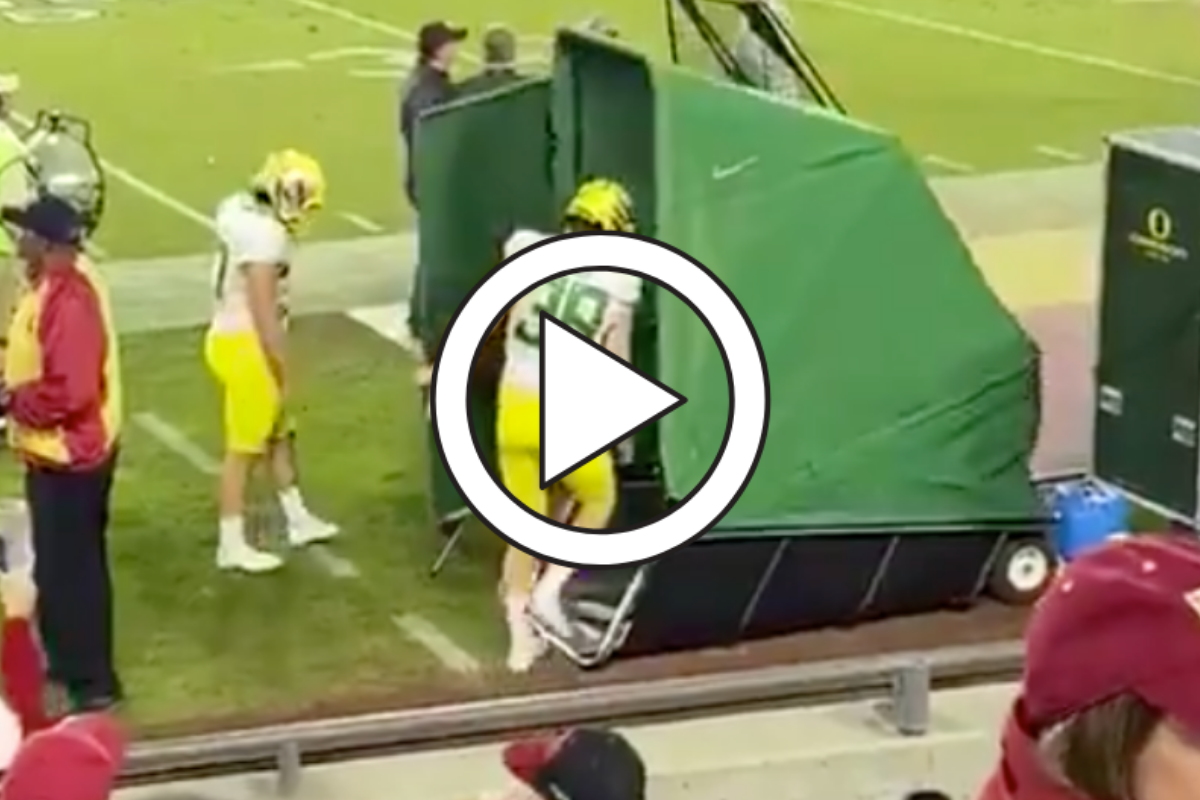 Screenshot from Twitter
When you have to go, you have to go. Whether you are at a college football game or out camping somewhere, the urge to use the restroom is real. More often than not, there?s an easy solution to the problem when duties call, but the Oregon Ducks football team made it even easier for their players.
During the Ducks? win over the USC Trojans in early November 2019, Oregon sophomore punter Tom Snee apparently had to go to the bathroom. However, instead of going all the way to the visiting locker room, he simply went over by the kicking net, put his right foot on a button, and up popped a porta potty.
The team has used it for years, but to see it in action during a big-time Pac-12 game is absolutely hilarious.
Oregon Football Porta Potty
Forget the NFL-caliber players, those fancy uniforms with the Nike swoosh and dismiss all of that Phil Knight money for just one second. It?s actually a genius idea to have pop-up restrooms for players on the sideline, you know, just in case.
Let?s put it this way, the NCAA game itself that Saturday night wasn?t nearly as exciting as the sideline toilet.
After a slow start at L.A. Memorial Coliseum, Oregon quarterback Justin Herbert went on a tear, completing 21 of 26 passes for 225 yards with three touchdowns and an interception. He also added another rushing score in the second quarter during the 56-24 victory.
RELATED: Oregon's ?Fake Statue of Liberty? Worked Like a Charm
Meanwhile, Snee, who is from Melbourne, Austrailia, didn?t even see the field, but he sure made an impact on all of us by showing one of the coolest things on college football sideline.
Whenever you feel like the bathroom is simply too far away, know that you can create one in your house so you never miss a play during the big game. It all starts with buying a portable toilet on Amazon.

Oregon finished the 2019 season with 12-2 record. The Ducks won the Pac-12 Championship Game and knocked Utah out of the College Football Playoff before taking down Wisconsin in the Rose Bowl.
That was all great, but there's no doubt Oregon's sideline porta potty changed the game and is the future of college football.
This post was originally published on November 5, 2019.