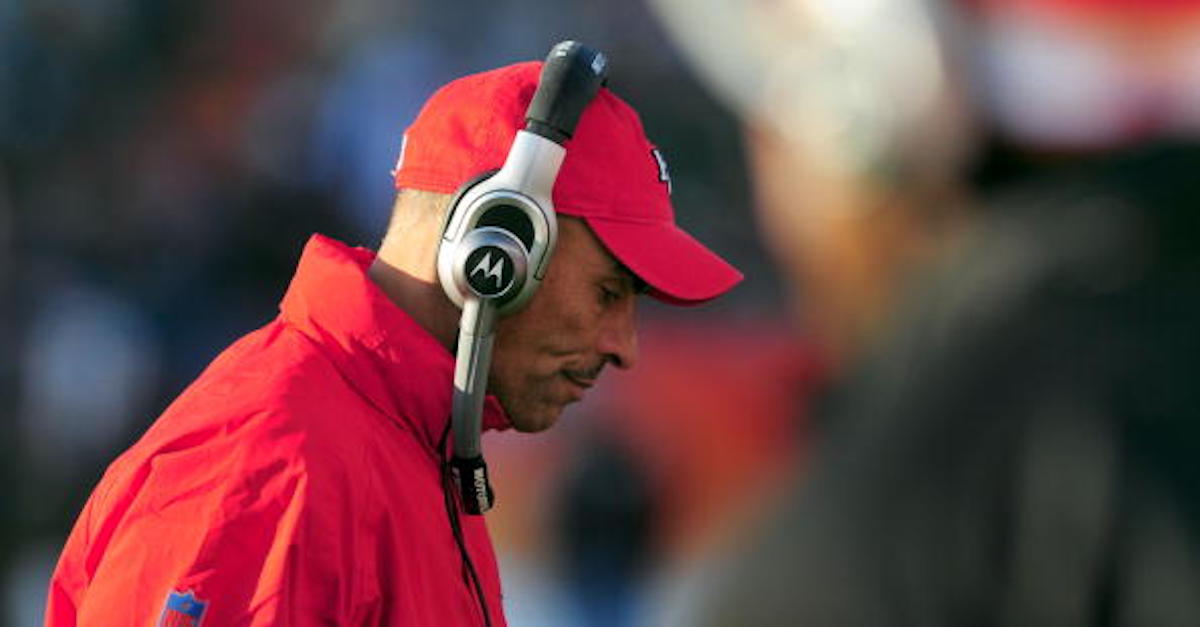 Steve Dykes/Getty Images
DENVER - DECEMBER 9: Head coach Herm Edwards of the Kansas City Chiefs does not like what he is seeing in the football game against the Denver Broncos at Invesco Field at Mile High December 9, 2007 in Denver, Colorado. (Photo by Steve Dykes/Getty Images)
It has not been a great start for Herm Edwards at Arizona State University.
Defensive coordinator Phil Bennett, who was previously on staff with Todd Graham, decided he would not return to the program under Edwards' watch, citing health and "personal reasons".
Just days later, offensive coordinator Billy Napier also left the team. Instead of leaving for personal reasons, though, it's well worth noting that Napier left to become the head coach at Louisiana-Lafayette — hardly a decision anyone would question.
Still, two coordinators leaving in a week is tough for any new coach to handle, let alone a head coach who hasn't been in the game at any level since 2008.
Edwards has worked quickly to fill the vacancy on offense, though, as it's being reported that ASU will promote Rob Likens from wide receivers coach and co-offensive coordinator to offensive coordinator.
That news was confirmed by Edwards in a press release, who seems optimistic about Likens' impact on the ASU offense moving into the future.
"There was no doubt in my mind that Rob Likens was the man we needed to step up and fill this role as offensive coordinator," Edwards said. "Coach Likens provides much needed consistency and stability as we continue to build our staff. He has been heavily involved in the offensive game planning and play-calling and the improvement on offense this season with coach Likens as co-offensive coordinator speaks for itself. I have quickly learned that Rob cares deeply for these young men. I am excited to work with Rob as we continue to build upon this program."
Likens is coming off his first season with the Sun Devils, so this move is a quick promotion for him. He has been an offensive coordinator before, though, notably at Kansas. He also has OC experience at Southeast Missouri State and Central Connecticut State.
Perhaps his most impressive resume point is as assistant head coach at Cal from 2013-14, where he also oversaw the Golden Bears' passing game.
In reports when he was being hired, the idea of Herm Edwards taking over at Arizona State is that the school would retain both of Todd Graham?s coordinators and have Edwards act in more of a managerial and motivational role over them. With both of his main coordinators gone, that plan has pretty much gone down the tubes and now Edwards is having to step in and become more hands-on than he and the school thought would be necessary.