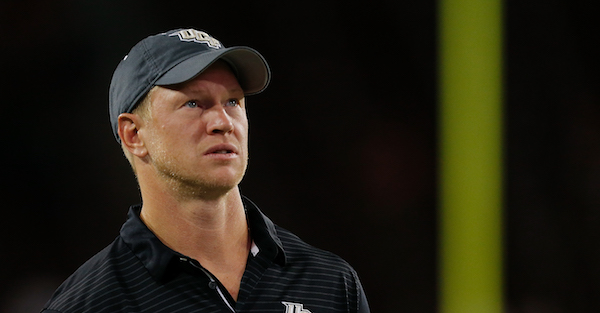 Michael Reaves/Getty Images
CINCINNATI, OH - OCTOBER 07: Head coach Scott Frost of the UCF Knights looks on against the Cincinnati Bearcats during the second half at Nippert Stadium on October 7, 2017 in Cincinnati, Ohio. (Photo by Michael Reaves/Getty Images)
Former UCF Knights coach Scott Frost might now be with the Nebraska Cornhuskers now, but that doesn't mean his former team's exclusion from the College Football Playoff doesn't still bother him.
Frost hasn't been scared to share his opinions on UFC being left out of this year's playoff. He's gone as far as saying the selection committee purposely left out the Knights.
?It wasn?t right,? said Frost. ?I was watching [the selection show] every week, the committee sitting in a room and deciding that this two-loss team must be better than UCF because UCF is in the American, or this three-loss team must be better than UCF.

?It looked like a conscious effort to me to make sure that they didn?t have a problem if they put us too high and a couple teams ahead of us lost. And oh, no, now we have to put them in a playoff? But we just beat [Auburn] that beat two playoff teams and lost to another one by six points, and we beat them by seven.?
The man who led the Knights to an undefeated season, one that was capped with a Peach Bowl win over the Auburn Tigers, said on ESPN this morning that he?d like to see the field expand.
What a shocker. Everyone's fix is to make the field bigger.
?I?d love to see it go to eight (teams),? he said on SportsCenter this morning. ?I think eight could include five conference champions and three at-large teams, and if one of the Group of 5 teams has a season like we had at UCF, then maybe they deserve to get in. I like any sport ? and I heard Coach Saban say this ? I like any sport where things are decided on the field and it?s not subjective, the champion isn?t decided by 12 people sitting in a board room.?
The unfortunate part of this is that there's no guarantee that a Group of 5 team would get in even with this sort of format. Not to mention the obvious issue that comes with having eight teams in the field — that the next team left out would still be complaining.