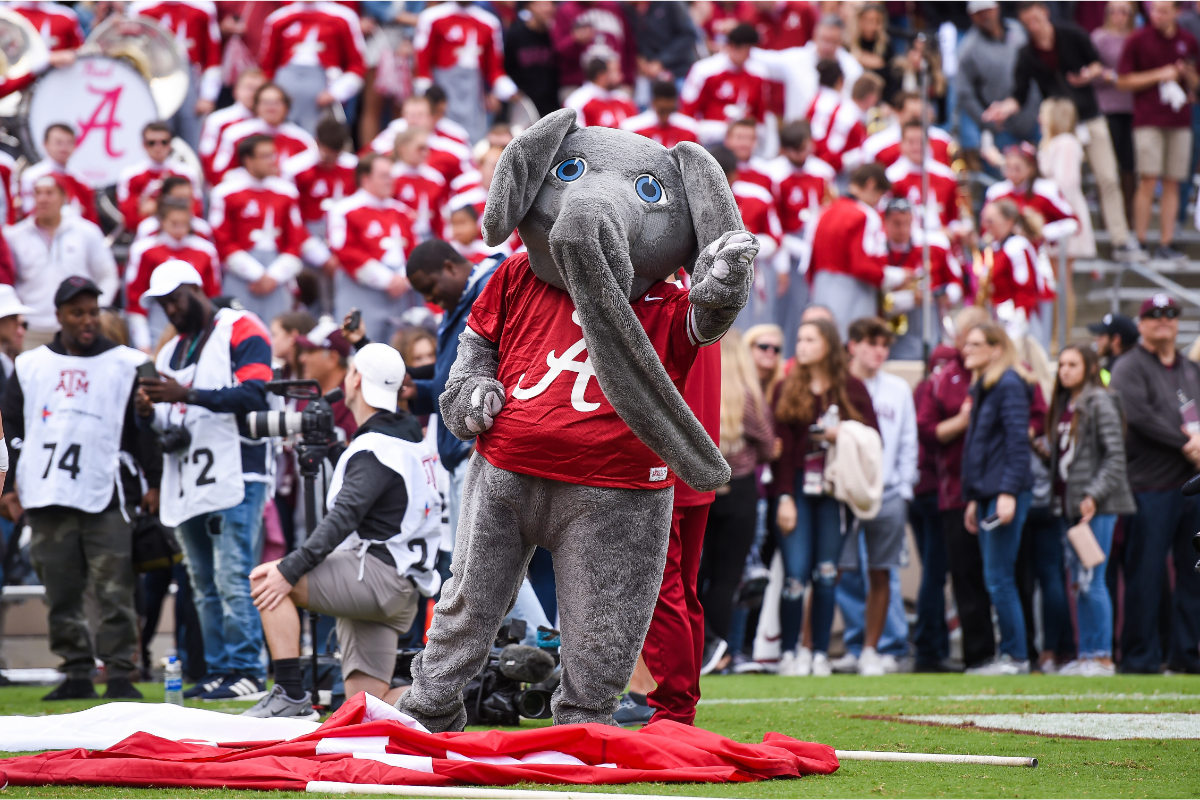 Photo by Daniel Dunn/Icon Sportswire via Getty Images
Only University of Alabama Crimson Tide football super fans know everything about their program's history. They damn sure know how legendary coach Bear Bryant earned his nickname off a $1 challenge. They shake their head in disappointment upon hearing the name Mike Price, the UA coach that never was.
True Tide diehards have read up on the incredible history of Bryant-Denny Stadium and know exactly who Miss Terry is and how she, not Nick Saban, is the one behind an SEC dynasty that is possibly the greatest of all time.
What the Crimson and White faithful may not know is how an elephant came to be their official mascot.
By the end of this article, you will be able to appreciate Big Al on the sidelines even more during games while yelling "Roll Tide!" and singing along to Rammer Jammer and Dixieland Delight on game days.
Why Is Alabama's Mascot An Elephant?
RELATED: Never Forget When Alabama's Big Al Pummeled Florida's Mascot
You have to go all the way back to 1930 to find the origin of Alabama's elephant. The mascot is largely attributed to one man: sportswriter Everett Strupper of the Atlanta Journal.
Strupper wrote a story on October 8, 1930, describing Alabama's college football team after watching them pound Mississippi, 64-0, on October 4. Under head coach Wallace Wade, the Crimson Tide had grown into a national contender in the mid-to-late 1920s after winning national titles in 1925 and 1926. They looked even more dominant than ever in 1930.
Here's how Strupper, using colorful imagery, described Wade's squad from that football game:
"That Alabama team of 1930 is a typical Wade machine, powerful, big, tough, fast, aggressive, well-schooled in fundamentals, and the best blocking team for this early in the season that I have ever seen. When those big brutes hit you I mean you go down and stay down, often for an additional two minutes.

"Coach Wade started his second team that was plenty big and they went right to their knitting scoring a touchdown in the first quarter against one of the best fighting small lines that I have seen. For Ole Miss was truly battling the big boys for every inch of ground.

"At the end of the quarter, the earth started to tremble, there was a distant rumble that continued to grow. Some excited fan in the stands bellowed, 'Hold your horses, the elephants are coming,' and out stamped this Alabama varsity.

"It was the first time that I had seen it and the size of the entire eleven nearly knocked me cold, men that I had seen play last year looking like they had nearly doubled in size."
The elephants became the "Red Elephants" to Strupper and other sportswriters, and it caught on that season. The linemen, AKA "big brutes," from Tuscaloosa went on to finish that season 10-0, rolling over Washington State, 24-0, in the Rose Bowl to earn their third national championship.
Alabama football scored 217 points in 10 games and surrendered just 13 points ALL SEASON. (Somewhere, Saban is wiping a tear from his eye.)
Big Al and Big Alice — the elephant mascots — didn't officially become the Crimson Tide's mascots until 1979, when then-head coach and athletic director Bear Bryant approved the idea from UA student Walt Tart and homecoming chairman Ann Paige.
Bryant initially didn't like the idea of an elephant being the mascot, but he relented in the late 1970s once it was clear that students loved the big portly animal.
"Coach (Bear) Bryant thought it was not representative of football players," Ken Gaddy, director of the Paul W. Bryant Museum in Tuscaloosa, told Yahoo Sports in 2012. "He thought that elephants were big, slow and clumsy. That was not the image of his players he wanted to portray."
The mascot made its debut in the 1980 Sugar Bowl, but the first student to don the elephant costume was Melford Espey Jr. in the 1960s. He later became a school administrator.
Similar to Georgia's Uga the Bulldog and Tennessee's Smokey the coonhound, Alabama kept a real-live elephant named "Alamite" in the 1940s. Alamite would carry each year's homecoming queen onto the field before each homecoming game.
Alabama scrapped the costly practice of keeping their own elephant in the 1950s and instead hired circus elephants to perform the annual job.
Elephant in University of Alabama Logos
Alabama's primarily logo consists of the classic "A", but an elephant peering over the words "Alabama Crimson Tide" is a secondary logo still used today. My favorite might be the one shown above of the fearsome four-legged animal stepping through the the block letter.
Sportslogohistory.com features more of the school's past elephant logos, some of which are cool and some that are odd, like one of a red elephant holding an ice cream cone using in the 1950s. That's gotta be one of the oddest logos in football history, college football or NFL.
Years before an elephant was ever associated with the school, its Crimson Tide nickname was born in the early 1900s. Hugh Roberts of the Birmingham Age-Herald wrote a story about the 1907 Iron Bowl between Alabama and Auburn that resulted in a 6-6 tie. The field was essentially a sea of red mud that stained 'Bama's crimson jerseys. The headline? "Crimson Tied."
Now that you know the story behind Alabama's mascot, you Alabama fans can actually call yourself true fans.
This article was originally published July 16, 2019.