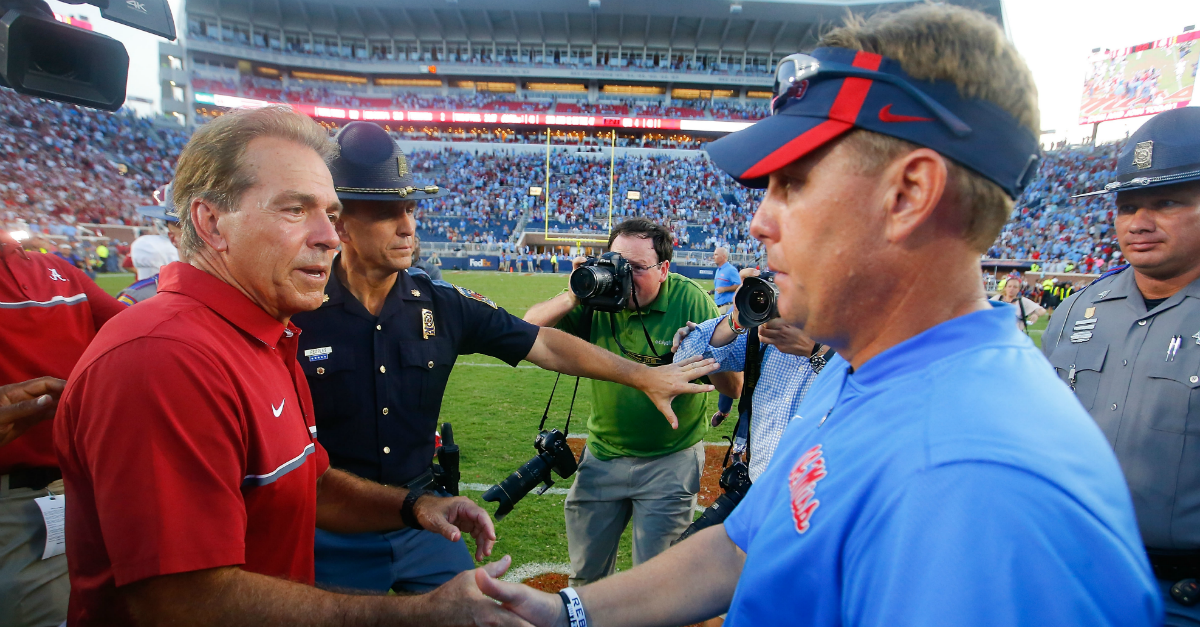 Kevin C. Cox/Getty Images
OXFORD, MS - SEPTEMBER 17: Head coach Hugh Freeze of the Mississippi Rebels congratulates head coach Nick Saban of the Alabama Crimson Tide after Alabama defeated Mississippi 48-43 at Vaught-Hemingway Stadium on September 17, 2016 in Oxford, Mississippi. (Photo by Kevin C. Cox/Getty Images)
With reports stating Hugh Freeze interviewed with Nick Saban for a possible job at Alabama, it might not be the glamorous offensive coordinator position as originally thought. Instead, according to multiple reports, it could be for a lesser role on Nick Saban's staff.
Freeze would be a controversial hire in many ways given how his Ole Miss tenure finished, but he would be free to land at Alabama without penalty and multiple sources are confirming the interview did take place on Monday.
As for his potential role on staff, reports are now stating it could be about many roles outside the offensive coordinator position.
According to a CBS report:
"Freeze's interest in working with the Tide, according to a source, is not necessarily exclusive to the offensive coordinator position."
Saban is looking for an offensive coordinator after the Buffalo Bills hired Brian Daboll to the same position Sunday.
While it might feel shocking to see an already established coach take a lesser role with the Crimson Tide, it isn't actually a new thing. Current Atlanta Falcons offensive coordinator Steve Sarkisian worked as an offensive analyst under Saban during the 2016 season.
The idea is that Saban prefers to promote from within. While no one yet fully knows what is going on with Freeze, expect more reports to surface in an expedited fashion.