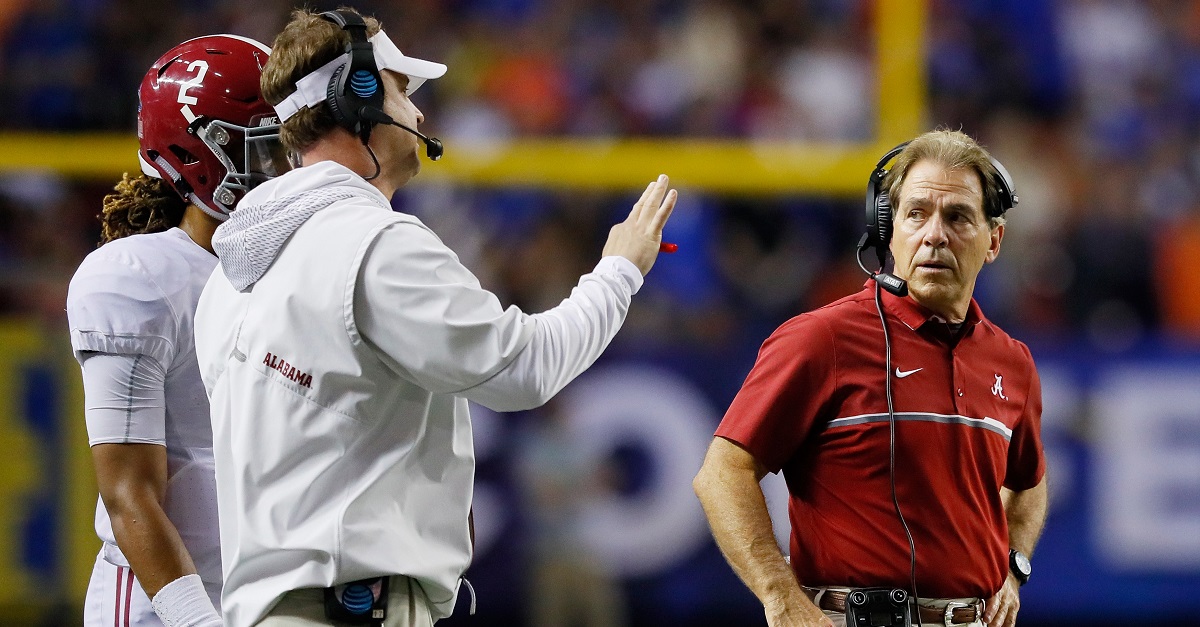 Kevin C. Cox/Getty Images
ATLANTA, GA - DECEMBER 03: Head coach Nick Saban, and Offensive Coordinator Quarterbacks Lane Kiffin talk to Jalen Hurts #2 of the Alabama Crimson Tide in the second half against the Florida Gators during the SEC Championship game at the Georgia Dome on December 3, 2016 in Atlanta, Georgia. (Photo by Kevin C. Cox/Getty Images)
Lane Kiffin has spent a large portion of the last few months going after Nick Saban. It has been whenever the former Alabama Crimson Tide offensive coordinator can. During radio hits, on Twitter, and even on TV. If there's a way to troll Saban, Kiffin is attempting to do it.
So count no one shocked to find out that Kiffin isn't exactly agreeing with Saban when the Alabama coach says he believes he's pretty calm with his assistants.
When Saban asked about constantly being caught yelling at his assistants on the sideline on Sunday, he responded:
?I don?t yell at my assistants very much at all, I don?t think,? said Saban. ?But there are occasions where you get upset with, whether it?s a circumstance in the game or a situation in the game, or maybe you did something that?s sort of out of the plan, and you get a little upset about it.?
Kiffin took to the mean streets of Twitter to disagree with his former boss.
For some of what Kiffin is implying here, there are some pretty recent examples of Saban losing his cool on the sideline. The most recent of which came against the Clemson Tigers, while the Crimson Tide were ahead 18 points.
Kiffin has some of his own experiences to draw from when talking about this matter.
Kiffin, never stop being you.