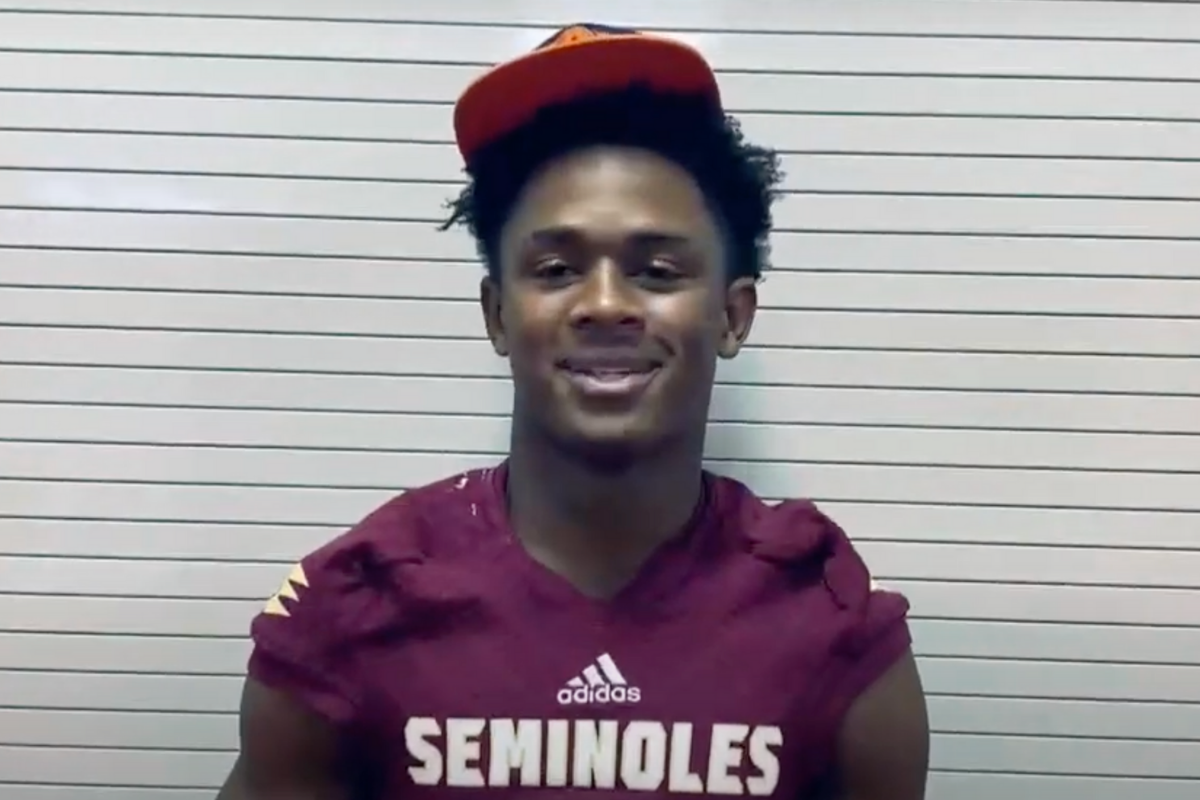 Screenshot from YouTube
Auburn football may be entering a transitional period after firing head coach Gus Malzahn, but that doesn't mean that they can't attract solid recruits.
Ahmari Harvey, a four-star safety, will be joining the team in 2021.
Harvey attended Florida State University School in Tallahassee and racked up some gaudy statistics, indicating that he is more than ready for the next level.
Ahmari Harvey Commits to Auburn
RELATED: Auburn's First 2022 Recruit is a Stud Defensive Back
In addition to the Tigers, Harvey fielded offers from programs such as Alabama, Florida, FSU, Georgia, Georgia Tech, Indiana, LSU, Miami, Mississippi State, Ole Miss, South Carolina, Tennessee, and Texas A&M.
Harvey committed to Auburn live on CBS Sports in August 2020, way before National Signing Day, and Auburn fans on social media considered the move to be an overwhelmingly positive one.
The Tigers have a new head coach, Bryan Harsin, and they will look to get over the hump and reach the higher tier of SEC prominence.
Harvey will be joining fellow defensive back signees Kamal Hadden and Phillip O'Brien Jr. in 2021. There will be competition for the starting roles, but it is still good to know that the future defensive corps will have time to gain chemistry and get acclimated to the program.
Ahmari Harvey Highlights
Ahmari Harvey is a playmaker, plain and simple. He finds the action on the field and has the ball skills to contest any pass that comes in his direction. He will be playing safety for the Tigers, but he has enough athleticism to line up at cornerback, too.
In 2019, Harvey totaled 94 tackles and caught six interceptions, returning half of those for touchdowns. Working with defensive backs coach Wesley McGriff should only help Harvey reach his potential and become one of the better defenders in college football.
Harvey's 247Sports Composite puts him as the 17th-best safety in the recruiting class, but ESPN is much higher, ranking Harvey in their top five. In any case, the NFL is a realistic possibility for the four-star prospect.
Ahmari Harvey is just one of the players poised to make an immediate impact for the Auburn Tigers in 2021. If his high school tape and statistics prove anything, it is that he's is up to the task.