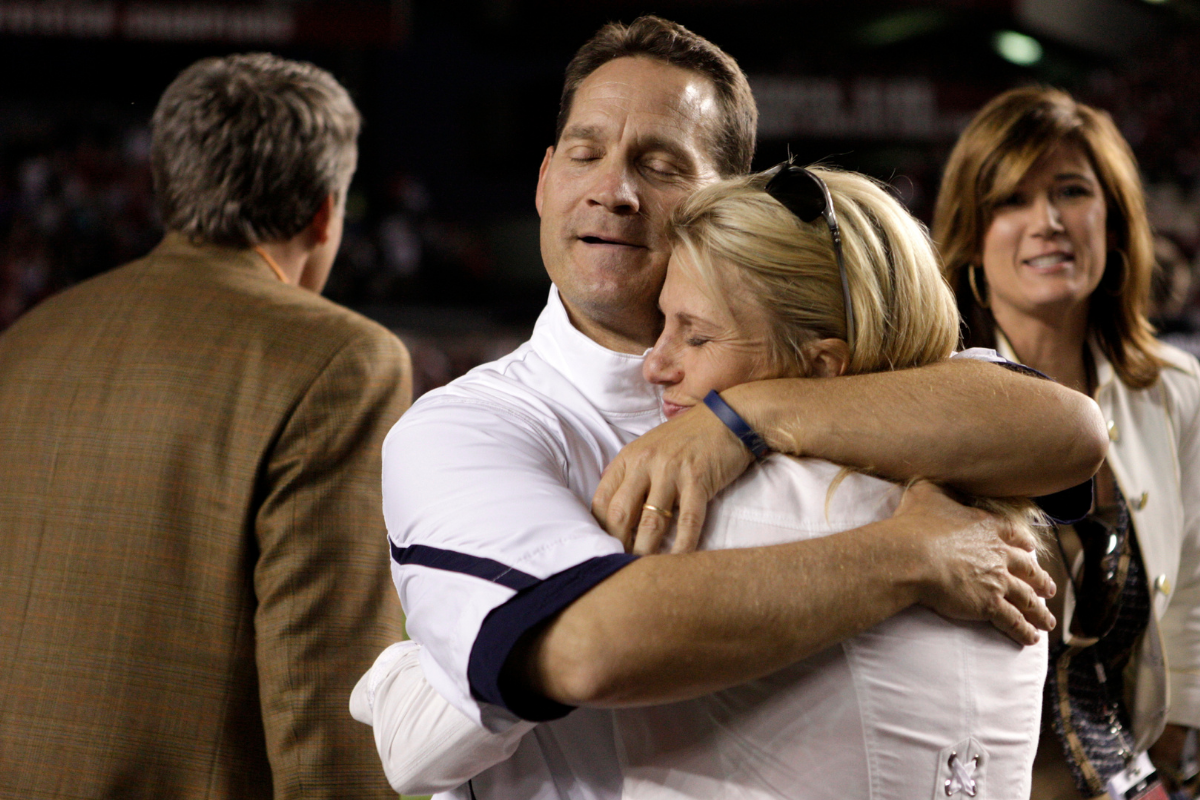 AP Photo/Brett Flashnick, File
Former Auburn Tigers head coach Gene Chizik only had a short tenure on The Plains, but it sure was sweet.
While Chizik wasn't in town nearly as long as Gus Malzahn, he managed to achieve the ultimate feat during his four-year stint: win a national championship.
Chizik hasn't been on the sidelines for years, so what is the former college football coach doing these days?
Gene Chizik Coaching Career
RELATED: Michael Dyer Sealed Auburn?s National Title, But Was He Down?
Gene Chizik's college coaching career started out in at Seminole High School in St. Petersburg Florida before jumping to the NCAA ranks at Middle Tennessee. He served as the program's defensive coordinator from 1990-91 and helped lead the team to the Division I-AA playoffs in back-to-back seasons.
Chizik then took over as the linebackers coach at Stephen F. Austin before making the move to Central Florida.
In 2002, Chizik joined the Auburn Tigers as the defensive coordinator and secondary coach. He also spent time as the assistant coach at Texas and landed his first head coaching gig at Iowa State in 2007.
Despite managing just a 5-19 record across two seasons with the Cyclones, Auburn came calling in 2009. The rest is history.
At Auburn, Chizik recorded a 33-19 record and went 3-0 in bowl games, including the Tigers' marvelous undefeated season in 2010.
Auburn won both the SEC Championship and the BCS National Championship, quarterback Cam Newton won the Heisman Trophy before going to the NFL, and Chizik won SEC Coach of the Year for his efforts in bringing Auburn football a national title.
The Tigers failed to produce the same results during the next two seasons, amassing a dismal 11-14 record, which ultimately led to Chizik receiving a buyout.
Chizik worked as the defensive coordinator at North Carolina for two seasons before stepping away from coaching.
Where is Gene Chizik Now?
Gene Chizik currently works as an entrepreneur, in addition to being an ESPN and SEC Network analyst.
Chizik has three children with his wife Jonna: son Eugene "Cally" Calloway and twin daughters Landry and Kennedy. The family currently resides in Alabama.
The former player and SEC football coach also released a book in 2011, "All In: What it Takes to Be the Best," which chronicles his journey from Iowa State disgrace to Auburn legend.