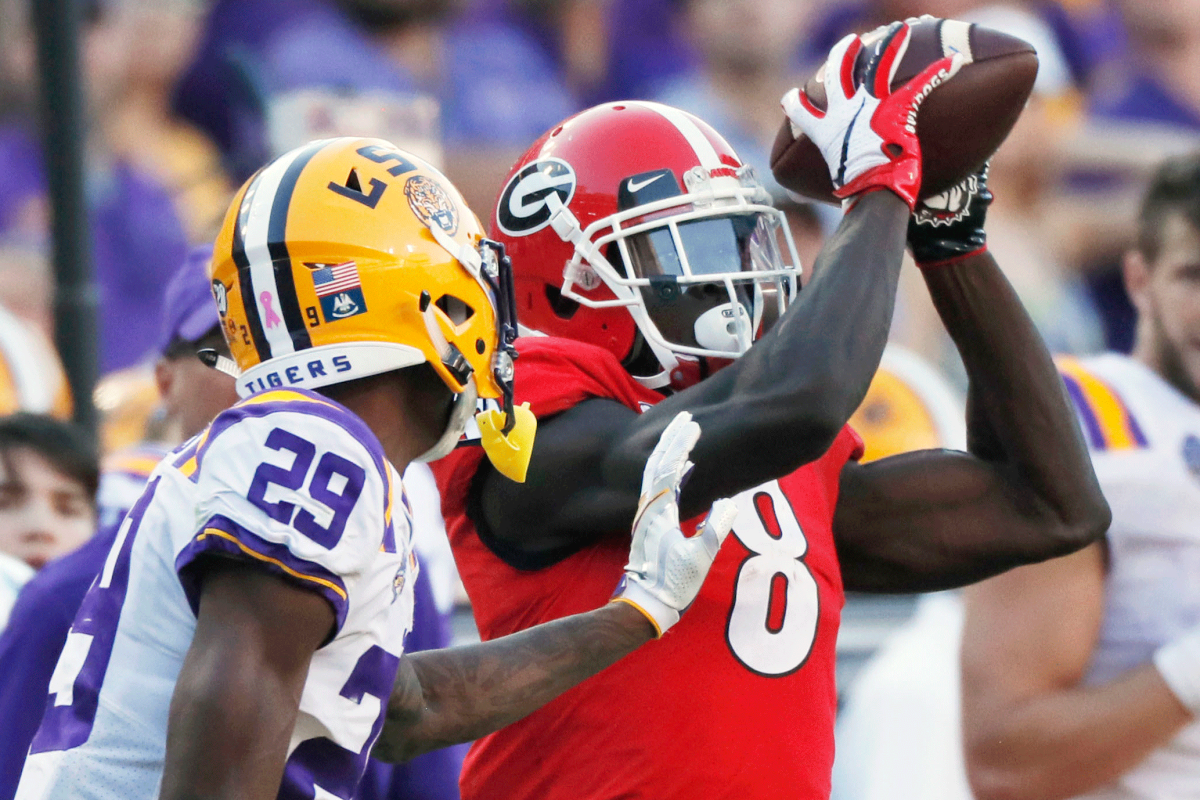 Bob Andres/Atlanta Journal Constitution via AP
Georgia wide receiver Riley Ridley (8) makes a reception against LSU during an NCAA college football game Saturday, Oct. 13, 2018, in Baton Rouge, La. (Bob Andres/Atlanta Journal Constitution via AP)
For the second year in a row, the Georgia Bulldogs find themselves in the same position. Last season, the Bulldogs ran into a buzzsaw when they played the Auburn Tigers, losing 40-17. Yet, it wasn?t that loss that defined Georgia?s season. It was the way the football team rebounded to win their remaining regular season games and pay Auburn a receipt in the SEC title game to earn a playoff berth.
Fast forward to the October 13, 2018, football game. Coach Kirby Smart and the Bulldogs went into Baton Rouge's Death Valley with one of the youngest rosters in college football. And it showed at times too, as LSU dominated Georgia in a 36-16 victory that has some Bulldog faithful questioning whether this year?s playoff aspirations might be a bit premature.
They would have some evidence to back up their claims. Georgia gained only 113 yards on the ground while surrendering 275 rushing yards from LSU. Meanwhile, the Bulldogs? defense only gives up four and a half yards per play but against the Tigers? offense, which at times has been inconsistent, they surrendered close to six yards a game.
Related: Ranking the Best 'Uga' Bulldogs of All Time
As far as Georgia's offense, even Georgia quarterback Jake Fromm looked dazed and confused. It was a stark comparison to LSU's own Joe Burrow. Fromm never appeared confident in the pocket; he made uncharacteristic mistakes such as taking a sack when throwing the ball away would have kept the Bulldogs in field goal range, and he threw two interceptions.
When Georgia gained a little momentum, LSU responded with a big play from coach Ed Orgeron and took that momentum back during Saturday's game. Overall, it was a bad day at the office at Tiger Stadium, but like last season?s loss, it might be a bit premature to write off the Bulldogs.
SEC expert Paul Finebaum appeared on ESPN?s SportsCenter on Sunday morning. When asked if it?s time to write off Georgia, he responded with, ?It?s tempting…but I?m not going to. Because they can get back together again–and they did last year after getting eviscerated by Auburn and almost winning the national championship.?
Losses can define a team in many ways. It could trigger cracks in the foundation other teams can expose, leading to a frustrating end to a season. Conversely, it could also unite the team, helping them to address their weaknesses and come back improved.
It worked for Ohio State in 2014. It worked for Georgia last season too. The way the Bulldogs lost was troublesome, but if it produces growing pains and develops the unity and sense of urgency this team needs to play with, then yesterday?s loss could become a blessing in disguise.
The Bulldogs next face the Florida Gators on October 27 and Kentucky the following weekend on November 3. Hopefully the Georgia offense will find its footing once again.