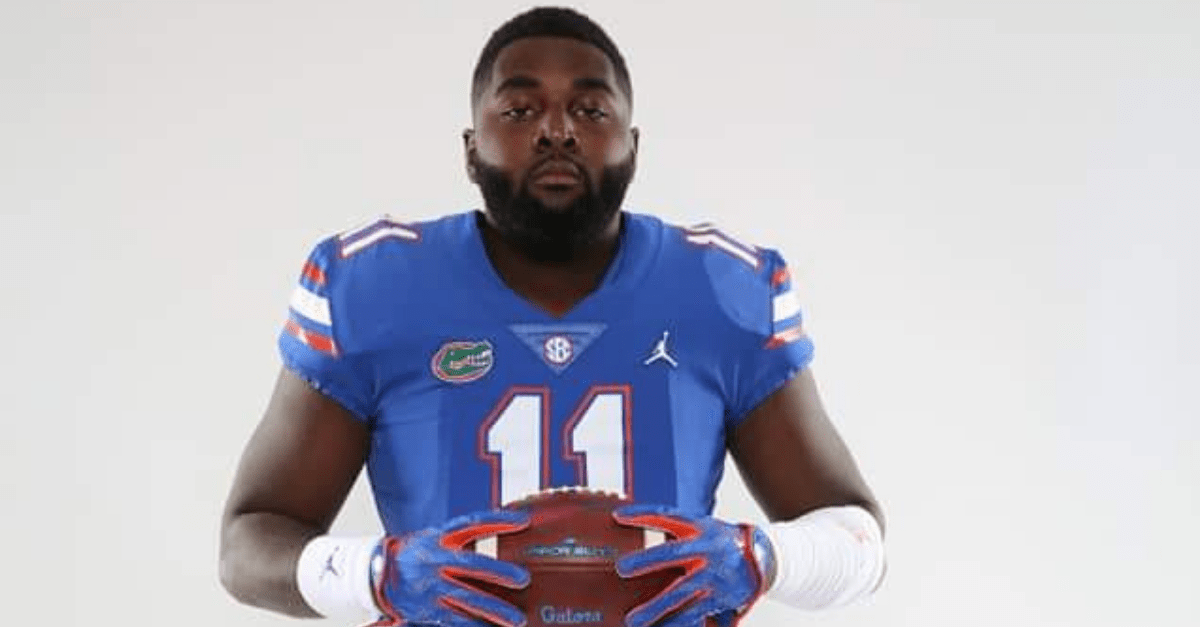 Twitter: @CharlesMoore_11
There are endless reasons to attend the University of Florida. The Florida Gators are known for their rich history of success on the field and on the court, but in addition to being a large public school many choose UF for academic reasons.
The same can be said for prospective high school athletes. For them, wearing the orange and blue is about much more than just trying to win championships or hang banners. It's about choosing a university that gives them the best opportunity to be successful on and off the field.
Charles Moore, one of the nation's top high school football recruits for the class of 2019, is including that logic into his decision. The 6-foot-4, 268-pound four-star defensive end took an official visit to The Swamp recently and spoke highly of the Gator Nation.
Related: The Real DBU: Florida Lands Big-Time Defensive Back Recruit
"From a grades-standpoint and what they can do for me outside of football is what I liked the most. It's not really, like, the coaches, because coaches can leave at any moment. It's been more of what they can offer me.

"As people, I mean, I haven't been around them, but from me talking to them, they're good coaches. They're focused on, it's football, yeah they want me to be great at football, but they're focused on me as a person, too, do I fit as a person? This is somewhere I could see myself, say if I had a career-ending injury, Lord forbid, but this is a place I could see myself getting a job." — Charles Moore, via GatorSports.
Moore, who was hosted by defensive linemen Kyree Campbell and T.J. Slaton, even went so far as to liken Florida to an Ivy League School. That isn't a crazy exaggeration considering Florida ranks No. 8 in U.S. News & World Report's list of top public schools.
"Just getting a degree from here, it will take me a long way. That Florida brand is so big, it's almost like having a degree from Yale or Harvard or something."
Moore, ranked 87th nationally by 247sports, would be a big get for Dan Mullen's increasingly stacked 2019 class. The addition of the Louisville, Mississippi, native could put Florida in the top-10 ahead of teams like Ohio State, Tennessee and Florida State.
Projections have Moore's decision split between many schools, but he told reporters following his UF visit that Florida is his new leader and knocked out FSU. Auburn and Tennessee round out his top 3. He was previously committed to Mississippi State before decommitting on Jan. 7.
With National Signing Day approaching on Feb. 6, Moore, a Louisville, Mississippi native, could choose the Gators and add a big piece to Mullen's first full recruiting cycle at UF.