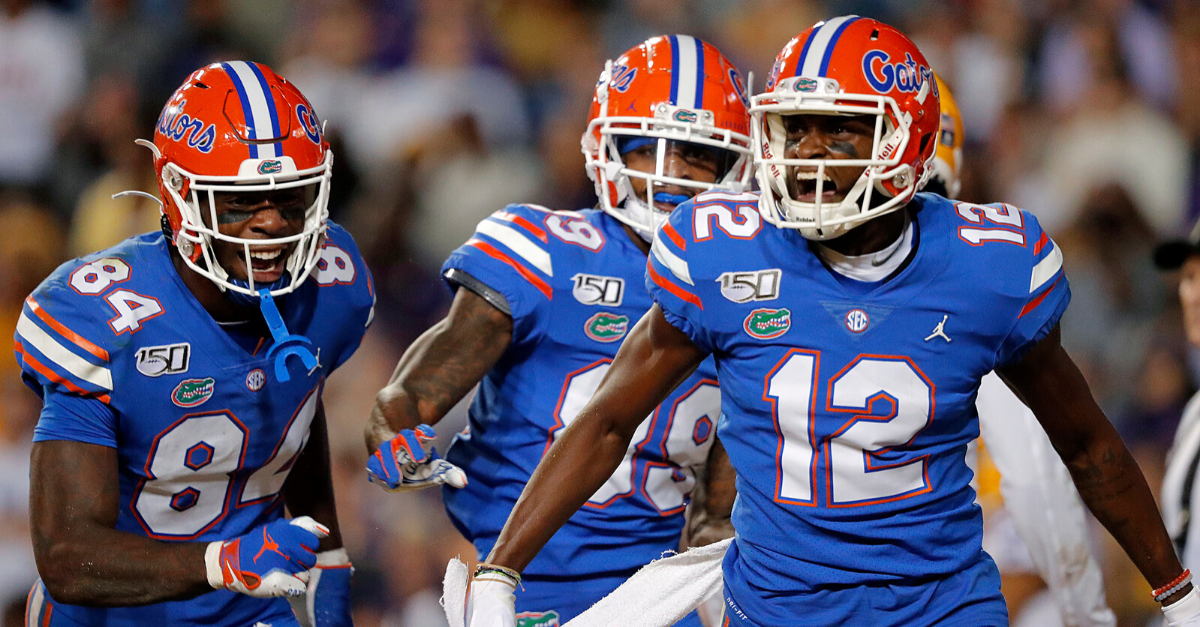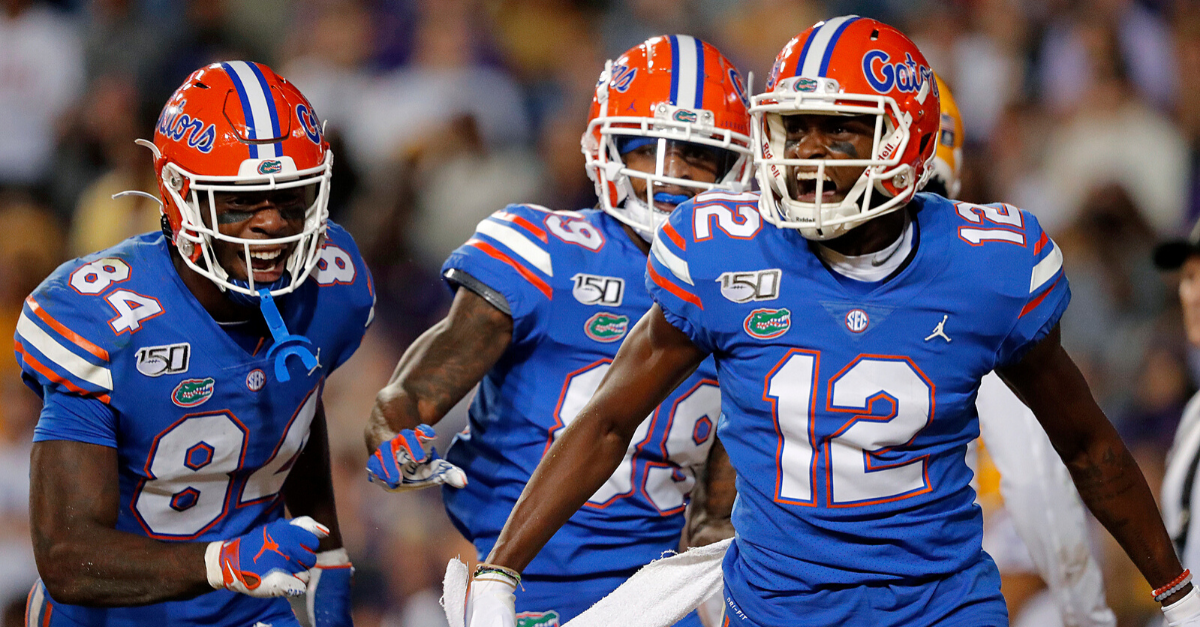 AP Photo/Gerald Herbert
The Florida Gators have made a statement under second-year head coach Dan Mullen. Even after losing starting quarterback Feleipe Franks to injury, the Gators have thrived under their two-quarterback system and are a real threat out of the SEC East heading into a highly anticipated Florida-Georgia rivalry game in Jacksonville, Florida.
Simply put, the Gators are back on the map and looking for the first College Football Playoff berth. To do so, they may need to strengthen their slate of games and schedule some more Power Five schools.
That's why Florida athletic director Scott Stricklin sent out a tweet on Oct. 22 asking fellow athletic directors from Power Five schools for a home-and-home series. Sorry UCF fans, that means you guys aren't included.
"Attention ADs from the ACC, Big Ten, Big 12 or Pac-12," Stricklin's tweet read. "(Florida) is looking to add additional Home-and-Home series against P5 opponents. Let's connect and schedule quality games the fans want to see!"
Stricklin received a few responses on social media, including from Clemson AD Dan Radakovich, who said they'd be interested almost 20 years from now in 2037 and 2038. Iowa State AD Jamie Pollard also responded, taking a shot at the SEC.
Florida already has series with South Florida, Miami, Utah and Colorado this coming decade followed by a much-anticipated home-and-home with Texas in 2030 and 2031. Stricklin is likely trying to fill the open slot in 2026 and 2027.
With that being said, fans are hoping Stricklin chooses a school that would not only boost their schedule but make for a great road trip. So, let's go through which ones would make for a kick-ass series.
Clemson
Their athletic director is already intrigued, and Clemson is home of the real "Death Valley" after all. Florida fans just better be prepared for Clemson fans to rush the field in Memorial Stadium, a tradition that unaware fans seem to forget every year.
UF is 9-1-3 all time against the Tigers, having last played in Gainesville in 1961. Florida won that one, 21-17.
An opening on the schedule to play Dabo Swinney's club may not be available in the near future based on Clemson's jam-packed future non-conference schedule. Still, that doesn't mean the Gators should stop trying to work out something with the 2018 National Champions.
Oklahoma
These teams have only played once, and it was a fortuitous matchup for Florida. Tim Tebow and the Gators took down the Sooners in the 2009 BCS National Championship game to cap their title season in 2008.
What better team to schedule than the one that has produced the last two Heisman Trophy winners in Baker Mayfield and Kyler Murray? Lincoln Riley has something special brewing in Oklahoma, and Mullen's Gators should be fired up for the challenge.
The Sooners already have a non-conference Power 5 team scheduled in 2026 and 2027 (Michigan and LSU, respectively), so I'm not sure they would add a school like Florida. Their earliest opening isn't until 2034 if they want to continue that trend.
Ohio State
We'll just call this one the "Urban Meyer Bowl."
Florida won both of these teams' past matchups, the most recent of one being the Gator Bowl in 2012. The first, of course, was when Florida blew the Buckeyes out of the water and captured its second ever title in the 2007 BCS National Championship game.
Ohio State has Notre Dame in 2022-23, Washington in 2024-25 and Texas in 2025-26 in its future schedules. Make it happen, athletic directors.
Oregon
Think about how dope the uniforms for this one would be. Florida could rock some sweet Jordan Brand gear, maybe black on black. The Ducks could break out the hi-liter threads or some white-on-white action.
These two teams haven't played since 1929, and (you guessed it) Florida won that one by a score of 20-6. One hundred years between match-ups is just too long. Oregon has future series consisting of Ohio State, Texas Tech, Oklahoma State, Baylor and Michigan State until 2030, so some rearranging might be in order for this one to take place.
Penn State
They last played in the 2011 Outback Bowl, and the Gators have won all three games against the Nittany Lions since 1962. Penn State is home to some terrific traditions, one of which is the annual "White Out" game, which makes it an appealing opponent as any.
Future non-conference games include Auburn in 2021-22, West Virginia in 2023-24 and Temple in 2026-27. There's no reason to thing they can't hammer something down for 2026 and 2027, though.
USC
Who would turn down a chance at a road trip to sunny Southern California? Only a fool.
The Trojans struggled big time in 2018 in the Pac-12, finishing 5-7. Still, this a traditionally great program that should be back on track by the time these two would play. These two programs have played twice — both in the 1980s — and the last resulted in a 19-19 tie.
Much like how Florida has Florida State, USC has Notre Dame scheduled every year. If UF is seeking for a series starting in 2026, the Trojans could be a suitable partner judging from their future schedule.
Stanford
More than 200 seasons between these two teams and not once have they squared off. Why not change that? The Cardinal have typically been strong out of the Pac-12, going to a bowl game every year since 2009.
Stanford has Notre Dame, Vanderbilt, TCU and Boston College on their upcoming slate over the next 10 years. Oddly enough, they don't have a non-conference opponent schedule for 2026.
*Insert eyes emoji*
Florida's Future Non-Conference Opponents:
2020
Eastern Washington
South Alabama
New Mexico State
at Florida State
2021
Florida Atlantic
at USF
Florida State
Samford
2022
USF
at Florida State
Utah
2023
Charlotte
Florida State
at Utah
2024
Miami (FL)
at Florida State
2025
USF
at Miami (FL)
Florida State
2026
2027
2028
Colorado
at Florida State
2029
at Colorado
Florida State
2030
2031