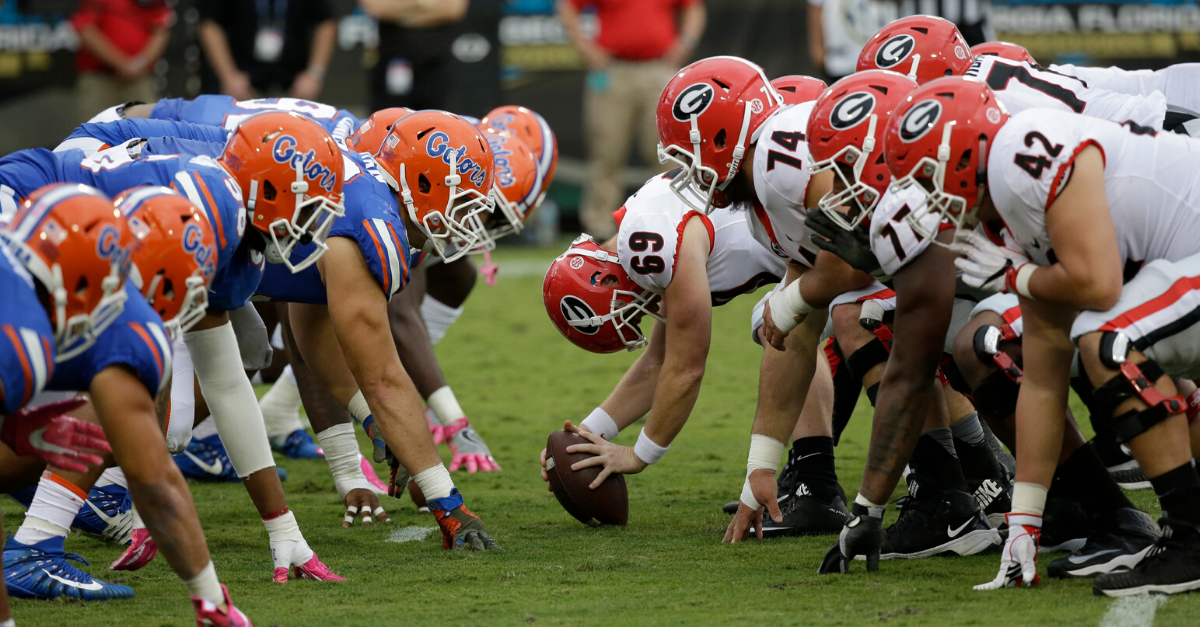 AP Photo/John Raoux
Aside from having a kickass nickname, "The World's Largest Outdoor Cocktail Party" is one of college football's best modern rivalries. The SEC East division champion is typically decided by the winner of this game, and when the Florida Gators and Georgia Bulldogs meet, anything can happen. Since 1991, one of these teams entered the rivalry game ranked in the AP Top 25 a whopping 28 out of 30 times, and on 14 occasions, including the 2019 showdown between top-10 teams, both of these squads were ranked.
Needless to say, the Georgia-Florida game never disappoints, and uncertainty about this neural site game's future finally reached its outcome.
Jacksonville, Florida played host to this game every year since 1996. If you remove the home-and-home series played in 1994-95, the city's hosted Florida vs. Georgia every season since 1933. Tradition fuels this rivalry. From "Run, Lindsay, Run" to "The Gator Stomp," it's not hard to find iconic moments and players that fueled this fire.
The game's contract was set to expire with the city of Jacksonville in 2021, but Jacksonville Mayor Lenny Curry announces on Twitter that his team reached an agreement with both universities to keep the game in North Florida until 2023, with an option to extend the contract through 2025.
Georgia-Florida Game in Jacksonville
"As mayor and a football fan, I'm excited about what this agreement means for our city. This is more than a game; it's a tradition. TIAA Bank Field is sold out every year with 83,000 fans in attendance on game day. But it's so much more than a game, it's an entire week of experiences for Dawgs and Gators alike, including the Hall of Fame Luncheon, RV City, concerts and other activities. Last year [in 2018], the economic impact topped $30 million."

? Jacksonville Mayor Lenny Curry
Curry added that the 2019 game will feature Duuuval's Bold City Bash, fan experiences that include a Florida-Georgia Hall of Fame exhibit and 3v3 flag football game, an exhibition baseball game on Friday night pitting Georgia vs. Florida on the diamond, and a concert following that game featuring country music stars Brett Young and Chase Rice.
You can get more information all these events, as well as purchase tickets, by clicking here.
While weekends like this sound like can't-miss opportunities, many people want this tradition to finally become a set of home-and-home games. Florida-Georgia is one of only a few college football rivalry games still played at a neutral site, and if we're being honest, Dawg fans drew the short end of this stick.
The drive from Gainesville to Jacksonville for Florida Gators football fans is about an hour and a half.
From Athens to Jacksonville? It's five and a half hours.
When Dan Mullen and Kirby Smart's teams meet in Jacksonville, SEC bragging rights and rivalry dominance is up for grabs. "The World's Largest Cocktail Party" isn't going anywhere for now, so gear up with your rivalry gear and get ready to party.

This year's Florida-Georgia game takes place at 3:30 p.m. ET on November 2, and the matchup of top-10 teams will air on CBS.