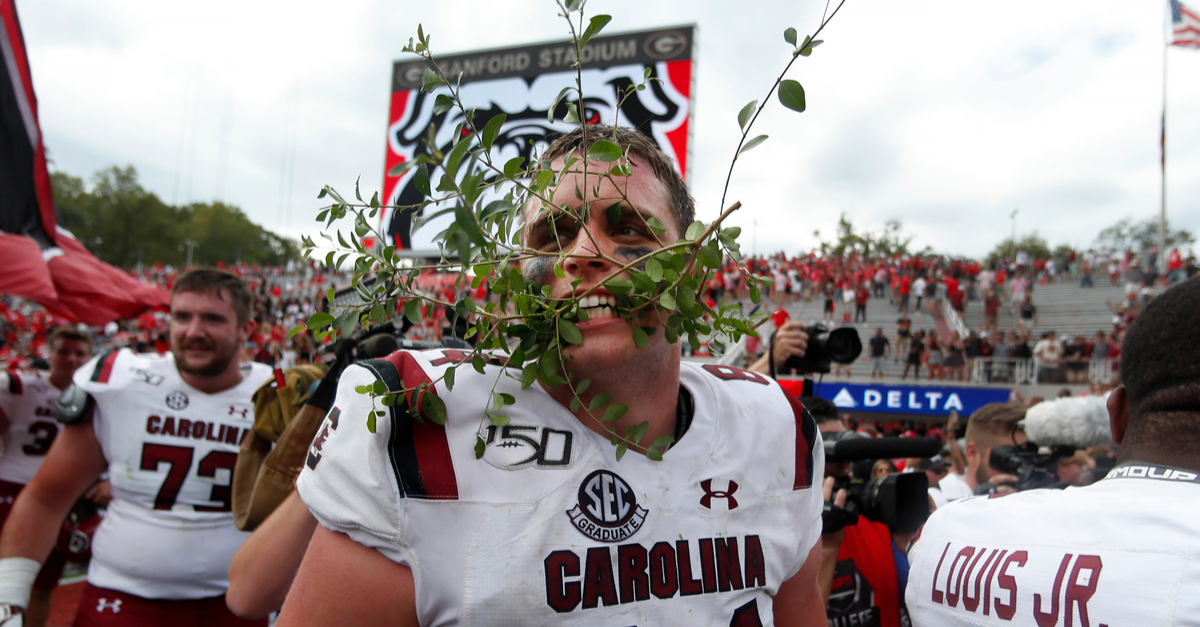 AP Photo/John Bazemore
College football's first, major casualty of the 2019 season was the Georgia Bulldogs losing at home to head coach Will Muschamp and the South Carolina Gamecocks. Ranked No. 3 at the time, the hearts of UGA fans sank into their stomachs as All-SEC kicker Rodrigo Blankenship missed a game-tying field goal in double overtime. It was an uncharacteristic day for a Georgia offense that racked up 468 total yards, but quarterback Jake Fromm fell victim to four turnovers, which doomed the Dawgs.
Things couldn't have gone worse for Georgia. Not only did UGA lose, but they dropped to No. 10 in the AP Poll behind rival Florida and Notre Dame, a team the Bulldogs beat just a few weeks prior. Lost in the chaos, however, was a moment that Georgia fans aren't going to forget anytime soon.
Even a casual fan of the Southeastern Conference knows that "Between the Hedges" is a sacred place. Sanford Stadium in Athens, Georgia is full of history, but it's the university's iconic hedges that tell the stories. Since Oct. 12, 1929, the famed foliage stood guard as Heisman Trophy winners, national championship teams, and hundreds of wins took place on the field.
That's why when South Carolina players began ripping stems off the hedges as souvenirs following their massive upset, it pissed a lot of people off.
In the video below, Gamecock players can be seen ripping pieces of the hedges apart and diving into them to celebrate with fans, while event staff and even a police officer try to stop them.
South Carolina Destroys Georgia's Hedges
RELATED: Family Honors Son, 8, with Incredible UGA-Themed Tombstone
"I don't like it all," Georgia Athletic Director Greg McGarity told DawgNation. "We sure don't do that when we win at an opponents' venue under Kirby's leadership."
Players weren't the only ones guilty of destroying the hedges, though. Several South Carolina assistants were seen taking an impromptu trophy for themselves. Even Muschamp, who played for Georgia in the early 1990s, gladly took some for himself.
South Carolina AD Ray Tanner personally contacted McGarity the following day to apologize for the football team's actions.
This was South Carolina's first win over Georgia in five years. It was SC's first win over a ranked opponent since 2016, and first win over a Top-5 team since Steve Spurrier's Gamecocks beat Missouri in 2013. A celebration was definitely in order, but this may not have been the way to do it.
Tradition is the backbone of college football, and destroying these historic hedges is the closest thing to a spit in the face as you can get.
Kirby Smart and the University of Georgia football team travel to Williams-Brice Stadium in Columbia, South Carolina on Nov. 7, 2020. You can guarantee that revenge will be on their minds after this fiasco.

This article was originally published October 14, 2019.