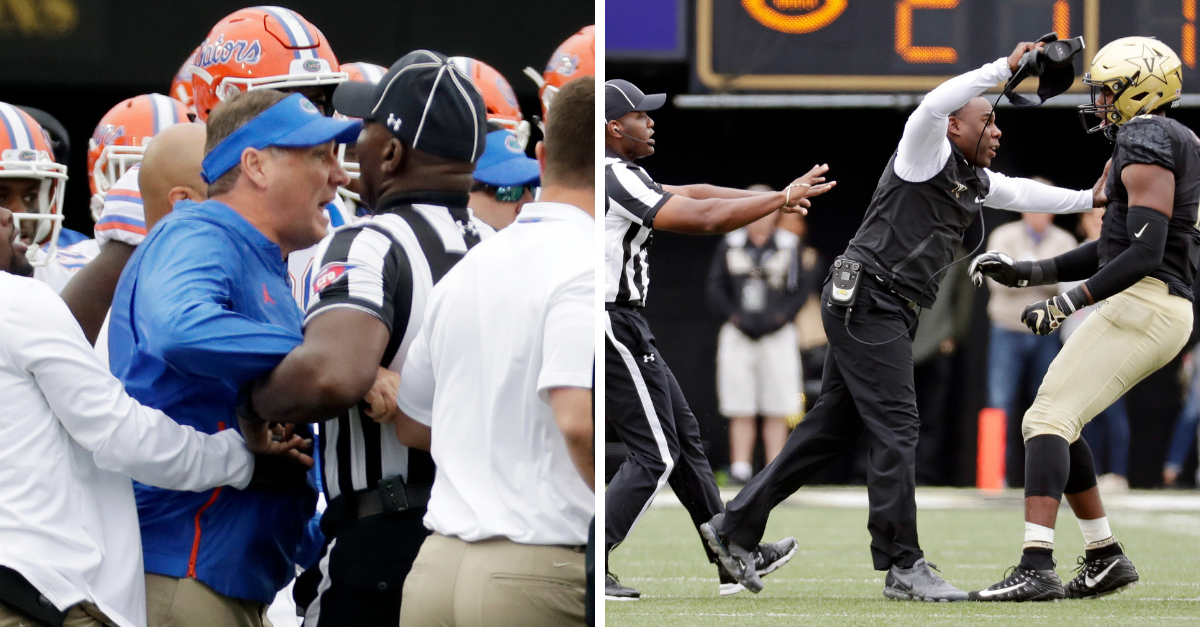 AP Photo/Mark Humphrey
AP Photo/Mark Humphrey
It?s not rare for things to get heated in a college football game. There?s a lot at stake for programs, head coaches and players every single game, and just one bad loss could cost a coach his job. Sometimes, those tempers can spill out onto the football field and manifest into shouting matches like the one that ensued between Florida head coach Dan Mullen and Vanderbilt head coach Derek Mason on Saturday at Vanderbilt Stadium.
With Vanderbilt leading 21-10 and just under two minutes to go until halftime, the Commodores punted the ball away. On the return, UF linebacker James Houston laid a huge hit on one of Vanderbilt?s players. The play was arguably a clean block often seen on returns.
Here?s the hit that started it all:
What happened next was chaos.
After it was clear Vanderbilt?s player was shaken up and down on the field, Mason became irate and made his way across the field to Florida?s sideline (near where his player was down). That?s when he, Mullen and Florida defensive coordinator Todd Grantham began exchanging words.
RELATED: Steve Spurrier Cashes in on Bet with Les Miles After Florida Win
If you play close attention to Grantham, you can tell he?s mouthing, ?F*** you.? It?s unclear what Mullen said, but clearly something Mason said set him off too.
It?s harder to tell, but it appears Mason also was yelling, ?F*** you.? You can decide for yourself.
This, of course, led to the benches clearing. No fighting actually occurs as both teams are cooled down and guided back to their sidelines quickly.
Here?s a view of it from the press box:
Lost in all of this is that Florida lost two players to ejection from the kerfuffle. Houston was ejected for targeting and Vosean Joseph, UF?s top linebacker, was ejected after his second unsportsmanlike conduct penalty.
The shouting match clearly fired up the Gators, who rallied and went on to beat the Commodores 37-27 to improve to 6-1. Either way, it isn?t a good look for the Southeastern Conference when coaches get into it like they did.
The best (or worst) part? SEC Commissioner Greg Sankey was at the game, as the Orlando Sentinel?s Edgar Thompson reported. Someone?s going to have some explaining to do.