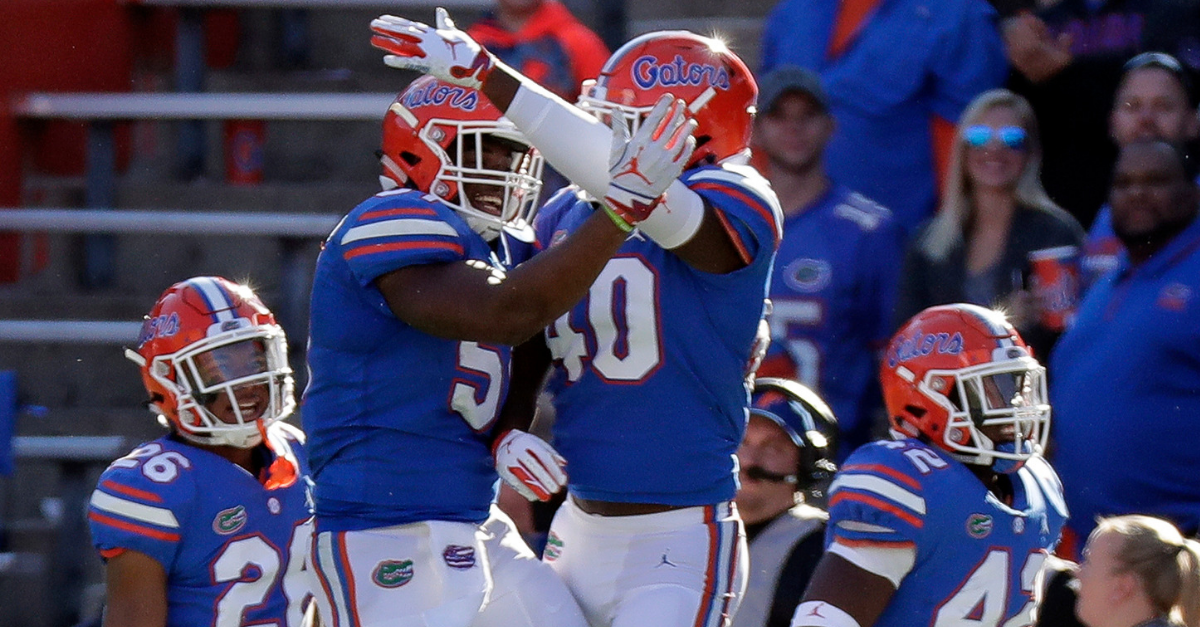 AP Photo/John Raoux
The college football season has flown by, as we?re now finished with Week 12. A few teams ? Alabama, Notre Dame and Clemson ? seem cemented in the College Football Playoff. Other teams like Michigan, Oklahoma, Georgia and Washington State face tough roads ahead with massive games looming.
What is becoming more clear is the New Year?s Six teams. The top-12 play in one of the six prestigious bowl games, and Florida looks poised to play in one with a win over rival Florida State on Saturday.
Following Syracuse?s loss to Notre Dame, the Orange fell out of the top-12 and Florida jumped to No. 11 in the latest CFP rankings. Penn State slid in behind the Gators at No. 12, while West Virginia fell to No. 13 after losing to Oklahoma State. It doesn't look like any team will leapfrog UF as long as it beats FSU, so a NY6 berth is pretty safe.
There are still important games to be played that will shake the rankings up again. Michigan and Ohio State face off this weekend. The Mountaineers and No. 6 Oklahoma still have to square off, and the winner of that plays No. 14 Texas in the Big 12 Championship Game if the Longhorns beat Kansas. Florida could very well end up playing any one of those teams.
Regardless, Florida?s chances of a New Year's Six Bowl hinge on Florida State. Assuming the Gators win, here are three possible bowl scenarios:
1. Florida vs. UCF, Peach Bowl
You want it. I want it. We all want it. No team would love to shut Knight fans up more than the team that's won actual national championships just two hours north of them.
UF has little chances to play in the Sugar Bowl (SEC vs. Big 12) with Georgia and LSU still ranked higher, and the SEC doesn?t send a team to the Rose Bowl. That leaves one of the two at-large bowls – the Peach and Fiesta.
The whole state of Florida will probably tune in for this one, as well as anyone sick of hearing about UCF?s undefeated streak. It's time for the committees to make it happen.
2. Florida vs. West Virginia, Fiesta Bowl
Related: Does Will Grier Win Florida a National Championship If He Never Transfers?
Let me get, uhhhh, one Will Grier revenge game with fries. Extra salt, please. Everyone knows by now about Grier?s odd transfer situation from UF following a positive PED test in 2015. The only people in the universe that shouldn?t root for this matchup are maybe Gator fans, because they know what Grier is capable of. And they know what Feleipe Franks is incapable of.
Again, in this scenario, Florida falls to one of the at-large bowls assuming Georgia and LSU players don?t all suddenly catch the flu before their finals games.
3. Florida vs. Notre Dame, Peach Bowl
College football is rarely predictable. There?s almost always an upset that throws a wrench in the committee?s plans. For that reason, let?s say Notre Dame loses to USC, which already defeated Mike Leach?s 10-1 Washington State team.
These storied teams have only ever met once before. The Fighting Irish upset Steve Spurrier?s 10-1 Gators in the 1992 Sugar Bowl by a score of 39-28. Here?s to pitting them against each other again. Plus, Notre Dame has some fire uniforms, and UF could break out the swamp green uniforms.