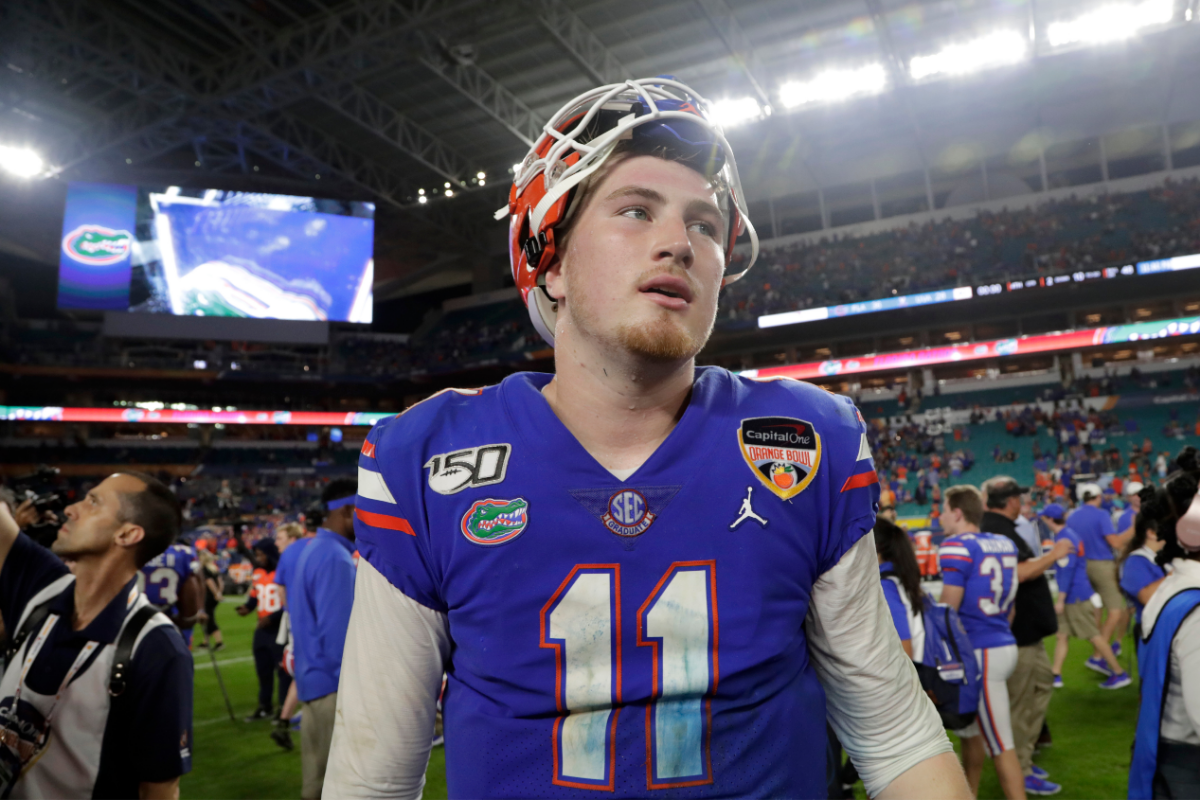 AP Photo/Lynne Sladky
A brawl before halftime may have garnered all of the attention between the Florida Gators and Missouri Tigers at Ben Hill Griffin Stadium, but something else took place that night that needs to be talked about.
After the start of the third quarter, well after the late hit on Florida quarterback Kyle Trask that stirred controversy, a member of the SEC Network broadcast crew made a comment that was as out of bounds as most of his throws in college.
I don't know if Hutson Mason forgot that he worked for ESPN. I don't know if he said what he said because he's a former Georgia quarterback. I don't know if he said it because he's a man. Either way, it was flat-out uncalled for.
Hutson Mason Insults Kyle Trasks' Girlfriend
A member of the broadcast crew mentioned a story that came out during the week about how Kyle Trask kept his arm in shape during the coronavirus pandemic and COVID-19 outbreak by throwing to Jade Caraway, his girlfriend and member of UF's softball team.
The normal response to that should be something along the lines of "wow, that's awesome!" or "he's lucky to have her!"
Mason, who played four seasons at UGA (sitting the bench for most of the time as Aaron Murray's backup), opened his mouth and said something one can only classify as sexist. I embedded the YouTube video above to the part where he makes the comment.
?I?m sure she?s a great athlete but she probably can?t catch the velocity of the throws that he likes to throw to his normal receivers,? he said on the broadcast.
Really, dude? Have you ever played softball or know how hard it is to field, throw or hit in that sport? Probably not.
Caraway is an excellent athlete. She patrols center field for the Gators and once broke the NC State program record for triples in a season before transferring to UF. Let's also mention that Caraway plays for a Florida softball team that won the SEC Tournament and played in the Women's College World Series last year.
According to USA Today, most quarterbacks don't break the 60 MPH mark on their throws. One Softball tells us that exit velocities in Division I softball average around 69 MPH and throw velocities are higher than 60 MPH.
So, to insinuate that Caraway can't catch a football from Trask because it's "too fast" is insulting and uncalled for. Instead of bashing her, that could have been a perfect moment for Mason to call out some of her accolades. It didn't help that Trask said his girlfriend had a "nice little arm."
Mason's comments didn't sit well with many who heard it. Payton Titus, a sports writer for The Independent Florida Alligator, wrote a scathing article about them. Jacquie Franciulli, a reporter for WCJB TV20 News in Gainesville, took issue with them on Twitter as well.
Mason even had a chance to apologize when he went on The Paul Finebaum Show afterward. His focus was on UF head coach Dan Mullen's actions during the mid-game scrum.
I don't know if ESPN or SEC Network plans on using Hutson Mason during the Florida-Georgia game in Jacksonville, but I hope he uses his airtime to lift people up instead of bashing them. Especially if they are women.