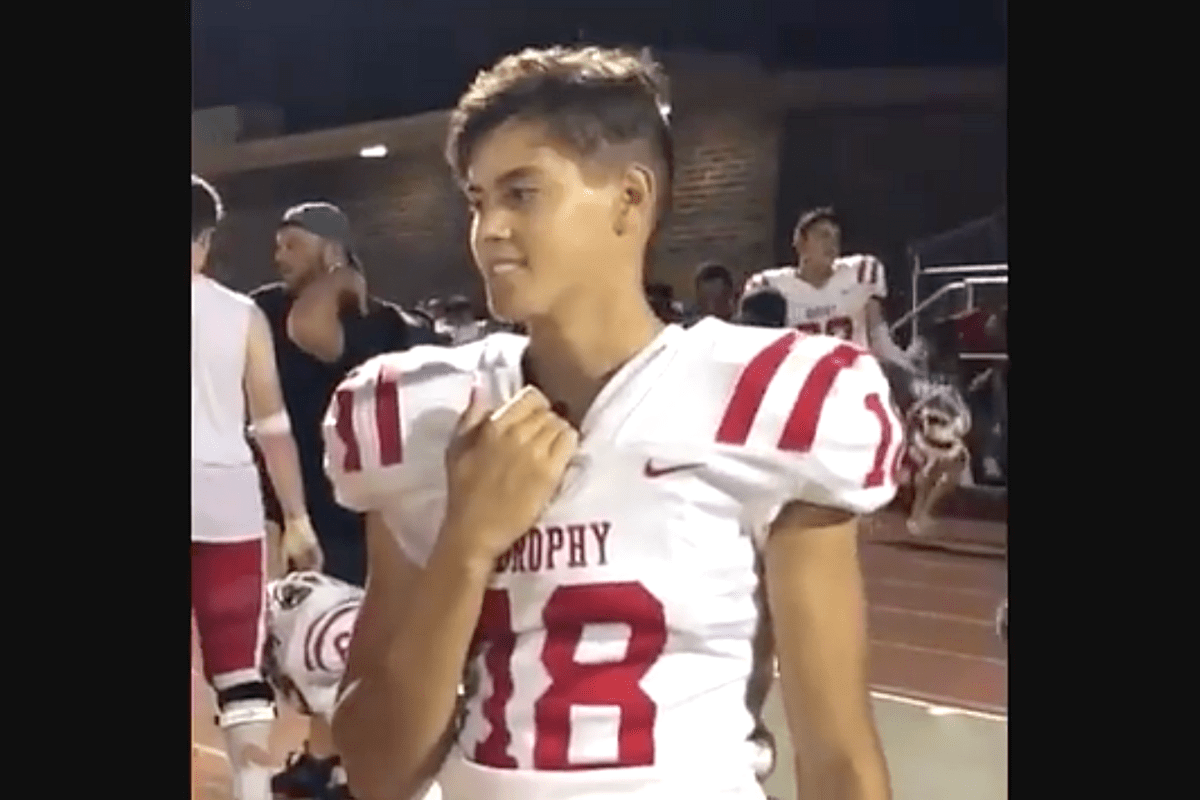 Twitter: Brophy Sports
After winning the NAIA National Championship in college, Jon Kitna wasn't drafted. In fact, the All-American quarterback thought his playing career was over. He finished his teaching degree and planned on coaching high school football until Seattle Seahawks coach Dennis Erickson, who arrived at Central Washington University to scout another player, saw the 6-foot-2 quarterback slinging passes.
Kitna signed as an undrafted free agent with Seattle in 1996. Over the next 15 years, he started 124 NFL games, threw for almost 30,000 yards, backed up Warren Moon, won 2003 NFL Comeback Player of the Year while grooming No. 1 pick Carson Palmer for the Cincinnati Bengals, gave the Detroit Lions two 4,000-yard seasons, and served as Tony Romo's confidant with the Dallas Cowboys.
Heading into the 2020 academic year, the former NFL quarterback is the head coach at Burleson High School, about 20 minutes south of Fort Worth, Texas. He'd previously coached winning teams at his alma mater, Lincoln High School, as well as a few other prep schools before joining the Cowboys as quarterbacks coach for 2019.
Kitna's a natural leader. After all, grooming the next generation of QBs is easy when you're the MVP of World Bowl V. (Damn I miss NFL Europe. Frankfurt Galaxy, forever.) But his leadership and expertise isn't being used solely on other kids. Kitna's running his own quarterback room at home.
2021 QB Jalen Kitna, Jon Kitna's Son
Burleson High School quarterback Jalen Kitna's had quite the journey. As a sophomore, Kitna threw for 1,474 yards and 16 touchdowns for Brophy College Prep in Phoenix, Arizona, where his father was head coach. The next year, Jalen followed dad back to Texas, briefly committed to Boston College, and played his junior season at Frisco Reedy HS.
Once again, the Kitna clan is on the move as dad landed another job. Now 6-foot-4 and 200 pounds, Jalen Kitna is leading his dad's team one last time as a three-star recruit and the No. 32 pro-style quarterback in the country, according to the 247Sports Composite.
Despite offers from Arizona, Boston College, Cornell, Georgia Tech, Oregon State, Tennessee, and Yale, as well as interest rising nationally, Kitna announced on Twitter he'd be committing to the University of Florida Gators and head coach Dan Mullen.
Jalen Kitna Commits to Florida Gators
RELATED: Caleb Williams, No. 1 QB Recruit, Cuts List to 3 Schools
Entering his senior season, a "dead period" of recruiting has taken effect amidst the coronavirus pandemic and COVID-19 virus. That limited Kitna to only taking a virtual trip to Gainesville, according to 247Sports, but that small dose was enough to woo him into a Gainesville commitment.
Kitna is the second QB commit to Florida football's 2021 recruiting class, joining four-star quarterback Carlos Del Rio-Wilson (Loganville, GA). When Kyle Trask leaves after the upcoming season, it figures to be an open competition for the starting signal caller job between Emory Jones, Anthony Richardson, Del Rio and Kitna.
Jalen won't be the only Kitna kid in college football, either.
Jordan Kitna was an all-state quarterback in Texas who joined the TCU Horned Frogs as a freshman. After redshirting, he transferred to Cisco College before joining the Colorado State University-Pueblo ThunderWolves last year; He guided them to an 11-2 record and 2019 NCAA Division II Playoffs appearance in his first year as the starting passer.
Kitna is synonymous with quarterback. The tutelage Jalen Kitna's getting is second-to-none, and the Florida Gators appear to have a legitimate prospect on their hands if his commitment holds. By the time his NCAA career is up, he could have the likes of Alabama and Clemson kicking themselves for not offering him.