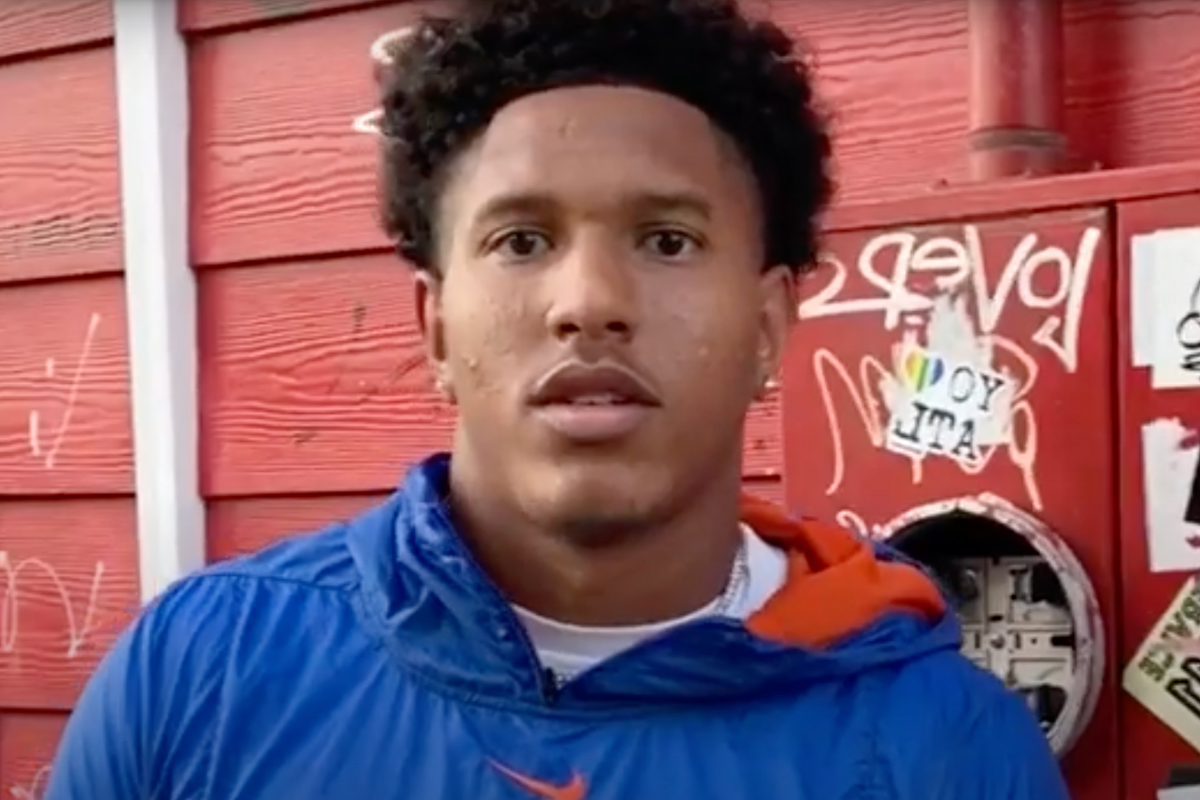 Screenshot from YouTube
Carlos Del Rio-Wilson is poised to have a great college football career. The pro-style quarterback has the arm strength and mobility to succeed at the next level.
Del Rio-Wilson has been well-traveled over the last few seasons. After playing at McEachern and attempting to transfer to Georgia's Grayson High School, he was deemed ineligible. As a result, he played for Cartersville High School in 2020.
Del Rio-Wilson will travel more in 2021, as he is set to move to Gainesville and play for the Florida Gators.
Carlos Del Rio-Wilson Commits to Florida
RELATED: Every Touchdown From Kyle Trask's Magical Season
The four-star prospect also received offers from Florida State, Georgia Tech, Kentucky, Louisville, Miami, Michigan, and Tennessee. Auburn and Clemson reached out but ultimately did not give Del Rio-Wilson a scholarship, leaving the QB to join head coach Dan Mullen.
Thanks to a great relationship with Gators offensive coordinator Brian Johnson, UF was able to land a fantastic prospect on National Signing Day.
Right now, Del Rio-Wilson is slotted behind Emory Jones on the depth chart, and he will get the chance to compete with fellow 2021 recruiting class signee Jalen Kitna.
Carlos Del Rio-Wilson Highlights
Carlos Del Rio-Wilson has the chance to be a prolific passer.
In 2020, he threw for 1,374 yards and 12 touchdowns. His athleticism is on display in these highlights. He may not run often, but he doesn't get scared of incoming pressure and easily maneuvers away from defenses. He throws a tight spiral to wide receivers and has shown off a deep ball as well.
247Sports gives Del Rio-Wilson a four-star grade and considers him the 11th-best pro-style QB in the 2021 class.
Replacing Heisman Trophy finalist Kyle Trask will be a tough task, but Florida football fans should be excited about the quarterback pipeline. Alabama, Georgia, and LSU are always going to be competitive SEC rivals, so it is always important that the Gators replenish their recruiting classes.
Carlos Del Rio-Wilson has the chance to do great things in Gainesville, and if the Gators reach the College Football Playoff with him under center, the NFL may be in his future, too.