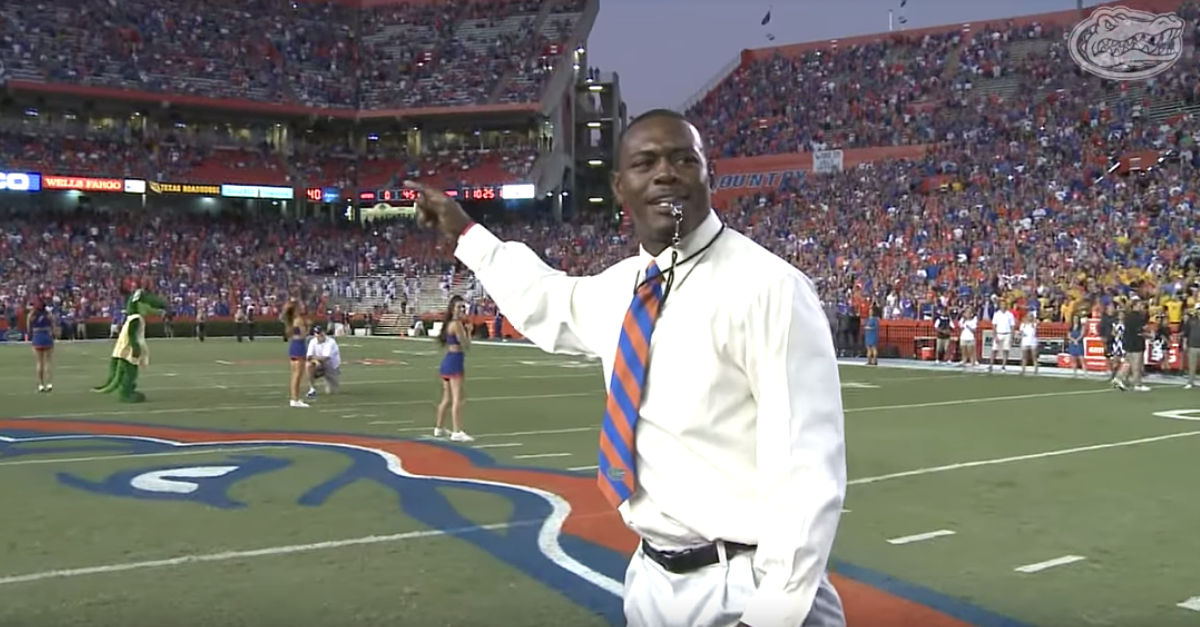 Screenshot from YouTube: Florida Gators
When the Florida Gators clash with the Miami Hurricanes, one of college football's most heated rivalries will be back with a vengeance. Heading into the Camping World Kickoff game to begin the 2019 season, the 'Canes lead the all-time series 29-26, including wins in eight of the last 10 matchups. Even though the last time UF and Miami played was in 2013, this rivalry is back and better than ever.
Head coach Dan Mullen's Gators are ranked No. 8 in the preseason AP Poll. Meanwhile, Manny Diaz enters year one leading the Hurricanes, which fell just outside the AP Top 25 and came in at No. 29. Both programs are excited about the future, but Orlando, Florida is headed to the past and honoring a few legends for the season's opening coin toss.
For Miami, massive former defensive tackle Vince Wilfork will represent the Hurricanes as the team's honorary captain. The two-time Super Bowl champion and BCS national champion as a member Miami's undefeated 2001 team retired from football following the 2016 season, but the former first-round pick's legacy will never die in Coral Gables.
Opposite him will be a Florida Gators great that fans will be absolutely thrilled to see return.
Lito Sheppard isn't just a UF legend. He's considered one of the greatest football players to ever hail from the state of Florida. After being named an All-American at Raines High School in Jacksonville, Sheppard attended the University of Florida and became a First-Team All-American during his sophomore season in 2000. That year, Sheppard also led the SEC by averaging 14.0 yards per punt return, including taking two kicks back for touchdowns.
After three seasons in Gainesville, being named First-Team All-SEC twice, and two All-American nods, Sheppard was the 26th overall pick of the 2002 NFL Draft.
The cornerback was a two-time Pro Bowl selection playing for the Philadelphia Eagles and became the first player in NFL history with two interception returns of more than 100 yards. Injuries slowed him down, but Sheppard still appeared in 126 games across a 10-year career with the Eagles, Minnesota Vikings, New York Jets and Oakland Raiders. Sheppard finished his NFL career with 345 combined tackles, 86 passes defended and 19 interceptions.
In 2019, Sheppard coaches safeties for the AAF's Orlando Apollos alongside his former UF coach, the HBC Steve Spurrier.
The renewed rivalry between Florida and Miami figures to be can't-miss television. Not only because football is back, but because there are going to be a few marquee legends involved along the sidelines. Just be careful somebody doesn't get Lito Sheppard a helmet and send him back deep. Something tells me the 38-year-old could still take a punt to the crib if called upon.