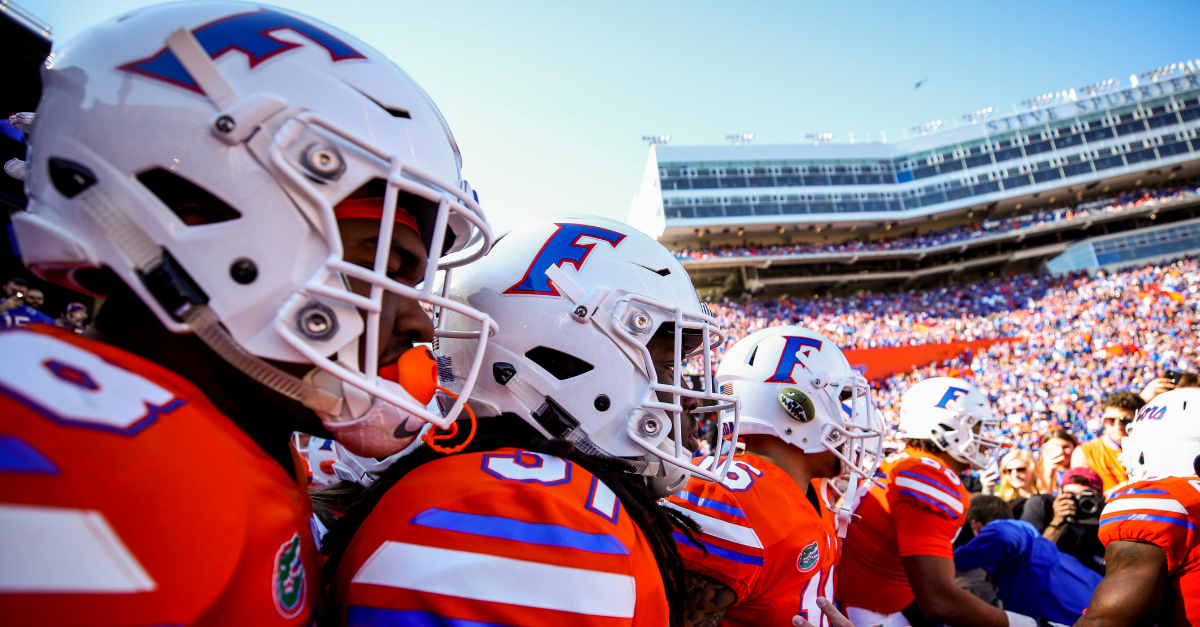 Logan Bowles via AP
Few places in college football are as iconic as Ben Hill Griffin Stadium. Home of the three-time national champion Florida Gators, head coach Dan Mullen's squad enters the 2019 season a top-10 team once again with dreams of capturing the program's first SEC title since 2008.
You can't travel three blocks in Gainesville without seeing Florida's orange and blue team colors. Tradition is everywhere, from Ilene's Gator Store to the iconic 'Two Bits' cheer before each game, and Florida football is adding to its game day experience with even more pregame festivities this year. The University of Florida announced several new attractions coming to The Swamp that'll keep UF fans pumped all season long, starting with the home opener against UT-Martin on September 7.
Official Swamp Head Tailgate
The North Lawn outside Ben Hill Griffin Stadium plays host to the tailgate of all tailgates. The Gator Walk Village is the go-to spot for food trucks, drinks and live music on game day, but The Village is getting an upgrade in 2019.
The Official Swamp Head Tailgate will launch this year, featuring a chance for 21-and-over adults to purchase drinks before the game, play tailgate games, relax under shaded areas, and listen to live music from local bands including Kasson (9/7), Driveaway (9/21), Savants of Soul (9/28) and Austin Hunter (10/5). The final two acts for the Vanderbilt and Florida State home games will be announced later this fall.
Food trucks like Soup To Nuts, Mayflower Cellars, Cilantro Tacos, Kona Ice, Churros & Cream, Big Lee's Barbecue and Papa Pineapple are just a few of the food options for UF fans (And I guess visiting fans, too.) to chow down.
As always, Tailgate Guys will offer 18 shaded tents along Gator Walk and University Avenue to maximize the Florida tailgate experience.
Champion's Parade
One of the coolest new events taking place will be the "Champions Parade" on September 21 before the team's SEC East game against Tennessee. About 2.5 hours before kickoff, the University Athletic Association will honor past Florida champions over the last 50 years as they parade past Gator Walk Village.
Here are the former Florida Gators championship teams being honored:
1969 Men's Tennis
1994 Men's Tennis
1994 Football
1994 Men's Golf
1994 Women's Swimming and Diving
1994 Volleyball
2009 Women's Swimming and Diving
2009 Women's Cross Country
2009 Soccer
2009 Softball
2009 Women's Track & Field
If that's not enough, UF athletics added in its press release that reunions of former national championships teams can be expected during the season, but those special occasions won't be announced until that week's game.
In-Game Experience
Outside the stadium is one thing, but UF is taking it up a notch with some modifications inside Ben Hill Griffin Stadium, too.
The stadium's sound system has been adjusted to offer the best coverage possible, video boards were improved so that fans all over the stadium can get a better view of action on the field, and UF continues to improve its #GatorWiFi throughout the stadium. Fans are able to download the official Florida Gators app to help use the wireless internet to grab an Instagram picture while quarterback Feleipe Franks is busy slinging touchdowns.
SEC game day is coming to The Swamp, y'all. The Florida Gators are ready, but the real question is, are you?