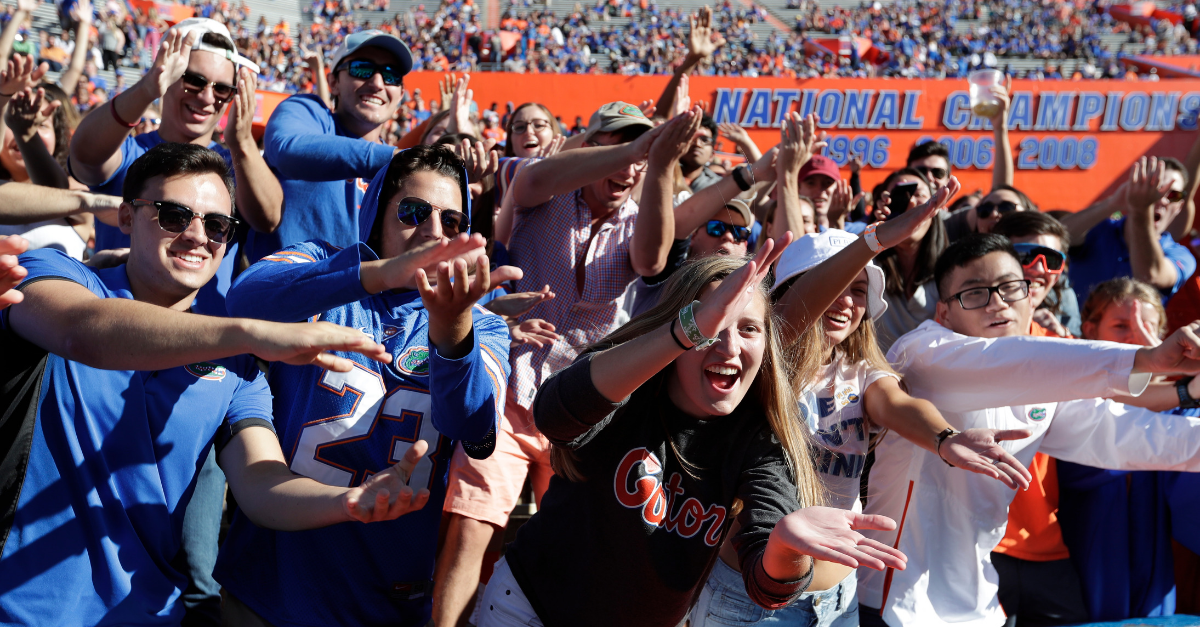 AP Photo/John Raoux
We've all been there. You wake up Saturday morning during college football season to the sound of ESPN's College Gameday on in another room. The Florida Gators are playing that night and you're frantically searching through your closet full of orange and blue gator gear that you've worn 100 times to football games already.
Part of tailgating at the University of Florida in Gainesville during Gator game days is showing off your attire for the day and snapping pictures in Ben Hill Griffin Stadium. But you've likely faced the age-old dilemma before: wearing the same thing as someone else. You could switch it up from the Tim Tebow jersey and don something more humorous like a Treon Harris one.
Or you could make your way down to Gainesville's best-kept secret: Ilene's Gator Store. Located at 2441 NW 43rd St. near Flying Biscuit Cafe, Ilene's is home to easily one of the world's best ideas for a Gator football T-shirt that was even featured on ESPN: the chomp shirt.
From gameday attire to jewelry to nifty ties and even raincoats for women, men and children, Ilene's shop has all the Florida Gators football-related accessories and clothing you'll ever need. As you explore the website, you'll be surprised at the number of things you feel the urge to buy to represent the UF Gators.
If you're into wearing royal blue, there's this awesome orange and blue criss-cross tie dress for women.
Maybe you're the grill master at every tailgate and need to let everyone know it with this gnarly apron.
And nothing says "Go Gators!" like channeling your inner Steve Spurrier with a sweet visor.
You might like looking spiffy and prefer one of these orange & blue bow ties.
And because you'll probably want your mini-me to look as good as you in the Swamp, there are even adorable outfits for the little ones too.
Whatever you're looking for, Ilene's Gator Store is full of University of Florida Gators apparel that you won't find on campus or online. Just make sure you get in before someone else in your friend group does.