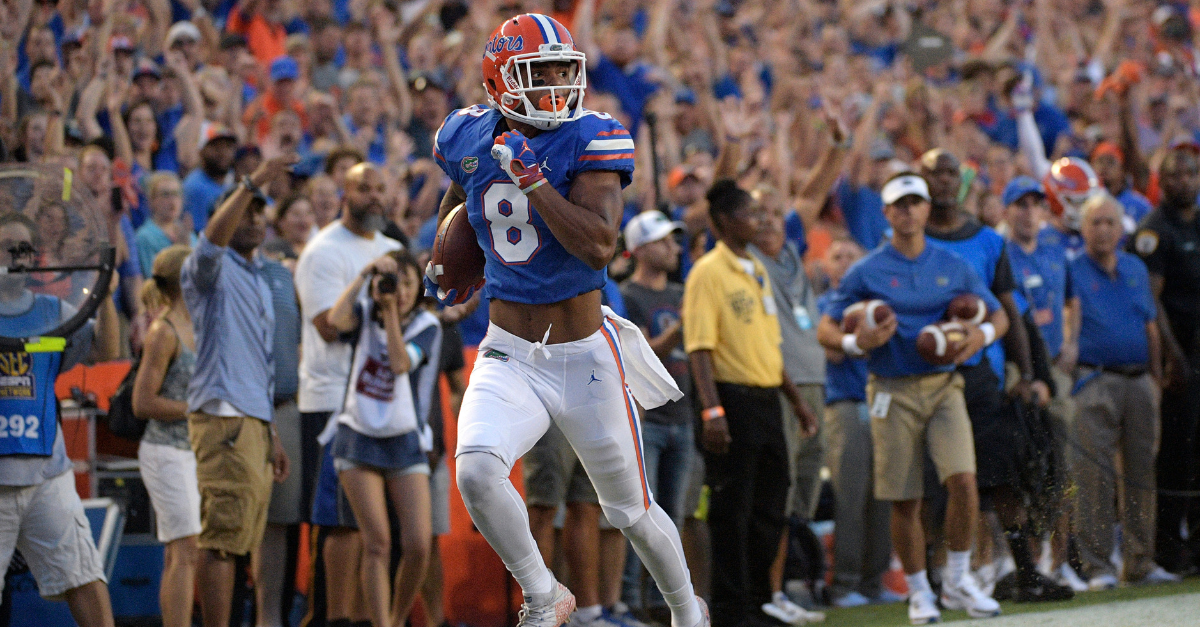 AP Photo/Phelan M. Ebenhack
For as great as the Florida Gators have been at producing NFL talent over the last 20 or so years, no one in Gainesville is claiming the school to be Wide Receiver University, at least not in the way fans do Defensive Back University (aka DBU).
That honor of WRU probably belongs to Clemson (Deandre Hopkins, Sammy Watkins, Martavis Bryant and Mike Williams are all recent alumni) or maybe Alabama (the pride of Julio Jones, Amari Cooper and Calvin Ridley). Regardless, it ain't Florida.
But I'm here to offer you hope. The Gators have a few talented receivers, potentially none more dynamic than junior Trevon Grimes. Now in his second year at Florida with a much-improved Feleipe Franks at quarterback and an offensive-minded head coach in Dan Mullen, he's a good breakout choice in 2019.
Why? Let's start with UF's Orange and Blue game.
Grimes hauled in just four receptions but totaled a whopping 195 receiving yards with Franks throwing to him. The 195 is a UF spring game record. His longest reception was a 65-yard bomb down the sideline after toasting cornerback Shawn Davis.
RELATED: UF's Dan Mullen Loves Taking Shots at Rivals. FSU Became His Latest Victim.
At 6-foot-5, 210 pounds, Grimes has the size needed to dominate corners in the SEC. Florida doesn't have another receiver of his stature on its roster — Tyrie Cleveland, Van Jefferson, Josh Hammond, Freddie Swain, Jacob Copeland and Rick Wells are all listed at 6-foot-2 or smaller.
A former five-star Fort Lauderdale (St. Thomas Aquinas) product, Grimes transferred from Ohio State following a reported racially-charged altercation with then-assistant coach Zach Smith.
Though Grimes' sophomore season in Gainesville wasn't exactly dominant (26 receptions, 364 receiving yards, two touchdowns), he showed flashes of what he can do.
In fact, Grimes scored the first points of the Dan Mullen era on a 34-yard screen pass touchdown in UF's season opener last year against Charleston Southern. He also caught five passes for 118 yards and a touchdown against Florida State. It was the most receiving yards in a game by a UF wide receiver all of last season.
Even before he put on the orange and blue, Grimes was being touted by NFL legends. Hall of famer Cris Carter (an Ohio State alum whose son played at the same high school as Grimes) once said Grimes would be the next great receiver after name-dropping Randy Moss, Antonio Brown and Odell Beckham Jr.
All of this gives me reason to believe Grimes could emerge as a focal point of the offense. Of course, that's contingent on Franks getting the ball to him and the offensive line providing ample time to do so. If you've watched any game over the past five years, you know that's no guarantee.
The Gators haven't had a 1,000-yard receiving season since Taylor Jacobs in 2002, which was the last of eight straight seasons Florida had one (thanks, Steve Spurrier). But Florida has had great receivers since — Percy Harvin, Antonio Callaway and Demarcus Robinson all bloomed into stars in college football.
Only time will tell if Grimes is next in line.