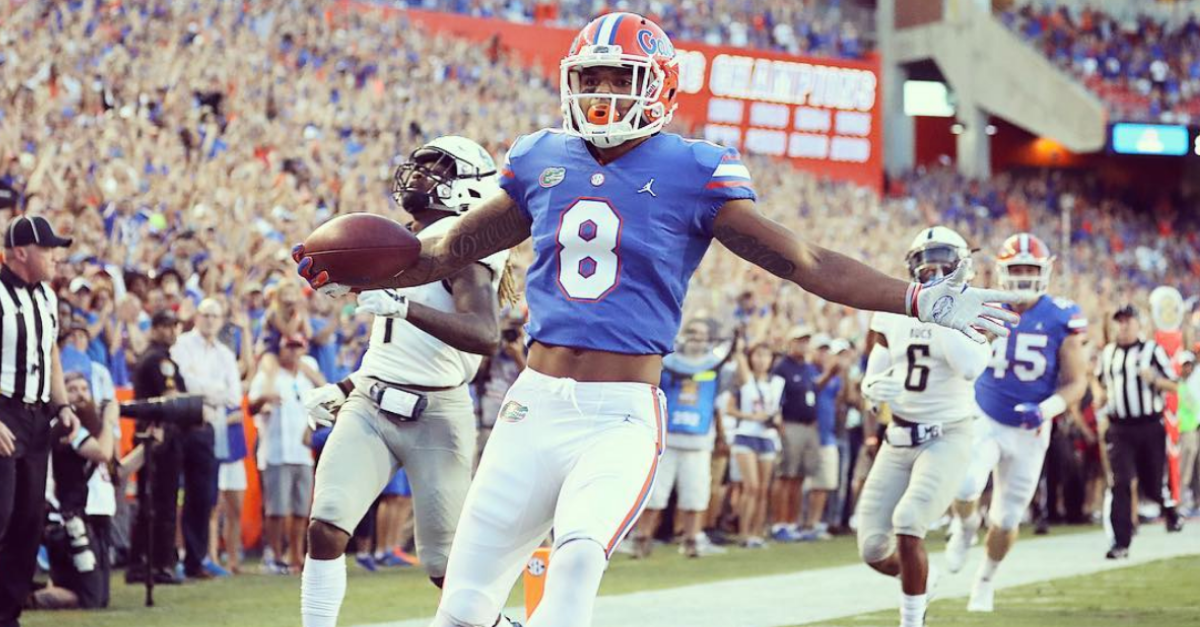 Instagram: @trevongrimes
If you haven?t read Brett McMurphy?s latest story, it is an absolute doozy. It attempts to uncover the real reason Gators wide receiver Trevon Grimes transferred from Ohio State this past year. One side asserts that Grimes left the school following a ?racially-charged altercation? with then-assistant coach Zach Smith in practice during September 2017, while the other side claims the racial slur never happened and Grimes transferred due to his mother?s health issues.
It?s a complicated story that has its holes, as massive stories tend to have, but it?s filled with numerous sources and public records from McMurphy, who back in July uncovered Smith?s domestic violence history and Urban Meyer?s silence regarding it.
Here are the important ?quotes and notes? from the report:
1. "LeBron Grimes said his son told him that ?Zach got up in his face and called him a ?bitch ass n ? ? ? ? -? and said, ?I should have never recruited you.? And then Trevon said something to Zach about him messing around with college girls.?
LeBron Grimes, Trevon?s father, also said he got a phone call from his crying and upset son following this altercation in practice. LeBron goes on to say that Grimes said, ?You have to get me out of this situation.?
If true, this is obviously a terrible look for Ohio State. Smith has already been fired by Meyer, and Meyer himself received a three-game suspension this year for his role in sweeping Smith?s alleged domestic violence history under the rug. It?s potentially another stain on Meyer?s coaching career and Ohio State as a program as well.
2. "However, three of Grimes? current Florida teammates, who would only talk on the condition of anonymity, said that Grimes has told them about the altercation in practice at Ohio State and Smith?s alleged use of the N-word."
OK, so Grimes didn?t want to comment when directly asked about the altercation. Fine. But his teammates acknowledged that Grimes told them about what took place at his former school.
This is important because although Grimes (through UF football spokesman Will Pantages) says later in the story ?don?t believe anything [LeBron] tells you,? Grimes clearly told teammates about the incident, including the racial slur part.
An altercation or ?interaction? clearly occurred, as OSU officials and a former player confirmed, but what exactly was said is unclear. However, many current Buckeyes have tweeted no such slur was uttered.
Related: Zach Smith's Latest Twitter on Tom Herman is Very Unnerving
3. ?Emig, OSU?s spokesman: ?Coach (Meyer) is very close with Leah and she and Trevon were struggling with news of her cancer. They went then to show support for her and Trevon. Coach also contacted the James Cancer Center that week to put her in touch with their doctors.

"LeBron Grimes, who was not in town that day: ?Trevon threatened them (to go public with the altercation and alleged racial slur) like Zach threatened Trevon (at Ohio State).

"Trevon and Leah have not commented on the meeting.

If the altercation became public, it could possibly damage Ohio State?s and Meyer?s ability to recruit, especially at St. Thomas Aquinas High School, where Meyer signed elite stars at both Florida and Ohio State, including Nick and Joey Bosa.?
So one side of this meeting says that Meyer, Smith and Co. were visiting Grimes? mother to support her through her health problems. The other side says Grimes threatened to speak out about the incident ? which would be problematic for Meyer and his staff. And, as McMurphy noted, the public knew none of Zach Smith?s reported and alleged domestic violence issues at that point. This could?ve been the beginning of a snowball effect nobody at Ohio State wanted to deal with.
But the thing is: Ohio State had leverage against Grimes at the time. If he did go public with the altercation story, as LeBron says, the school could block his ability transfer elsewhere. It would make sense that Grimes do what?s needed to be able to play as soon as possible somewhere else.
4. "The only way Trevon could play in 2018 was to receive a hardship waiver from the NCAA. The most common method is if an injury or illness to a family member is life-threatening and the student-athlete can assist with the day-to-day care of the family member.

"Trevon received an NCAA hardship waiver at Florida to play immediately based on the information provided to the NCAA by Leah. Ohio State supported the transfer."
Obviously, Grimes wanted to play in 2018. But, as this might insinuate, would his mom really fabricate a life-threatening illness for that to happen? Maybe. And maybe that?s the reason she kept quiet when McMurphy tried contacting her. It's also reasonable not to expect her to talk about something so serious and private. But it should be noted she's talked about her health in other publications.
5. "Pantages, of UF, and Leah Grimes indicated LeBron has not spoken with Trevon for more than two years and they have not had 'any contact whatsoever.' The call history on LeBron?s cell phone indicates that LeBron received calls from Trevon?s phone twice on Oct. 19 during Florida?s open week before playing Georgia. One call lasted six minutes, the other for eight minutes. LeBron says it was Trevon on the other end of those calls."
If LeBron?s call history is accurate (if not, it might mean he saved Trevon?s name under a phone number that wasn?t Trevon?s, assuming LeBron showed McMurphy his call log), it directly contradicts that Trevon hadn?t talked with his father in two years. So, again, this comes down to what and who you want to believe.
And based on further reporting from McMurphy, Leah has been accused of lying and stealing numerous times. LeBron has had his share of legal trouble as well, but none related to lying or deceiving.
This story obviously shook college football Twitter instantly. Ohio State president Michael V. Drake tweeted a statement denying the allegations.
It didn't take Zach Smith long to chime in on Twitter, either.
It appears there's never a slow news day in Columbus.