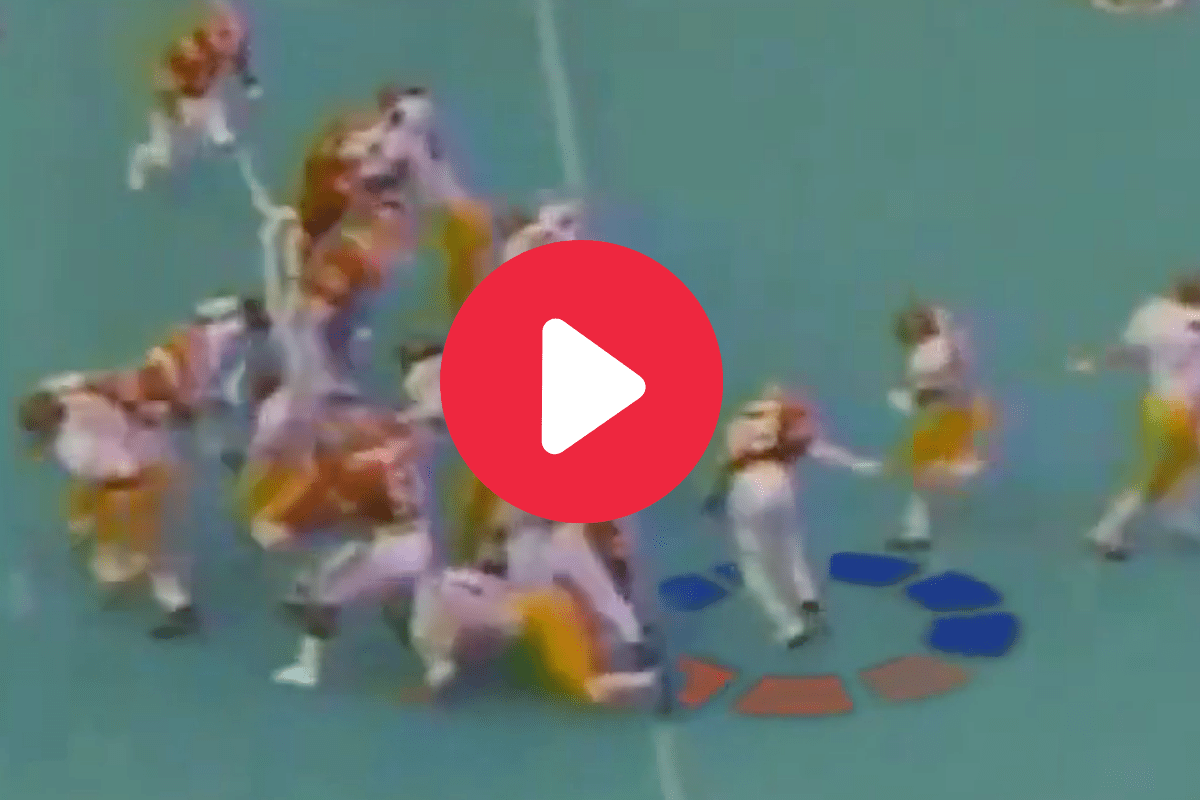 Screenshot from YouTube
USC quarterback Sean Salisbury had to be scared for his life.
Correction: every USC offensive player had to be scared for his life.
The man behind the Trojans' fear was Florida Gators linebacker Wilber Marshall.
On September 11, 1982, the UF legend terrorized the USC offense. He flew over the field with a fixated trajectory on the ball carrier. He blasted offensive lineman in pursuit of the quarterback. He poured Gatorade over his head to stay cool.
A bone-crushing hit on a poor USC running back set the tone and let the Trojans know he meant business.
Wilber Marshall's Bone-Crushing Hit vs. USC
RELATED: Kerwin Bell?s Diving 2-Point Conversion Made ?The Swamp? Go Bonkers
Southern Cal came into The Swamp as the No. 10 team in the country. The Gators were No. 11.
The stage was set for an early college football season showdown. Wilber Marshall stepped into the spotlight.
It seemed like the two-time All-American was in the mix on every play. He was lightning quick from the snap and used his ox-like strength to shake blockers.
On this particular play, the University of Florida Ring of Honor member lined up at defensive end, went unblocked and smoked the USC tailback in the backfield.
Marshall's main target was Salisbury, who gained fame for his role in the 2006 hit The Benchwarmers.
He threw around Salisbury like a rag doll, and with each progressing hurry, hesitancy built. I don't blame Salisbury at all.
If a 6-foot-1, 230-pound athletic beast was after me, I would pay the backup QB in the ball cap who signals plays from the sidelines $10 to switch places.
You can see the Trojans doing everything they can to avoid the 1983 Defensive Player of the Year as the game goes on. Yet, the Florida linebacker STILL finds a way to get involved. This man's nose for the ball was unparalleled.
He finished the game with 14 tackles and four sacks in a decisive 17-9 win. It goes down as one of the most dominating defensive performances in Florida football lore.
Marshall's Florida career was enough to earn him a place in the College Football Hall of Fame, and it was only the beginning. He enjoyed success in the NFL with the Chicago Bears, Washington Redskins, Houston Oilers, Arizona Cardinals and New York Jets. The three-time Pro Bowl football player won Super Bowls with the Bears and Redskins.
Wilber Marshall is one of the best to ever do it in Gainesville. He's also one of the best to make guys need extra long ice baths.