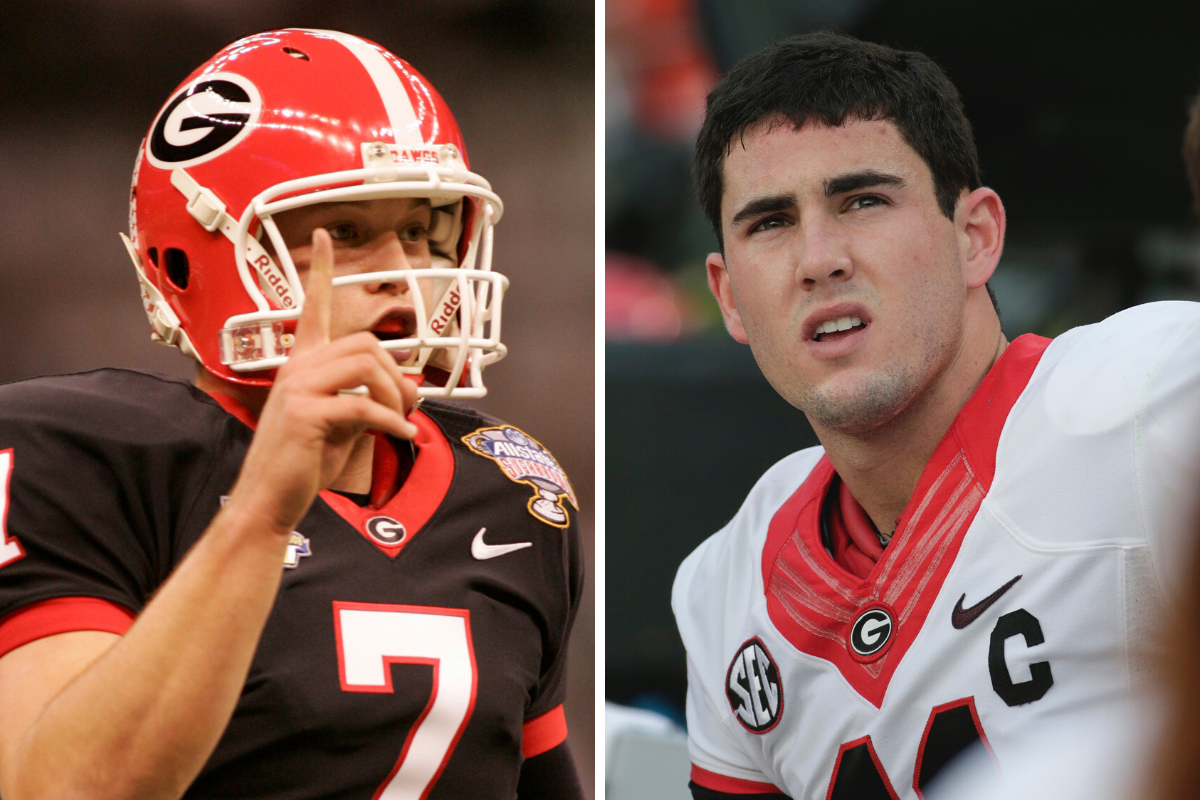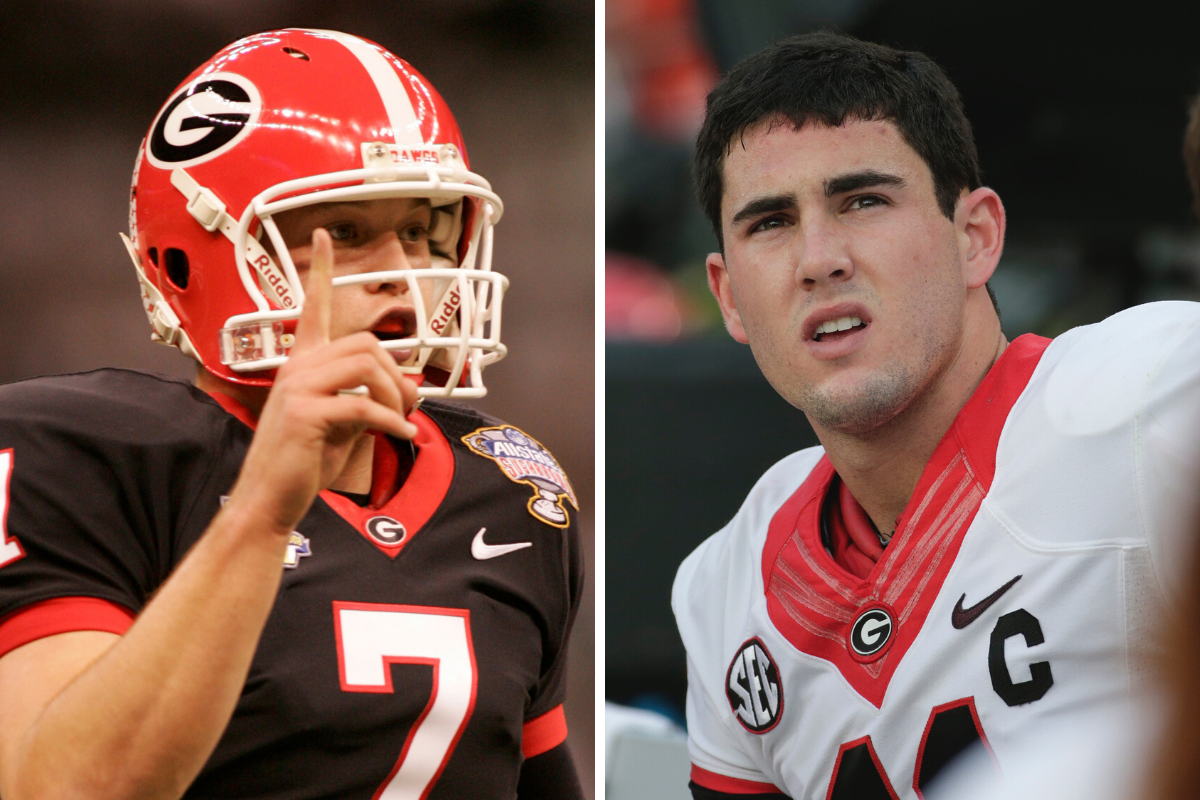 AP Photo/Dave Martin (left), AP Photo/Dave Martin (right)
The Georgia Bulldogs have produced many terrific quarterbacks. Matthew Stafford became a first-overall pick, Aaron Murray set SEC records and Buck Belue won a national championship in 1980.
Uga, the famed bulldog mascot, has seen many fine players under center in Athens. Well, the various Ugas throughout the years have. But just which signal-callers would they — and the rest of fans in Athens — say were the best in school history?
The 10 best quarterbacks in University of Georgia history was no easy list to cultivate. Remember, this was based on how they did in college. Bear that in mind when you see players with impressive NFL careers ranked below guys who didn't necessarily light it up as pros.
Sorry, Matt Stafford.
10. Mike Bobo
Bobo played for a high school team in Georgia named the Bulldogs and then he did the same thing in college. Bobo put together a solid college career as a starter for Georgia from 1995-1997. He threw 38 touchdowns during that time, and his best work came during a 19-touchdown, 2,751-yard senior campaign.
He got into coaching after his NCAA career, including a five-year stint at the helm of Colorado State. Bobo is now the offensive coordinator for another SEC school, the Auburn Tigers.
9. DJ Shockley
Shockley only really started one season for the Dawgs, but it was nearly perfect. The talented quarterback threw for 24 touchdowns against only five interceptions and rushed for 322 yards and four scores in 2005.
Shockley also led Georgia to the SEC Championship Game, where he threw for two TDs and rushed for one more to defeat LSU. Shockley was named the MVP of the game and played well against West Virginia in the team's Sugar Bowl loss.
8. Eric Zeier
?Zeier took over as the starting quarterback as a freshman and held onto the job until he graduated. In that time, he racked up 11,153 passing yards, which was an SEC record at the time.
He was a first-team All-American and to this day only five SEC quarterbacks have thrown for more yards in the conference: Aaron Murray, David Greene, Chris Leak, Peyton Manning and Drew Lock. Not too shabby, Mr. Zeier.
7. Zeke Bratkowski
Bratkowski is an old-school name, but he was a prolific passer (and punter) for his era. He twice led the SEC in passing yards and when he graduated in 1953 he held the NCAA record for most passing yards in a career. Sure, it was only 4,836 yards, but that was a lot at the time. Bratkowski is also a member of the Green Bay Packers Hall of Fame after backing up Bart Starr in the first two NFL Super Bowls.
6. John Rauch
Think Bratkowski was as far back as we were going to go? Guess again! Rauch started for the Bulldogs from the time he was a freshman way back in 1945. He started 45 games in his college career and was the SEC Player of the Year and an All-American in 1948. Funny enough, Rauch was the head coach of the Oakland Raiders team Bratkowski and the Packers beat in Super Bowl II.
5. Matthew Stafford
RELATED: Matthew Stafford?s Net Worth: How His Rifle Arm Made Him Millions
Thought he was going to be higher, didn't you? Stafford was perhaps the most highly-touted recruit in Georgia history. The Texas-born quarterback has also orchestrated a fine NFL career after becoming the first-overall pick in the NFL Draft by the Detroit Lions.
However, he really only started two years for Georgia and they didn't win a ton when he was there. Still, his 25 touchdown passes in 2008 were a school record, and he was an All-American. Did he live up to the hype? Maybe not, but it was a really good college career.
4. Fran Tarkenton
Remember, this is about college careers. We want to say that as we lead into declaring this Pro Football Hall of Famer the fourth-best quarterback in Georgia history. He was a two-time All-SEC player and led the Dawgs to an SEC title in 1959. Tarkenton was an excellent scrambler and an exciting quarterback. He excelled even more in the NFL, especially for the Minnesota Vikings.
3. David Greene
Greene never started an NFL game, but he started plenty in college football. After redshirting, Greene started for four seasons in Athens. When his college career ended, he was the winningest quarterback in FBS history. He also had the most career passing yards and passing touchdowns for the Bulldogs. Sure, all his records have been broken, but he still set them.
2. Jake Fromm
Some called Fromm a "game manager." If that's the case, he's one of the best game managers we can recall. He was good enough to push vaunted prospect Jacob Eason to the bench as a freshman, and he did more than merely help trounce the Florida Gators by a score of 42-7.
Fromm was the quarterback for the Bulldogs when they made the College Football Playoff and battled Alabama for a national championship. They fell short, but it was a great freshman season followed by two more really good years for Fromm. He left Athens after throwing 78 career touchdowns.
1. Aaron Murray
In the end, though, we had to choose Murray. He's one of the best college football quarterbacks of recent vintage.
Like Greene, he redshirted as a freshman and then started for four seasons. However, Murray threw for over 3,000 yards in all four of his campaigns. He also twice threw for more than 30 touchdowns. Murray is still the SEC's all-time leader in passing yards (13,166) and passing touchdowns (121).
The Bulldogs dream of being one of the top forces in college football, and it'll take a top-notch quarterback to do so. That's tough in the SEC, because teams like the Alabama Crimson Tide exist. It's also where Georgia football's current head coach Kirby Smart came from. Speaking of coming from other places, that's also true of current starting quarterback JT Daniels, who transferred from USC.
Will JT Daniels add his name to this list? Only time will tell.