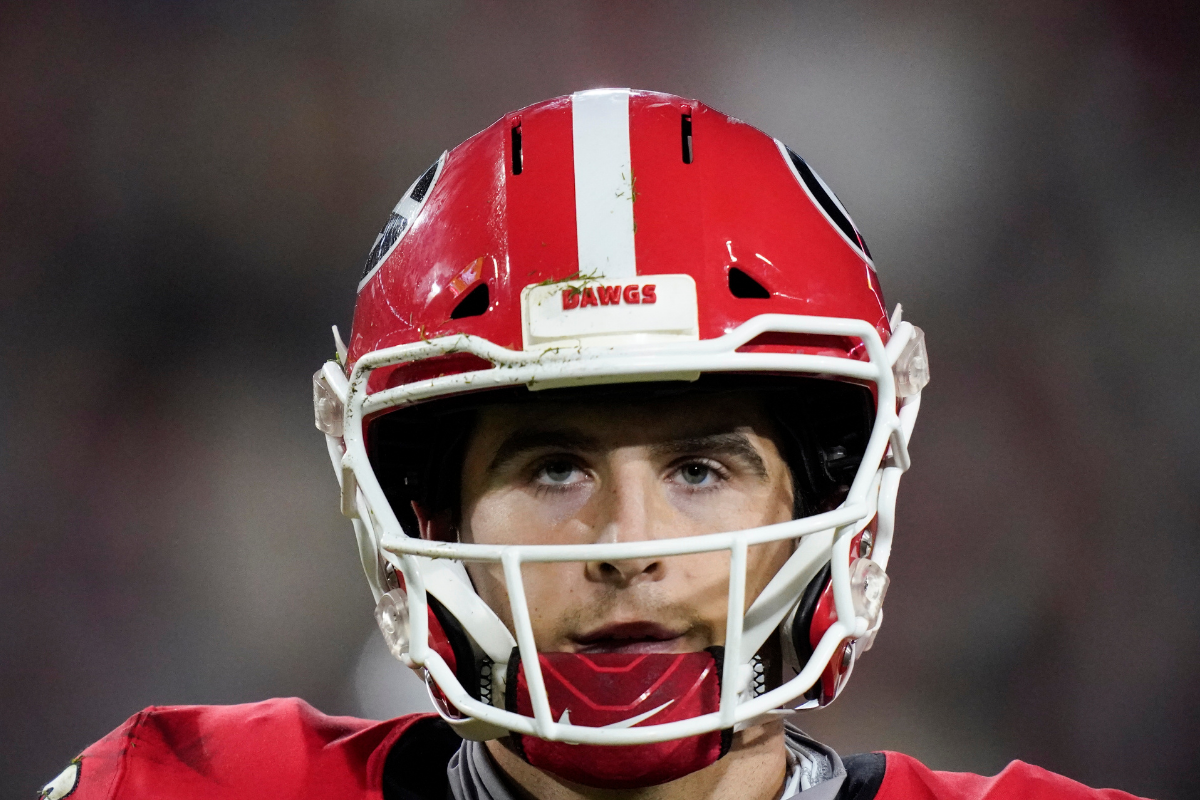 AP Photo/Brynn Anderson
Johnny Football. Prime Time. All Day. The Boz.
Johnny Manziel, Deion Sanders, Adrian Peterson and Brian Bosworth will all tell you that their nicknames are a vital part of their image. These college football legends are iconic for their abilities on the field, yes, but also for their memorable monikers that people still use today.
It's time for the SEC and the rest of the NCAA to meet the "Mailman." Georgia quarterback Stetson Bennett cemented himself as UGA's Jake Fromm replacement by delivering a win over Gus Malzahn's No. 7 Auburn Tigers in Week 2 of SEC play. It propelled Georgia to No. 3 in the rankings and sent a clear message to fans in Athens: Bennett is the guy.
Bulldog fans are probably itching to find out more about their gunslinger tasked with taking them to the College Football Playoff. Just know that Bennett's nickname is part of what makes him special.
Who is Stetson Bennett?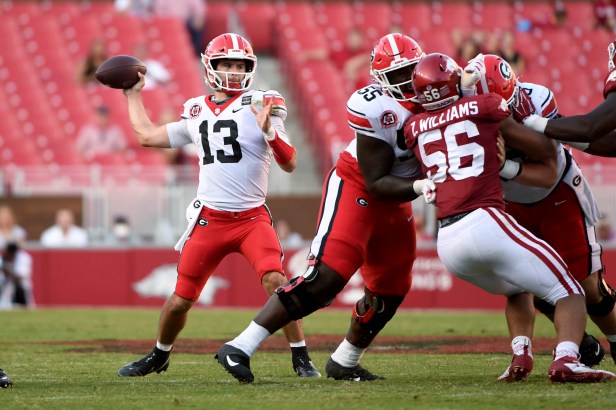 RELATED: Jake Fromm Thanks Mom For Being "Anchor" of Their Family
Stetson Bennett IV was a two-star recruit out of Pierce County High School in Blackshear, Georgia. He originally was a walk-on at Georgia in 2017 but transferred to Jones County Junior College in Ellisville, Mississippi in 2018 once it was clear he was behind Justin Fields and Jake Fromm on the depth chart.
The son of two UGA graduates then transferred back to Georgia in 2019 after the school needed an experienced backup and now finally has his chance to man the head coach Kirby Smart's offense.
After departures last season and an offseason of murkiness in the quarterback room given JT Daniels transfer from USC and Jamie Newman's decision to opt out, it was Bennett's job to win over redshirt freshman D'Wan Mathis and Carson Beck.
Bennett came off the bench to help Georgia beat the Arkansas Razorbacks by throwing for 211 yards and a pair of touchdowns.
"When I left I never thought I would be back," he told reporters after the season opener.
His 240 passing yards, one touchdown and zero interceptions against a Bo Nix-led Auburn squad in his first college start Saturday night in Sanford Stadium set social media ablaze. It could also be the start of something special in Athens for the "Mailman," but how did the fourth-year junior earn this nickname?
How Did He Earn "The Mailman" Nickname?
You can't give yourself your own nickname. It's earned.
Stetson Bennett's catchy nickname could have had something to do with hats considering Stetson is a famous brand of western cowboys hats. It turns out Bennett's epithet is hat-related, however, just not how you'd expect.
Back when he was in high school, Bennett wore a U.S. Postal Service hat to an Elite 11 camp circuit. He and his family traveled more than 4,000 miles to cities like Miami, Washington, D.C., Atlanta, Orlando and Charlotte.
Why that hat, though?
"My buddy's father is the mayor of a small town around here, and he's always getting cool things," Bennett told Bleacher Report. "I saw the hat one day and asked if I could wear it. I first wore it to a camp in Valdosta [Georgia]. I'm not real big or striking physically, but I wanted to have something people would remember me by."
The denim-looking hat, which stuck out to everyone, did its job. He was noticed despite being 6-feet tall and 171 pounds surrounded by some of the top quarterback recruits in the country.
"He came up with the idea himself," Bennett's father told Bleacher Report of the U.S. Postal Service cap. "We went to the camp in Miami, and he had that hat on. People started talking about 'The Mailman.' I was thinking, 'Boy, that son of a gun has come up with something.' He's worn it everywhere he's gone, in every competition. It's worked well for him."
And thus Stetson Bennett was forever "Mailman."
Georgia football has high hopes in a 2020 season riddled by COVID-19. Talented players like George Pickens, Zamir White, James Cook, Kearis Jackson, Richard LeCounte are going to be relied upon to beat the likes of Tennessee, Alabama and Florida.
But no one will be more important than Stetson Bennett under Todd Monken's offense. Let's hope he delivers for the 'Dawgs.