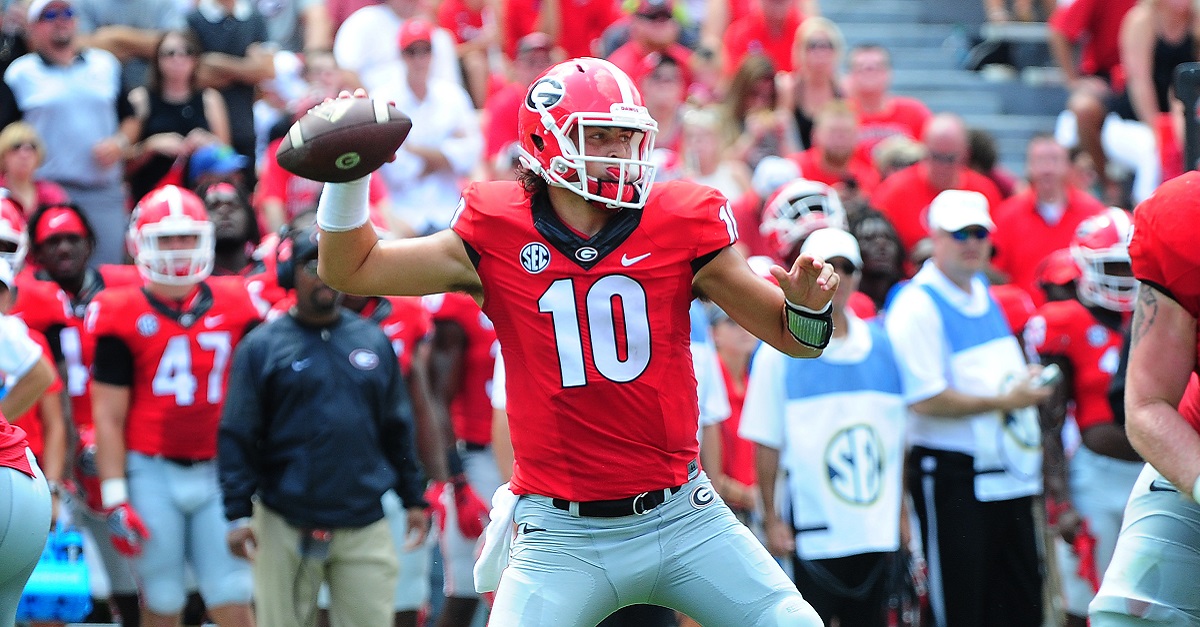 Scott Cunningham/Getty Images
ATHENS, GA - SEPTEMBER 10: Jacob Eason #10 of the Georgia Bulldogs passes against the Nicholls Colonels at Sanford Stadium on September 10, 2016 in Athens, Georgia. (Photo by Scott Cunningham/Getty Images)
According to the Seattle Times, former Georgia starting quarterback Jacob Eason is "expected" to transfer to Washington following the season.
Eason, a Washington native, said after Georgia's 26-23 loss in the title game to Alabama that he had not decided yet on transferring, and that he had not been in contact with coaches at Washington.
Eason started for most of the 2016 season, and he was officially named Georgia's starter at the beginning of the 2017 season. However, a knee injury in the opening game vs. Appalachian State saw true freshman Jake Fromm take over the starting job — a job that Fromm did not relinquish as the Bulldogs marched to the College Football Playoff.
With No. 2 overall recruit and five-star quarterback Justin Fields likely coming into the fold next season for Georgia, Eason is seemingly left as the odd man out under center. Ever since Fields committed to Georgia, the rumor was that Eason would likely transfer back home to Washington, or perhaps to Miami to be with former Georgia head coach Mark Richt. Richt was the head coach in Athens when Georgia was originally recruiting Eason in the 2015 season.
If Eason does indeed transfer to another FBS program, he would have to sit out for one season before regaining eligibility. After that year, Eason would have two years of eligibility remaining.