AP Photo/Bill Kostroun
The University of Georgia has churned out several elite college football running backs. Herschel Walker is at the top of the list and will remain there unless a Greek god rolls through Athens. That isn't to say other backs haven't been great.
Todd Gurley, Nick Chubb, Sony Michel and Knowshon Moreno are just some recent examples with many more to come.
Going back from the mid '80s to the early '90s, there was a string of running backs that included Lars Tate, Rodney Hampton, Garrison Hearst and Terrell Davis. What a collection.
Hampton kept the ball rolling after Tate and turned the momentum into a successful NFL career. So, what is the former American football player doing today?
Rodney Hampton at Georgia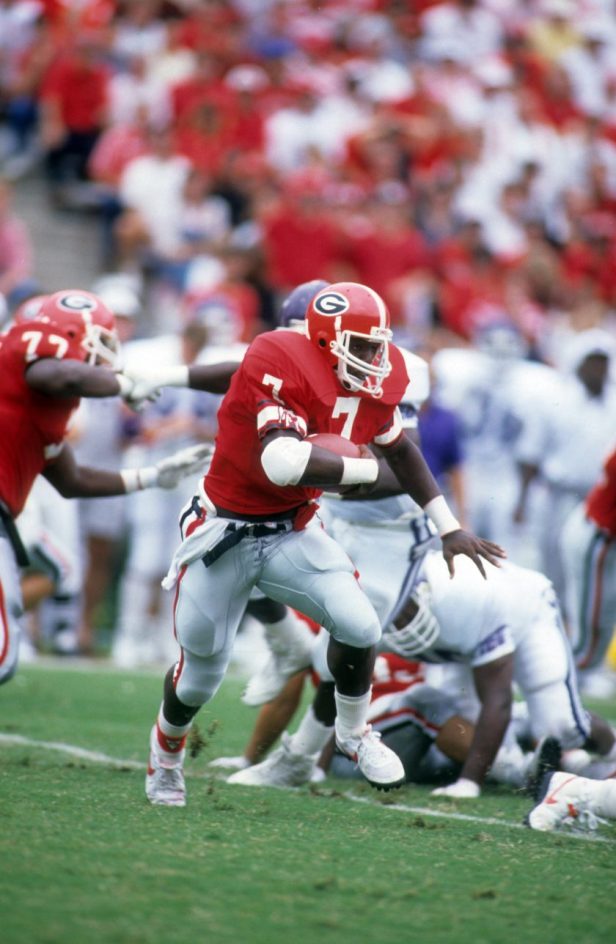 Hampton hails from Houston, Texas, where he played football and basketball at Kashmere High School. As a member of the Georgia Bulldogs under Vince Dooley and Ray Goff, Hampton led the backfield for three seasons.
For his career, the back racked up 2,668 yards on the ground, 438 receiving yards, and 25 total touchdowns. As of 202, he sits in ninth place on UGA's all-time leading rushing yards list.
Rodney Hampton's NFL Career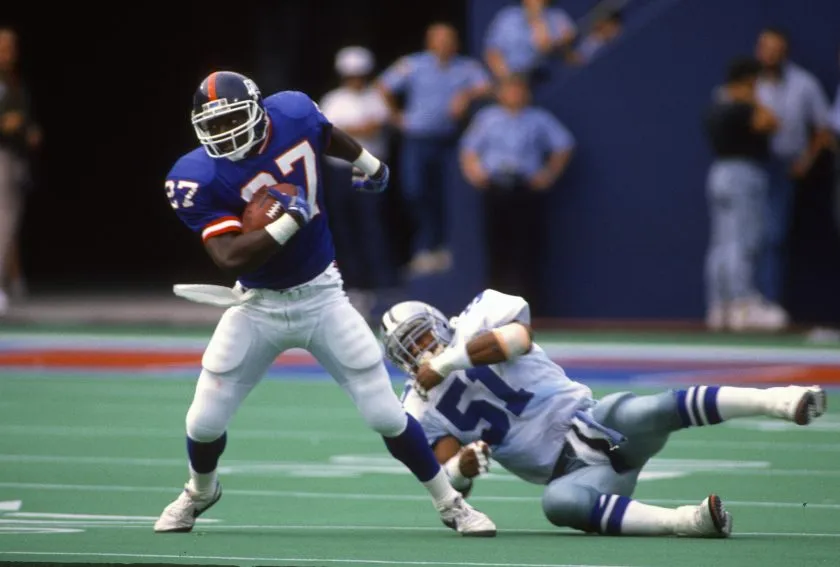 RELATED: What Happened to Terrell Davis and Where is He Now?
Hampton was selected 24th overall by the New York Giants in the 1990 NFL Draft. The pro football player saw immediate action during his rookie season, appearing in 15 games and accumulating 455 rushing yards and two touchdowns.
In the NY Giants' first-round playoff game that season against the Chicago Bears, Hampton broke his leg after attempting to recover a fumble. Hampton was ruled out for the rest of the postseason, but New York went on a roll through the NFC championship game all the way to Super Bowl XXV against the Buffalo Bills. The G-Men ended up winning a 20-19 nail biter.
The Giants running back returned better than ever and rushed for over 1,000 yards in each of the next five seasons that included two Pro Bowl appearances. The Super Bowl champion was close to leaving the Big Apple for the San Francisco 49ers as a free agent in 1995, but the Giants quickly matched the Niners' offer to hold onto their star back.
Throughout his career, the two-time Pro Bowler played with fellow running backs Ottis Anderson and Joe Morris along with quarterback Phil Simms and linebacker Pepper Johnson. He retired in 1998 with 6,897 career rushing yards and 51 total touchdowns.
Hampton is the franchise's second all-time leading rusher behind Tiki Barber. Although, with the pace current New York running back Saquon Barkley is going and given he remains healthy, Barber's spot at the top of the list may be in jeopardy.
Rodney Hampton Now
Since retiring, Hampton works in the family business in Houston. "A Better Bail Bonds" was started by Rodney's father in 1989 and offers bail bonding services to those who wish to leave jail quickly and discretely. The Florida-Georgia Hall of Fame and former Giants player also makes appearances at trading card shows, signing autographs and taking pictures with fans.
Hampton is also now a proud father of a budding track star: Rylee Hampton. His daughter was one of the best freshmen in the nation last year at Cypress Ridge High School.
Rodney Hampton himself is sandwiched between a group of incredible Georgia running backs. He separated himself with a great pro football career.
Related Videos