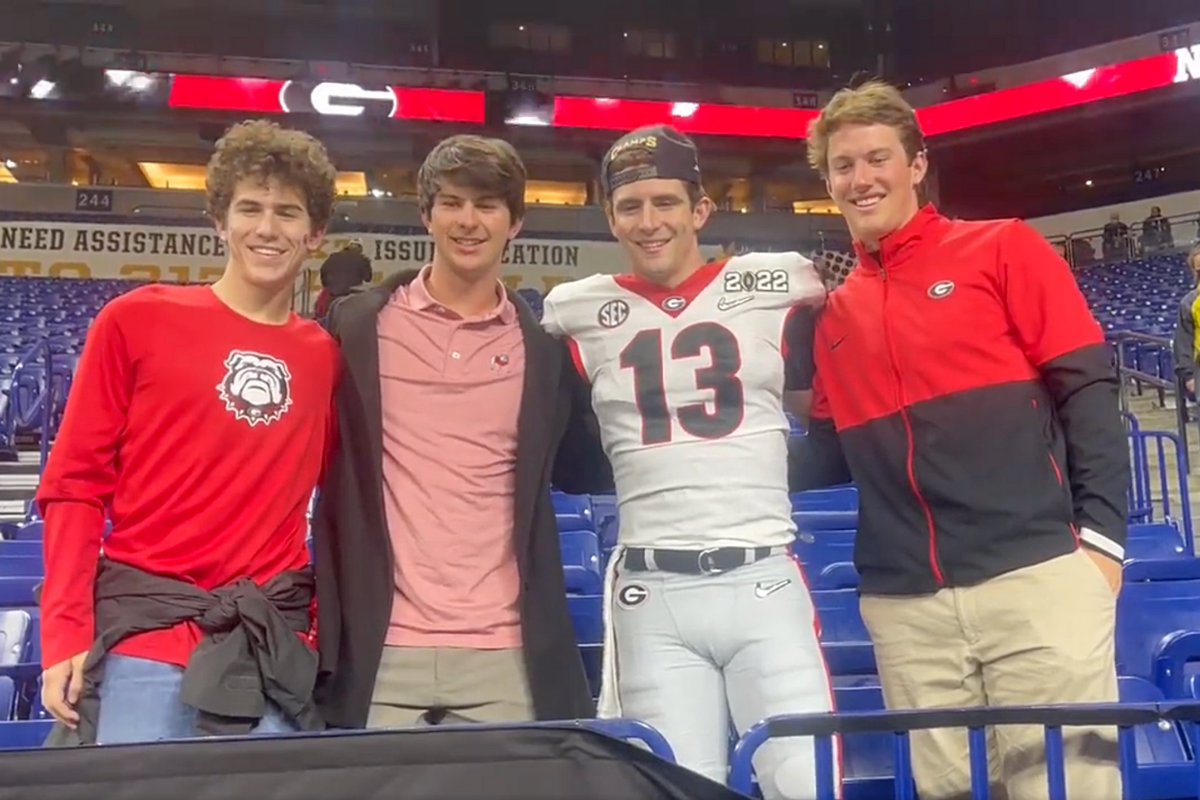 Screenshot from Twitter
Stetson Bennett is officially a legend. The University of Georgia quarterback accomplished what every college kid can only dream of: getting a sponsorship deal with Raising Cane's. He also led the Bulldogs to their first national championship in 41 years on top of the life changing news, but that's neither here nor there.
Bennett will forever be remembered in Georgia football history for spearheading a 20-point fourth quarter to take down the Alabama Crimson Tide and robbing Nick Saban of his eighth national championship. The whole state was cheering for him. But, other than his girlfriend Cameron Liss, the Georgia quarterback's biggest fans are his family.
Particularly, his younger twin brothers, Knox and Luke.
Stetson Bennett's Brothers Knox & Luke

RELATED: Stetson Bennett's Girlfriend Aspires to Change Lives in the Medical Field
Stetson is the oldest of five Bennett children. He has three younger brothers: Knox, Luke and Maverick and a younger sister named Olivia.
Knox and Luke are the closest to Stetson in age, and the three share an affinity for football. The twin Bennetts were ball boys for their older brother when he was quarterbacking the Pierce County High School Bears. They loved seeing their brother operate on Friday nights because they were used to seeing him do it in the backyard.
"We always grew up, it was me and Knox in the yard and 'Stet' was all-time quarterback," Luke explained to Savannah, Georgia's WSAV. "Then, we would come out here on Friday nights, and watch him do his thing. We would always follow in his footsteps, it's like 'boom' that's going to be us and here it is. It's us now."
Follow in their brother's footsteps they did indeed. Knox and Luke entered high school two years after Stetson graduated and made names for themselves throughout their prep careers. Knox is a tight end and middle linebacker. Luke is a wide receiver and cornerback. They were both key pieces of the 2020 Pierce County team that won the first football state championship in school history.
Knox & Luke's High School Football Careers
While Stetson was chasing a national title at Georgia, Knox and Luke had a chance to close out their high school football careers with a second state championship. Unfortunately, the Bears fell to Carver in the state semifinals, but the Bennetts are just getting their athletic careers started.
Knox is a solid baseball player and remains uncommitted while Luke is looking to get a shot with a big-time college football program like his former walk-on brother. Wyoming, The Citadel and New Hampshire have all shown interest. All Luke wants to do is go somewhere he can make an impact.
Knox, Luke and the rest of the Bennett family made sure to attend all of Stetson's games this past year. Now that the he'll be playing again in 2022, the twins may have to watch from afar due to athletic commitments of their own. Don't think for a second that means they won't show just as much support.
Related Videos