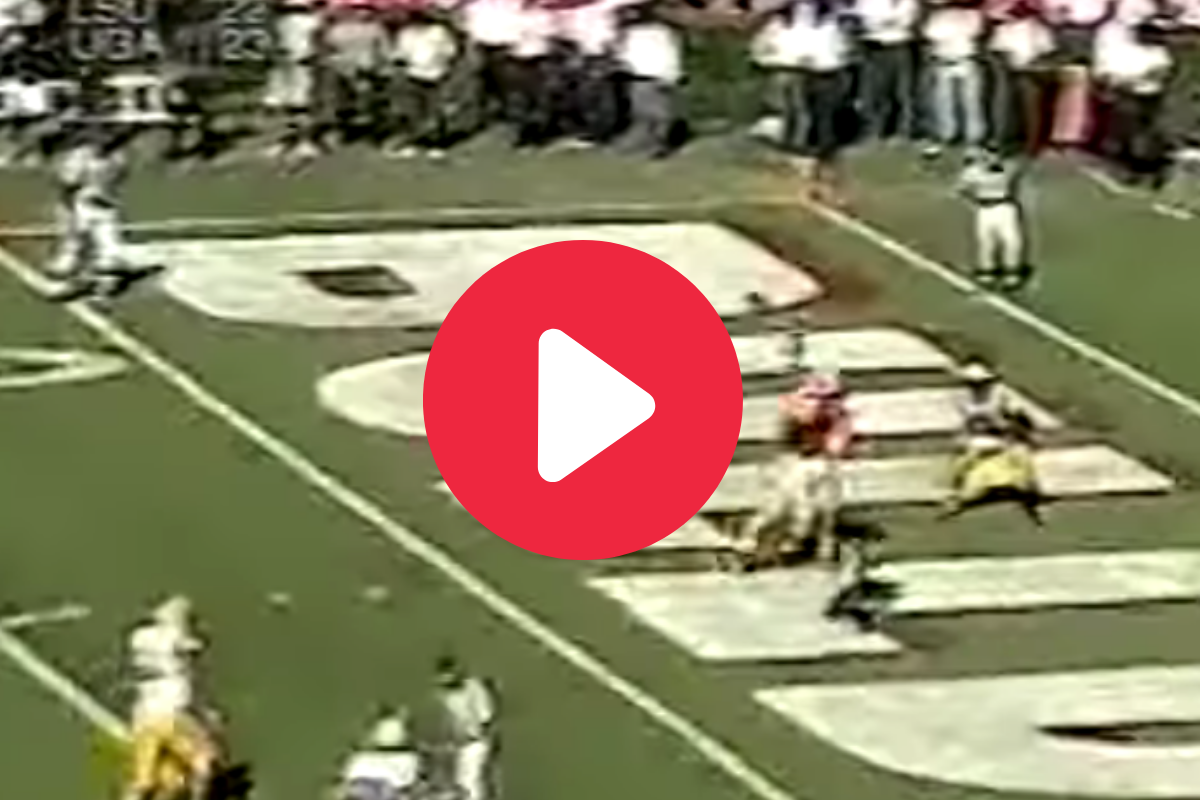 Screenshot from YouTube
The Georgia Bulldogs seemingly had the game all wrapped up.
UGA held a 23-16 lead against LSU in 1999, and Bulldog defensive back Cory Robinson had just picked off quarterback Josh Booty with under two minutes remaining. All the offense had to do was run out the clock.
The offense didn't hold up their end of the deal, but hey, no sweat. Time was still on their side.
Until it wasn't.
Booty threw a touchdown pass on fourth-down with 18 seconds remaining to bring the Tigers within one. Instead of taking the game to overtime, LSU head coach Gerry DiNardo wanted the win.
The Tigers had the momentum, but Georgia had Will Witherspoon.
Will Witherspoon's Deflection Against LSU in 1999
RELATED: Terry Hoage?s ?Immaculate Deflection? Kept UGA?s National Title Hopes Alive
Sanford Stadium drowned out any calls Booty was making at the line of scrimmage.
He takes the snap, fakes a pitch and rolls to his right. He points as if he's asking for a blocker but his eyes are still looking for a receiver.
No Tiger receiver is open on the right side of the field. Booty makes a Georgia defender miss before examining the left side. He has a man open in the end zone. He fires. It looks like LSU is going to do the impossible.
At the last second, sophomore linebacker Will Witherspoon comes out of the blue to swat the ball away. He spiked it like he was getting a set from Misty May-Treanor.
Witherspoon's deflection secured the 23-22 win for Georgia. It was the second consecutive single-point victory in a row following the Dawgs' 24-23 win over UCF the week before. The win also brought the No. 10 Bulldogs to a perfect 4-0.
Let it be known that comebacks can happen, but as long as you have Will Witherspoon's big paws on your side, you'll be golden.