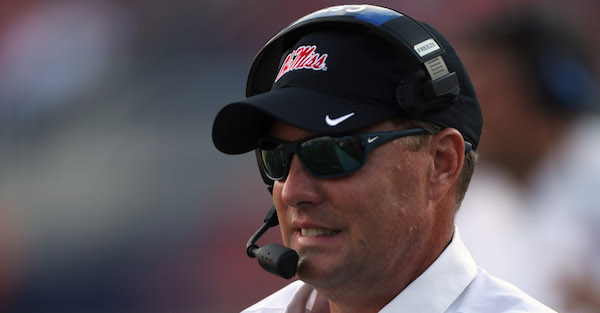 Joe Murphy/Getty Images
OXFORD, MS - SEPTEMBER 10: Hugh Freeze, head coach of the Mississippi Rebels watches the action against the Wofford Terriers on September 10, 2016 at Vaught-Hemingway Stadium in Oxford, Mississippi. Mississippi defeated Wofford 38-13. (Photo by Joe Murphy/Getty Images)
The NCAA hasn't brought down the hammer on Ole Miss football just yet, but CBS Sports writer Dennis Dodd believes that hammer is eventually coming, and it's coming in a big way.
The Rebels are under NCAA investigation for a litany of recruiting violations, and that's not even mentioning the fact that head football coach Hugh Freeze had to resign in scandal after he was tied to an escort service down in Tampa Bay. This is a scandal that includes burner phones, shady recruiting trips and more. It turns out Freeze was breaking bad, but instead of blue meth he became the Heisenberg of major recruiting violations, and perhaps worse.
So yeah, the NCAA isn't expected to come down easy on Ole Miss, and just because he's resigned that doesn't mean Freeze is out of harm's way either.
In fact, Dodd can see both parties coming under some major heat. Here's what he recently said, speaking on the 247Sports College Football Podcast:
?I think it?s gonna be bad. ? I think it?s gonna be significant, notwithstanding the Leo Lewis [immunity],? Dodd said. ?I don?t think they necessarily needed him to get some of this stuff, they needed him to corroborate it. He alone is not the reason they?re gonna get hammered.

?To reiterate, [my prediction] was a one-year additional bowl ban, going into 2018 for Ole Miss, a loss of 25 scholarships over three seasons, the usual recruiting restrictions ? a multi-million dollar fine ? which seems to be a go-to for the NCAA these days – vacating wins, I think that?s obvious, multi boosters being disassociated, which I think has already begun to happen, a show-cause order for Hugh Freeze, which will affect him when and if he wants to get back into the game, and then I think the magic bullet they now have in their holster: Existing players will be allowed to transfer without penalty, and that really hurts,? Dodd said. ?That?s what hurt Penn State, among others. They want to teach Ole Miss a lesson, that?s the one that hurts the most.?
To Dodd's point, it is the freedom to transfer that ends up hurting programs the most because there will be highly-talented players — starters even — who decide not to put up with the sanctions and end up freely transferring to greener pastures.
We've seen that cripple college football programs before and there's a good chance Ole Miss is heading towards the same fate.
From Freeze's point of view, things won't be much better. Just ask Art Briles what the stink of scandal can do to a coach's career.
That's a stink that the former Ole Miss coach will likely carry around with him for the rest of his life, let alone the rest of his career.